A Story of Israeli Fraudster on Netflix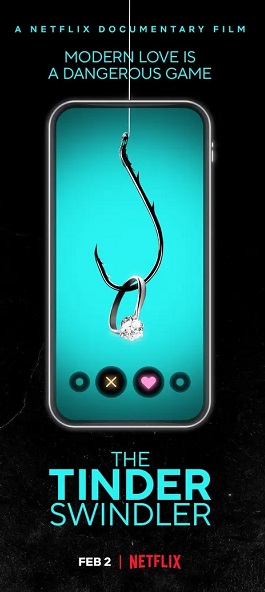 "Much of the Jews are crooks." David Ben Gurion, Israel's key architect, remarked this when he learned about Jewish soldiers stealing Persian floor covers from recently taken Arab homes during the Arab-Israeli clash. If Ben Gurion were alive now, he would be unsurprised to see that Israel has transformed into a centre of deceit, by and large. The Tinder Swindler, a Netflix show, follows the odd exploits of Israeli cheat Shimon Hayut, the heir of a rabbi, who swindled Scandinavian women to the tune of $10 million.

Hayut's standard way of cheating was to use the Ponzi trick, however, Hayut revised it with an effortful attempt. Utilizing the false personality of Simon Leviev on the dating application Tinder, Hayut revealed falsely that he was the heir apparent of Lev Leviev, CEO of one of the world's most significant valuable diamond sellers. He would at first give the ladies gifts and fly them on private planes (money sponsored by the last lady victim), before explaining the probability that he was under threat from his business rivals, that his money related records had been locked, and that he needed cash from the women he befriended and that he would repay them many times over when a quick deal, which was in the pipeline would materialize.

The women were supposed to apply financial institutions for advances in their own names, with the average amount being around $300,000. These women were asked to increase their credit limit regularly. After collecting as much money as possible from a lady, Hayut would use some of it to prepare an entirely new victim. He travelled from one country to the next and from one lady to the next. Hayut maintained a wealthy lifestyle that included personal luxury jets, global travel, and designer clothing. It came to an end in 2019 when a Norwegian newspaper arrested him for using a forged visa in Greece. He was then deported to Israel, where he was released only five months later. He is roaming free In Israel now.

Israelis: Known for Extortion: It will not be surprising to find that a variety of misrepresentations of international nature has been a speciality of Israel for many years. Money laundering and terrorism financing prohibition authorities in 19 countries across the globe regularly request data from Israel's Money Laundering and Terrorist Financing Prohibition Authority The main infringements identified by these requests are unfair assessment evasion, deception, especially speculative games, joint betting, illegal betting, payoffs and degradation, and impersonations. Even if it is possible to separate someone from their money, you can bet that an Israeli is trying to do so.

In June 2021, German police launched an operation that resulted in the arrest of ten Jews of various identities for operating bogus fundraising websites that duped European buyers of over $36 million. According to Europol, the perpetrators interacted with the sham trading sites Tradorax, Tradervc, Kayafx, Kontofx, and Libramarkets in a deception plot that was formerly "mostly managed by Israeli individuals." Tradorax used a platform provided by SpotOption, an Israeli business that was charged with fraud by the US Securities and Exchange Commission in April 2021. According to Europol, the Jewish organization used online-based media and web crawlers to attract a variety of victims. The victims were then asked to invest in high-risk investments, such as CFDs or cryptographic forms of money.

The German police informed that the money was rarely provided and that the Jews, like everyone else, simply grabbed it. During strikes in many countries, police held onto technological devices, land, ornaments, top-of-the-line vehicles, and about $2.4 million in real money.

These circumstances aided in recalling the narrative of the Canadian-Israeli Cartu siblings. David, Jonathan, and Joshua Cartu were charged by the Ontario Securities Commission with enticing Canadians to trade parallel options in May 2020. The trio defrauded Ontario people of $1.4 million alone, but the total value of their internationally orchestrated conspiracy was estimated to be $233 million. The siblings are presently living lavishly in Israel, confident in the knowledge that "Israeli investigators still can't seem to charge these suspect on extortion charges." According to the Times of Israel, the siblings' story is just one piece of a much larger tapestry of deception in which "several ventures in Israel used a large number of Israelis who allegedly fleeced billions from casualties all over the world.

Plastic surgeon David Morrow and his better half Linda, dubbed "The Jewish Bonnie and Clyde," faced the American general set of laws some years before when it was discovered that the couple had been working one of the most massive and devastating medical care forgeries in California history. The Morrows are said to have spent between $25 million and $65 million on therapeutically ineffective duties

The Times of Israel reported in 2017 on the arrest of several people for duping customers into purchasing counterfeit engine compartments. The group conducted hidden call centres within private homes in Ashkelon, Ashdod, and Netanya, scamming people in Europe and North America with a variety of schemes. One method was the CEO ruse, in which fraudsters impersonated top executives of a European corporation and convinced partners to wire money to the Jews' Israeli accounts. Other members of staff contacted groups in Europe that highlighted such items that will never be available anywhere else. According to the Times of Israel, many of those apprehended were Jews from the United States and France, who were assisted by various Israeli citizens.

The most well-known instance, of course, is the purported "sting of the century," in which more than a billion euros were taken from the French government via an assessment scam between November 2008 and June 2009. Three French Jews, Arnaud Mimran, Marco Molly, and Samy Souied, committed the crime from a Tel Aviv office. According to the Times of Israel, "six of the denounced were tried in absentia and are believed to be living in Israel," assisting the trio.

In a May 2016 meeting, Laurent Combourieu, overseer of examinations for France's protections authority, the Autorit des Marches Financiers (AMF), told the Times of Israel that there was cross-over between French-Israeli residents who were engaged in charge misrepresentation against the French government from Israel and perpetrators of the ongoing flood of internet exchanging extortion focusing on French speakers. According to the Paris Examiner, over the last six years, French consumers have lost 4.5 billion euros to web exchanging and CEO fraud, with a substantial portion of these being headed from Israel. The Israeli state representative led an irregular examination of the financial balances of new outsiders who moved to Israel between 2008 and 2012, demonstrating that Israel is a focal point for Israeli fraudsters.

According to the findings, "one in every six were deemed to have unusual behaviour that caused the bank to flag them for probable tax evasion." The OECD Global Forum on Transparency and Exchange of Information for Tax Purposes pressured Israel in 2013 to withdraw the exemption for new outsiders and veteran returning residents, removing what many Israelis saw as a clear acceptance of global guilt. Israel agreed to change its regulations in May of that year, but it still can't seem to do so nearly nine years later. In its International Narcotics Control Strategy Report, the US State Department refers to Israel as "a noticeable unlawful tax avoidance country" (INCSR).

Interesting Element of the Documentary: Animosity is not unusual given Israel's global financial offence. Shimon Hayut's transformation after realising a certain woman had given him all the money she could or would was an intriguing portion of The Tinder Swindler. Risks and betrayals were swiftly negotiated. The majority of the Jewish International's investigation procedures are coercive. They employ tension and control methods in the face of an unfeeling lack of concern and hatred for the designated minority groups. These powerful qualities clearly highlight scenarios in which inappropriately gained wealth, as in the Morrows' case, generously observes their attention to Jewish ethnic identification.

The Drawback of the Documentary: While the now-popular Netflix narrative is interesting and well-made in general, it does a poor job contextualising and describing Hayut's actions. Hayut's deceptive profession is introduced solely as far as the dangers of internet dating, and absurdly, as a sort of women's activist vengeance storey (even though the ladies fell into Hayut's grip to some extent because they craved for a sumptuous way of life, and the last equity served on Hayut was undeniably ludicrously frail). There is little mention of how Hayut began his extortion career as a teen, raising concerns about social impact, and there is no mention of the strange method in which Hayut appeared to target Scandinavian women. Nevertheless, Hayut fits into a rather common example: the prevalence of Israeli rascals of international renown, and their propensity to go after a curiously ill-tempered general set of Israeli rules.

The Tinder Swindler is streaming on Netflix right now.