Bad Blood: Secrets and Lies in a Silicon Valley Startup by John Carreyrou
ISBN: 9781509868087, 9781509868087 Pan Macmillan, Pages: 352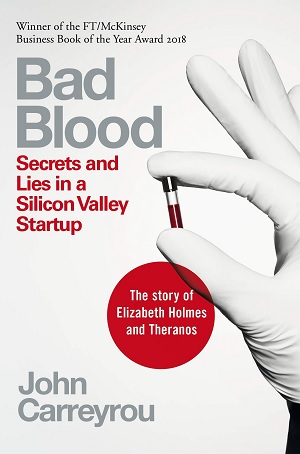 You are an entrepreneur of a company, and your company's Board of Directors includes Henry Kissinger, George Schultz and a military veteran, James Mattis. You are also a part of BoD and close to Clinton and Obama and you are Silicon Valley star favourite of venture capitalists, media, journals and magazines. As announced by you, the business is shaping well and you desire to amass wealth in connivance of your BoD by deceiving your partners, directors, and investors about your achievement while ignoring your failures. A recipe for disaster? And then what happens when this fraud is reported by a journalist in a book quoting all the classified emails of your company and opening the can of worms? Well, the book becomes a fantastic crime thriller for which the journalist wins a Pulitzer.

This one of its kind crime thriller is written by John Carreyrou, a French-American journalist who works for the Wall Street Journal, and the title of the book is "Bad Blood: Secrets and Lies in a Silicon Valley Startup". It is nonfiction released on May 21, 2018, describing the fraudulent activities of Elizabeth Holmes, a budding entrepreneur. who took investors for a ride. Based on the series of investigative articles in the Wall Street Journal, Hulu, an American streaming platform had already started a web series on OTT titled "The Dropout", wherein Amanda Seyfried performed the role of Elizabeth Holmes. Now this book is slated to turn soon into a Hollywood movie directed by Adam McKay, with Jennifer Lawrence playing the fraudster entrepreneur Elizabeth Holmes.

Elizabeth Holmes was found guilty of fraud in the United States on January 3, 2022. She had a wonderful concept in the area of healthcare as a rising entrepreneur. Her business, Theranos, ( coined from two words, Therapy and Diagnosis) provided a cutting-edge blood-testing equipment. The firm had just completed its first large-scale live presentation for a pharmaceutical firm. Elizabeth Holmes, the twenty-two-year-old creator of Theranos, had travelled to Switzerland to show the system's capabilities to Novartis officials. For Theranos, this was a turning point. The three-year-old business had developed from an ambitious idea Holmes had conceived in her Stanford dorm room to a product that a huge international corporation was interested in using. Pharmaceutical companies spend tens of billions of dollars each year on clinical trials to learn more about their products. If Theranos can become indispensable to them and grab a little portion of their expenditure, it may make a fortune.

Following her return from Switzerland, Elizabeth had asked her CFO, Henry Mosley, to generate some financial projections for her to show investors. Mosley's initial estimates were turned down, so she requested that he modify them upward. He was a little concerned about the new figures, but he believed they were within reach provided the company performed well. When a firm seeks money, venture investors are well aware that the founders overstate their estimations.

One thing Mosley wasn't sure he really grasped was how Theranos' technology operated. He took potential investors to see Theranos cofounder Shaunak Roy, a chemical engineer with a PhD, whenever they came by. He and Elizabeth had previously worked together at Robertson's Stanford research lab. Shaunak pricked his finger and drew a few drops of blood. He'd show them a computer screen with blood streaming into the reader's cartridge. The blood would then be transferred to a credit-card-sized white plastic cartridge. A rectangular box about the size of a toaster would store the cartridge. The box had a reader attached to it. It took a data signal from the cartridge and wirelessly communicated it to a server, which then processed the information and returned the results. That is how it worked.

It became appealing to investors and pharmaceutical corporations due to its convenience and low cost for testing novel drugs. These readers were supposed to be placed in the homes of the patients who would be evaluated. With wireless technology, blood components could be analysed at any time throughout the day. The patients did not have to travel as a result of this. They might use wireless to communicate with enterprises from their residences. Because only a few droplets of blood were required to pierce a finger, drawing blood was often simple.

~*~

Strangely, Elizabeth's few employees who had accompanied her on the trip did not appear to share her excitement. Some of them appeared to be really dissatisfied. When Mosley asked why they were disappointed, Shaunak explained that the Theranos 1.0, as Elizabeth nicknamed the blood-testing system, didn't always function. He conceded that it had been a complete fiasco. You could receive a result from it sometimes and sometimes not. Mosley was shocked. He was confident in the system's reliability. It always seemed to work when investors came to view it. There was a reason it always appeared to work, Shaunak explained. The blood that poured into the cartridge and settled into the little wells on the computer screen was real. You never knew if you'd get an answer, though. As a result, they had a record of one of the occasions when it had worked on previous occasions. The prior recorded result was displayed as a fresh one at the end of each demo. Mosley was caught off guard. He believed that the results were displayed in real-time from the blood inside the cartridge. That was undoubtedly the impression he gave to the investors he attracted. What Shaunak had just detailed seemed like a ruse, a falsehood, a lie.

When Elizabeth arrived in Switzerland with two blood analysers for a Novartis demonstration, one of the readers had malfunctioned. The employees she brought with her had worked through the night to make it work. To hide the mistake during the next morning's demo to Novartis, the Theranos team in California sent over a fabricated result to deceive Novartis.

Elizabeth continued to deceive potential investors and pharmaceutical businesses with this deception. For a long time, she misled pharmaceutical corporations about the technology's readiness. She deceived the board by making misleading claims when they questioned her activities. She negotiated a resolution in December 2013 that gave her 100 votes for every share she owned, giving her 99.7% voting power, preventing the board from forming a quorum without her presence. As a result, the board was never able to employ a law firm to look into what was really going on in the company.

Finally, her fraudulent game was over when a San Francisco hedge fund that had invested about $100 million sued Holmes and her company in 2014 in Delaware Court, alleging her of a series of lies, material misstatements, and omissions.

The first chapter of the book, "A Purposeful Life" talks about how Elizabeth nurtured a dream of becoming a billionaire, how she was proud of her great grandfather Dr Christian Holmes who had established Cincinnati General Hospital and Cincinnati University's Medical school, how she worshipped Steve Jobs and so how she called her blood-testing system as the "iPod of health care" and, finally her court enquiry and allegation against her fraudulent activities is described in the last chapter, aptly titled "The Empress has no Clothes".