Abdul Rafeeq Khan, a street vendor, died after setting himself on fire on the premises of the Lucknow Municipality (Uttar Pradesh) in May 2005 after he and other vendors were displaced to accommodate a contractor. Gopal Krishna Kashyap, a seller of
parathas
(Indian bread) in Patiala (Punjab), in full view of a 200-strong crowd and TV cameras, fatally set himself ablaze because he had been displaced to 'beautify' the city during the Indo-Pak cricket matches in 2004. Pappu Rathore immolated himself on the streets of Gwalior (Madhya Pradesh) in January 2006, a year after he had been removed and could find no alternative employment.
These three public suicides tragically illustrate the extreme measures that street vendors may take to as they battle an economic war declared on them in the form of relentless clearance operations launched by civic authorities in several cities across India.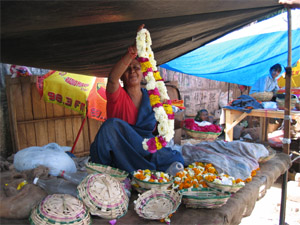 Street vendors in the capital, Delhi - who number between 250,000 to 500,000 - have been thrown into even greater despair following a Supreme Court judgment on March 8, 2006 directing the Municipal Corporation of Delhi (MCD) to remove all "unauthorized" street vendors from the city's streets within two weeks. The court said that they interfere with the "fundamental rights of the citizens" by squatting on footpaths and roads meant for the benefit of ordinary people living in those localities.
The court had ordered that since the MCD had failed to produce a workable plan for creating authorized hawker zones in Delhi, in accordance with the National Policy for Street Vendors (NPSV) 2004, they should remove all "unauthorized" vendors. The MCD has been given eight weeks to present a realistic plan to implement the NPSV. But in the meantime, it has been ordered to submit a compliance report within four weeks on the action taken to evict all unlicensed street hawkers.
Social activists have strongly decried the Supreme Court order, saying it amounts to punishing the victims and rewarding the offenders. It will spell doom and disaster for the hundreds of thousands who earn their living from hawking and vending, asserts Madhu Kishwar of Manushi, a Delhi-based NGO, which has spearheaded the campaign to legitimize street vendors. Its impact will be felt not just in Delhi but on 10 million hawkers and their dependents in other cities, since their municipal bodies have likewise failed to give legal space to hawkers, she states.
The Supreme Court judgment raises several important issues, points out Renana Jhabvala of SEWA Bharat (the Delhi office of the Self-Employed Women's Association). For one, it negates earlier Supreme Court orders. Sodhan Singh vs NDMC, for instance, made it clear that footpaths have multiple uses and that street or pavement hawkers cannot be denied their fundamental right to livelihood under Article 19(i)(g) of the Constitution of India.
Jhabvala has some very pertinent questions that the Honorable court has not adequately addressed: Why ask for removal of street vendors if the policy has not yet been implemented? And who will be given the vending sites in hawking zones if all genuine hawkers have already been removed by the use of police force as required by the Court?
If the hawker zones are created after the hawkers are forcibly driven away, powerful local politicians in collaboration with lower level municipal officials will eventually be able to corner most of the prime vending spots for their henchmen, claims Kishwar.
According to her, of the several hundreds of thousands of vendors in Delhi, only 4,000 have been issued licenses. "Thus, nearly 99 per cent are illegal, leaving them vulnerable to terror and insecurity unleashed by clearance operations, whose officials collect vast bribes from them. In Delhi alone, street vendors are paying about Rs 5,000 million per year to various officials who exercise control over public spaces," Kishwar alleges.
Street vendors, through their unions and individually, have fought long drawn-out battles in several Indian cities to defend their right to livelihood.
The Self-Employed Women's Association (SEWA) of Gujarat has done pioneering work for women vendors of Gujarat. A case in point is the Law Garden in Ahmedabad, which has retained its identity because of the traditional '
gamthi
' (ethnic) clothes sellers. Lataben occupies a 6x6 wooden stall on the pavement of Law Garden, and for the last 15 years she has been selling ethnic dresses and ornaments in this locality. She earns a decent income throughout the year, especially during the festival seasons.
Another successful experiment is underway in Kolkata (West Bengal), where vendors sustain the city's 10 million-strong population. There are about 100,000 open-air food vendors selling a variety of products from tea, sweets, snacks and full meals. The vendors are experiencing a big upturn in trade after receiving lessons in basic hygiene given by the Indian government in collaboration with the Food and Agriculture Organization.
These are just some examples of how civic authorities can work with vendors, not only to help them sustain their livelihoods but also for the benefit of urban consumers who rely heavily on street vendors for vegetables, fruits and other daily necessities, observes Jhabvala.
Street hawkers not only generate employment for themselves, they also generate employment in the farm sector, supporting many small-scale industries by acting as the most widespread, low cost distribution channel of their goods in every nook and corner of the country. Removing vendors from the urban centers will also cause the prices of consumer goods to escalate drastically, she cautions.
It is not the fault of vendors that municipal authorities have failed to draw up implementation plans for creating hawking zones, says Kishwar. They are willing to register and pay the designated fee, as envisaged by the NPSV, which "aims to ensure that this important section of the urban population finds recognition for its contribution to society, and is conceived of as a major initiative for urban poverty alleviation", she adds.
As the deadline for forcibly removing Delhi's "unauthorized" vendors approaches, Manushi and SEWA activists have redoubled their efforts to engage MCD officials in discussions to map out a realistic plan of action for implementing the NPSV at the earliest.
"We are demanding that the vendors should be freed from the license-quota-raid raj of the MCD and police and that the Urban Development Ministry should create an empowered task force for the speedy implementation of the vendors' policy," Kishwar says. "We also want an end to clearance operations until the MCD has created an adequate number of hawking zones and put in place a simple, fair process for registration of all genuine vendors."
The activists have also urged the Central Government to give teeth to the policy by enacting suitable legislation to implement it, in consultation with genuinely representative organizations of street vendors.