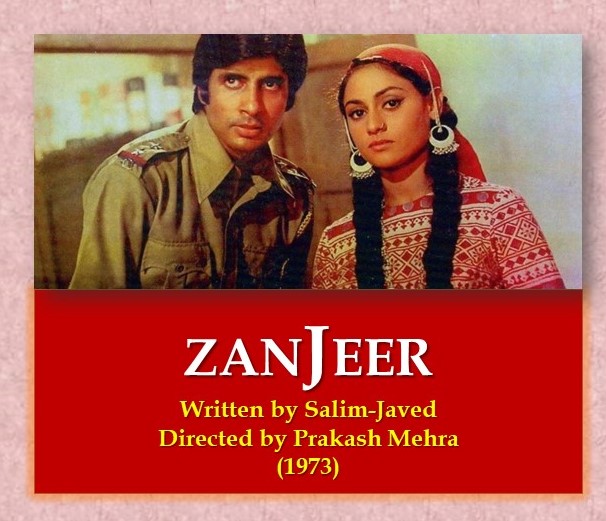 I watched 'Zanjeer'now, the famous hit of 1973 (In fact, I didn't see it when it was released) which catapulted Amitabh Bachchan with the sobriquet 'Angry Youngman'. The movie was released on 11 May 1973. By next year the movie will be completing half a century. It seemed to have been made in almost all the languages then.

I was really surprised about a few things while watching and after watching the movie. Has the content of the so-called popular stars' movies especially in Tamil of today any manner changed from this film's content?

Agreed, good versus bad is a perennial subject or recurring theme. The same bad man (nowadays many times it is a politician instead of a rich fellow) with a gang of rowdies, a lot of fight scenes, blood, gore and violence depicted in a more technical way to shock the viewers and finally the hero walks off unscathed. At least do they infuse any change in treatment?

In 'Zanjeer' itself the woman character was just reduced to a prop; but, surprisingly Jaya Baduri was given two solo songs. ('Bana ke kyon' is, indeed, a haunting melody even now). There was a vamp (Bindu) just for a leg and bust show, ahem, with a club (in today's parlance 'item') song. A strong support to the hero was there, not a comedian side-kick, but a powerful goonda Sher Khan (Pran) who had even walked with a popular song. ('Yaari hai imaan')

In most of the popular Tamil heroes' films, songs are nothing but an apology with a bunch of men and women dancing with the hero and heroine reducing it to comical acrobatics. Heroine has no value absolutely. Probably, in 'Zanjeer,' cars and bikes didn't fly but now they 'fly' in mid air.

Except for a few movies with some message, purpose and content most of them have not moved even an inch from the formula created by Salim-Javed duo and initiated 5 decades before. Even Bachchan was repeating it ad nauseum upto a point. Now, neither the heroes, writers or directors have any inclination to improve them with intelligence. Instead they try to fill it with 'punch' dialogues or political innuendos. It clearly shows that the popular films of popular heroes cannot get out those shackles even today.

All these only show that there is totally a vacuum and dearth of imagination or creativity notwithstanding the technical wizardry. Very Sad!