It was a casual enquiry from a former banker in the U S, a Keralite, leading a peaceful retired life in the plush environs of the casino city Las Vegas, that prompted me to take up the biggest literary enterprise of my publishing imprint FOLIO: the re-publication of an 1897 Malayalam novel, Sukumari by Joseph Muliyil, along with its first English translation as a bi-lingual production.

Sukumari has a hallowed place of its own in the rarefied realms of early Malayalam fiction. Chronologically it was the sixth Malayalam novel, after Appu Nedungadi's Kundalatha (1887), O Chandu Menon's Indulekha (1889) and three other novels, and one of the best in that early bunch of fifteen novels, thematically, structurally and literarily.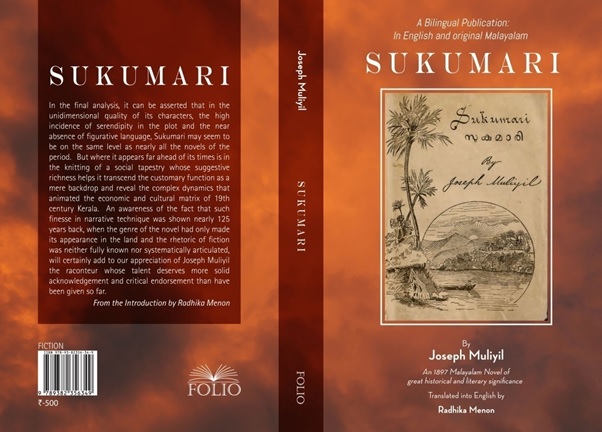 Shree Muliyil, the retired banker, was searching the internet for something when accidentally the name of Joseph Mulyil cropped up as the author of the Malayalam novel Sukumari. Could this be his grandfather Joseph Muliyil about whom, unfortunately, he did not know much? During his early upbringing in India Shree had not heard anything from his parents about his grandfather having any literary leanings. The only factor co-relating his father and the author of Sukumari appeared to him to be that both had connections with the Basel Evangelical Mission of Malabar. The author Joseph Muliyil was intimately connected with the mission, and his novel itself bore testimony to it, while Shree's father Dr Frederick Muliyil had an early association with the mission after which he went on to Oxford to take his Doctorate in Divinity. His contribution to scriptural literature was his Malayalam translation of the New Testament from the original Koine Greek version of the Bible.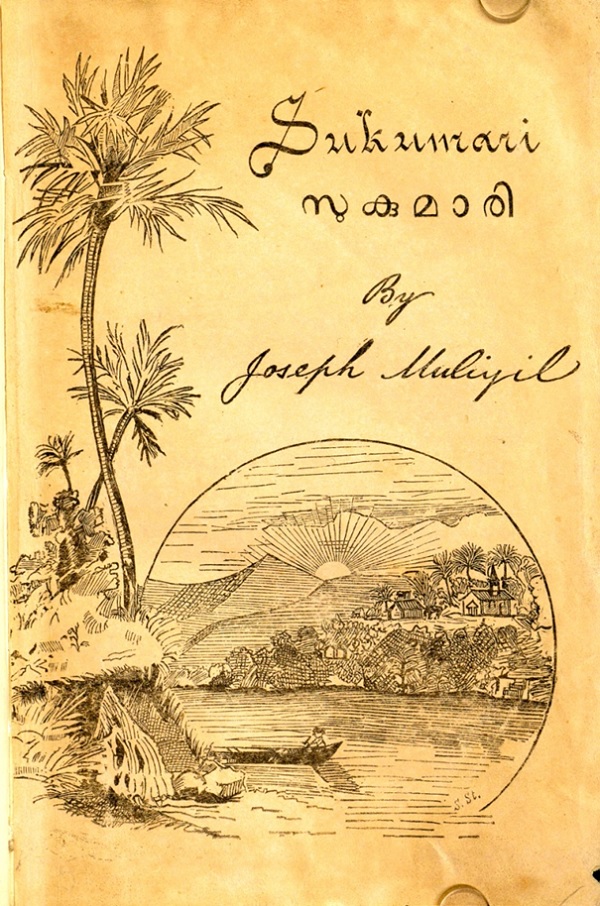 The cover page of the 1897 book

It was during his efforts to know more about the author Joseph Muliyil that Shree approached me through a common friend, Sreekumar Menon of Chennai. And it was an engagement I liked though digging up the literary or other grounds for nuggets of info on that author was much more arduous than I had imagined. In fact there was precious little I could find from available reference materials on the life and work of Joseph Muliyil the author. My friend in research, Dr Radhika Menon, translator, however, came up with valuable inputs on the author from a book by Dr George Irumbayam and an introduction by critic Pradeepan Pampirikkunnil to Sukumari when it was first re-published in 2013 by Chintha Publishers as part of its early fiction series, Novel Pazhama.

Much about the teaching and literary activities of Joseph Muliyil the author came from an unexpected source, the Tubingen University in Germany, a great repository of many Malayalam works and important literary and other documents of the distant past. All such works are excellently preserved in digital form that can be accessed freely from its extensive website by anyone anywhere in the world.

Tubingen was indeed a goldmine. It provided a wealth of information on Joseph Muliyil the author. That he was closely associated with the Basel Evangelical Mission was already known as the novel itself was written to project the mission's early work. The sub-title of the novel went like this: "A Story Descriptive of the Early Work of the Basel German Evangelical Mission in North Malabar."

Muliyil had started his career as a teacher in one of the mission's schools at Nettoor, Kerala, before moving on to Madras to serve as Headmaster of the Zion School at Chintadripet. He later joined the faculty of the Madras Christian College.

It was during his tenure at MCC that he wrote Sukumari and several elaborate primers for the schools, beginning with an Infant Reader and going on to the Primers for standards up to Four. These Primers were approved by the Director of Public Instruction, Madras, in 1904, for use in all vernacular schools under the Madras Presidency.

Other than Sukumari, Muliyil had brought out one more novel, a Malayalam translation of Kripabayi Satthyanadhan's work in English Saguna. A Comparative Study of English and Malayalam as a Guide for Reciprocal Translation and A Brief Sketch for Malayalam Grammar for Lower Secondary Schools are his other works.

When the Madras Christian College took over the management of the Malabar Christian College, Kozhikode, in 1919, which was till then run by the Basel Mission, Joseph Muliyil was deputed as its first Principal. He served in that capacity for two years before returning to the Madras Christian College.

In spite of getting such a rough sketch of the author Muliyil from these diverse sources, Shree could still not be certain that he was a direct descendant of that Joseph Muliyil. There were some hazy missing links here and there and he thought enough was enough. He decided to shelve his genealogical search altogether.

But by this time Shree was so fascinated by Sukumari that he wanted us to go ahead with an English translation as a makeover the novel richly deserved. He hoped that such a translation would ensure for the book a wider readership. It did not matter at all if the author of that iconic early Malayalam novel and he belonged to the same bloodline or not.

It was Shree's suggestion that the English translation be followed by a facsimile version of the original Sukumari as printed in 1897 and as preserved by Tubingen so as to give it an elegant period flavour.

Dr Radhika Menon, who did a superb work in rendering Sukumari to English, also came up with a scholarly study of all the first fifteen novels in Malayalam in a bid to contextualize Sukumari. This overview serves as a remarkable Introduction to FOLIO's bilingual production.

Radhika says the novel appears far ahead of its times in the knitting of a social tapestry whose suggestive richness helps it to transcend the customary limits of social dynamics.

"An awareness of the fact that such finesse in narrative technique was shown nearly 125 years back, when the genre of the novel had only made its appearance in the land and the rhetoric of fiction was neither fully known nor systematically articulated, will certainly add to our appreciation of Joseph Muliyil the raconteur whose talent deserves more solid acknowledgement and critical endorsement than have been given so far," she concludes.

So, here it is: A Bilingual production of Joseph Muliyil's Sukumari, in English as also in the original Malayalam as it appeared in 1897.