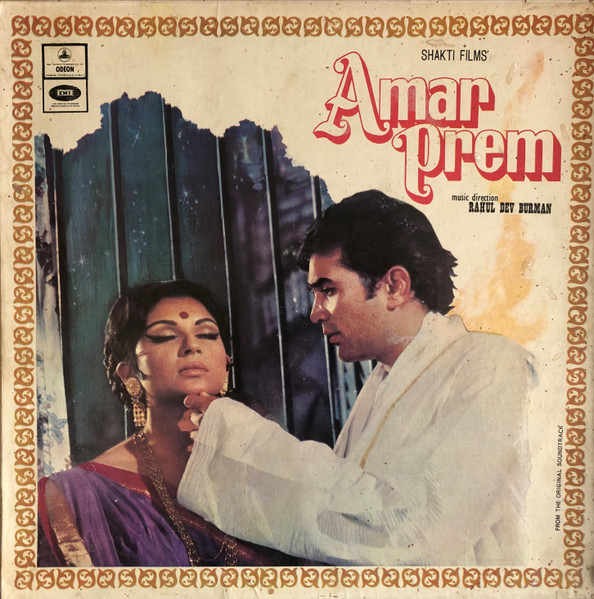 There is an article titled 'A Classic turns 50' by Anuj Kumar in the Friday Review of this week. It is about the yesteryear hit 'Amar Prem' by Sakthi Samanta. (Released on 28 Jan 1972). Though I remember the movie quite vividly, I just wanted to revisit the 'Classic.' after reading it. Honestly, it was a dated topic and movie was with several layers of mindless mushy melodrama packed in full measure. The hero of the film and its success is because of RD Burman-Anand Bakshi- Kishore Kumar and Lata Mangeshkar. The next is The One and Only Phenomenon of the Indian screen, Rajesh Khanna and his magical charm with his 'gentle nod and mystical blink' which made the audience go hysterical.

Though Pushpa was introduced as a nightingale she had to sing only two songs; 'Raina beeti jaye' and 'Bada natkhat hai yeh' while Anand Babu walked with all the coveted numbers 'Chingari koi', 'Kuch to log' and 'Yeh kya hua'.

The movie itself starts with 'Doli mein bithai ke' in the quivering old voice of Senior Burman foretell the tragic tale waiting for you. Rajesh Khanna's 'Pushpa, I hate tears' became a famous epithet; but, in the end he himself sheds tears and says 'it is good to cry' and also made the lachrymal glands of the audience of yore to overwork and go out of the theatre with moist eyes.

But, today, when I watched I find the melodramatic dialogues, good and vicious characters and inexplicable jump of the two lead players into penury deliberate and thrusted without logic.

Well, five decades is quite a long time. That must be the reason I couldn't shed tears watching the film now though 'I don't really hate tears'.