National Congress Party chief Sharad Pawar had remarked not long ago that Samarth Ramdas was not a Guru of Shivaji Maharaj but that is far from the truth.

The historical references, documents, and evidence make it believe that Samarth Ramdas was a political advisor to Shivaji Maharaj. For example, when Afzal Khan left Bijapur in 1659 to kill Shivaji Maharaj, Samarth Ramdas wrote him a letter alerting him that the enemy has left Bijapur and advancing towards Pune. The letter was in the form of Owi (four liners) written in code words probably because of the secrecy which necessarily shrouds political activity against foreign rule. The letter has also a metaphysical tone of giving some kind of advice.

When Samarth Ramdas came to settle in a small village of Chaphal in 1644 in Maharashtra Shivaji Maharaj was planning to conquer territories from the Moghuls. In 1647 Shivaji Maharaj conquered Torangad, Purandar and Kondhana forts plundering Moghul territory when he was barely 17 years old. Samarth Ramdas was highly impressed with the bravery of Shivaji Maharaj and decided to guide him in any which way he could. The above advice about Afzal Khan establishes a relation that they came to understand one another and acknowledges that Samarth Ramdas was a valued adviser and behind-the-scenes associate of Shivaji Maharaj.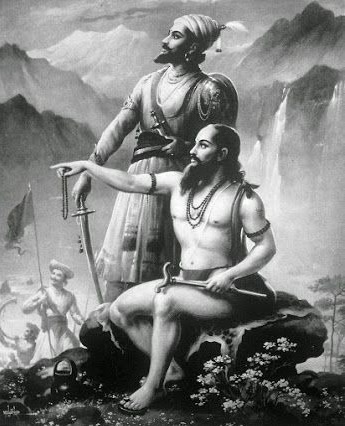 Samarth Ramdas (1608-1681) stands out as an extraordinary saint in the dazzling assemblage of medieval Indian saints. Whereas many of them were only either poet and worshippers and staunch advocates of Hinduism through Bhakti Marg, while not being politically inclined, Samarth Ramdas alone, whilst remaining effectively a saint and poet, was a dynamic political thinker and activist. He crisscrossed the whole of India, travelling as far as the Himalayas and wandering for twelve years witnessing through this period the miserable condition of the people under Islamic rule. He was moved by these circumstances which awakened his political perception, and he gave politics an important role to play while pursuing his quest for the identity of absolute truth.

He wrote Dasbodh ("advice to the disciple") in Marathi, which is a 17th-century spiritual text in monism. As per the tradition in his times he wrote it in the Owi form. Dasbodha is divided into 20 main parts called Dashak each of which contains 10 subparts which are called Samasas. Each Owi is made up of 4 lines. While describing ethics and philosophy in Dasbodh, Samarth Ramdas lists three subjects in order of their importance. First is worshipping of God, second is Politics (Rajkarana), and third is alertness in every matter. Samarth Ramdas, as he was moved by the plight of the downtrodden because of the despotic rulers, aroused in them political consciousness and organized agitation activities to combat the oppressive rule systematically. His writings even though contained plentiful religious thoughts, expressed political oppression and disintegration, using the word 'Dharma-Sthapana', which he said was a duty of a true Kshatriya, to denote his idea of socio-politico-religious revolution, and at the same time hitting out against social evils which are quite evident in his writings.

Samarth Ramdas has very elaborately described the organization and technique of rousing the people for the socio-politico-religious revolution he cherished. In fact, he had created a network of 1000 to 1500 such organizations called Maths' (monasteries) with Mahants' (religious preacher-cum-political mobilizers) as their heads in different parts of the country. Ramdas says that the political organizer should first gather, able men around him and thoroughly train them in his principles, aims and methods. These trained people should be spread all over the country as torchbearers. They should establish close contacts with worthy local leaders and win them over. When they are won over, Ramdas says, the ordinary folks automatically follow suit.

While describing the contemporary rulers as terrorists, Samarth Ramdas advises Shivaji Maharaj not to hold a political dialogue with them but to finish them. It is described thus in Dasbodh in Dashak 18, Samas 6. It is again in an owi form, the loose meaning in English would be:
A man full of pride never talks sense, is strong-headed, and almost thrashes everyone with mere words which are harshest, to say the least. He never thinks of justice or morality. He is highly temperamental, never respects anyone and is not prepared to mould himself to get along with others. You can't believe in him or have any faith in him. These are the devils in society.
Now Samarth Ramdas talks about politics keeping his disciple, the great Maratha King, Shivaji Maharaj in mind and almost putting forth his case as the most ideal man ever to have lived politics in its entirety. He says that) in politics things change very rapidly. There can't be any single rule for political success. You must behave according to what any particular situation demands. Avoid excesses in any given situation. Never be insistent regarding anything. Even if you have the blessings of the Guru you should do things after giving them a deep thought. Be careful all the time. Always try to maintain all the people who have total faith in you and learn to forget and forgive their small mistakes. Never allow the vicious to flourish, rather try and destroy them if they are hell-bent on destroying society.

Thus, it is evident that although the political inspirations of Samarth Ramdas and Shivaji Maharaj were independent of each other and for an extended time they carried on their activities independently with each other's knowledge, it was Samarth Ramdas who guided Shivaji Maharaj in military strategies under a guise of philosophical tone.