Indian women aka Bharatiya Naari have been exemplified as archetypes of emancipation. Queen Vishpala finds mention in the Rig Veda as an educated, well-informed woman with 'warrior's voice.' Maitreyi and Gargi, as women scholars find mention in Brihadaranyaka Upanishad. Princesses Sita, Draupadi, Damayanti as embodiments of chastity chose their husbands in 'svayamvar.'

It is said that "one of the best ways to understand the spirit of a civilization and to appreciate its excellences and realise its limitations is to study the history of the position and status of women in it." Ancient history of Bharat boasts of women of courage who rubbed shoulders with men, the shiva-shakti predominant in both genders.

Each of these women had distinct characteristics with one or more aspects that defines womanhood.

Several Indian women have been featured in history books of the medieval period as 'symbols of resistance' against the British, foremost among them being Rani Lakshmibai, Rani Jhalkari Bai, Rani Avanti Bai, Begum Hazrat Mahal, Kittur Rani Chennamma, Rudramma Devi, Belawadi Mallamma.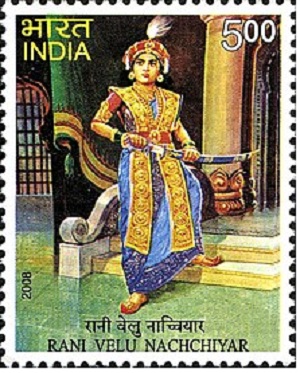 Among these prominent names in historical records is yet another lesser-known female protagonist – Velu Nachiyar (1730-1796), the first queen to have put up stiff resistance against the colonial power much before the first War of Independence began; the only woman in Bharat to defeat the British autocracy and remain undefeated.

Recognizing her role, on December 31, 2008, a stamp was released to commemorate her contribution to India's freedom struggle. It was also announced by the State government that January 3 would be celebrated as the birth anniversary of the fearless woman who shattered gender prejudices in the 18th century – the iconic queen of Sivaganga District, Tamil Nadu, who waged a war against the British to capture her kingdom.

The political scenario in medieval India brought into the spotlight the indomitable spirit of hordes of women against British imperialism, which began in India when the East India Company, originally set up by a charter for trade began to colonize nations. They were met with much resistance, and many women rulers who ruled their respective kingdoms faced much oppression and posed stiff resistance to the Colonialists.

Foremost among Indian women rulers to fight and emerge victorious against the British as early as in 1780 CE, Velu Nachiyar popularly known as veeramangai (courageous woman) also goes down in history as the foremost strategist of 'suicide bombing,' that was successfully executed by her personal attendant Kuyili.

This, however, has not gained the importance it needs in history

Velu Nachiyar, born in 1730, was the only child Rani Sakandimuthal and Raja Chellamuthu Vijayaragunatha Sethupathy of the Ramnad kingdom. The royal couple raised her as a male heir, encouraging her in horse-riding, archery, and martial arts such as valari and silambam. Not just this, she was versatile in several languages that included English, French and Urdu.

Although she was raised as a male heir, Velu Nachiyar was an embodiment of shakti – feminine grace, benevolence and dynamism. Married at the age of sixteen to Muthuvaduganathur Udaiyathevar, the prince of Sivanganga in Tamil Nadu, Velu Nachiyar gave birth to a daughter whom they named Vellachi. She performed her duties as a devoted mother and able queen beside her valiant husband when he became the king of Sivaganga in 1750. It remained an independent kingdom until his death in 1772 when the British troops in connivance with the Nawab of Arcot, invaded his kingdom.

The conquest of India through the East India Company had just begun and the British were primarily interested in driving away the French colonialists and Hyder Ali, the Sultan of Mysore. The Kalaiyar Koil battle saw gory killings by Col. Smith and his armed forces who were ruthless even towards women and children. Some trustworthy doyens of the Sivaganga empire managed to flee into hiding.

Following her husband's assassination, Velu Nachiyar, who was at Kollangudi fled to Virupachi, near Dindugal and sought refuge under Palayakaarar Kopaala Naayakkar. She gradually built a power army to fight the British, garnered support from Gopala Nayaker and Hyder Ali, the Sultan and the de facto ruler of Mysore in Southern India.

Conversing in Urdu, Queen Velu Nachiyar more than impressed the Sultan, who promised to support her in her crusade to retrieve her kingdom. Treating her with great respect, the Sultan permitted her to stay at the Dindugal Fort, and also sent her financial support. Woman power is at its audacious best when evil forces threaten to destroy peace and wellbeing!

Valiant Velu Nachiyar proved this to be true in every way. With the 5000 infantry and cavalry received from the Sultan to confront the British, she frequently changed her base and confused the Englishmen. Sultan Hyder Ali had also ensured that she was equipped with adequate weapons to face the mighty British soldiers.

1780 CE proved to be historic in several ways. Veeramangai Velu Nachiyar became the first Indian queen to fight against the British. Gaining information about the ammunition store of the British, she plotted a suicide attack. Her loyal confidante Kuyili went down in history as the first suicide bomber, when, dousing herself in ghee set herself on fire and jumped into the armoury, blowing it into smithereens. Kuyili's martyrdom brought victory to Queen Velu Nachiyar.

It would benefit readers to appreciate with reverence and recall the patriotic fervour exhibited by the young Kuyili. The mission though meticulous was risky and no mistakes could be made. By a stroke of luck, the festival of Vijayadashmi was being celebrated at that time and women from far and near visited the temple of Rajarajeswari on that day. "Using this as their leverage point, Kuyili and few women were not only able to get inside the fort under disguise, with weapons hidden inside flower and fruit baskets, they were able to catch the British unawares, who were swarming the fort and launch an attack upon them. As chaos began to ensue, Kuyili got to what she had originally planned to accomplish—sacrifice her life for the motherland that would go on to help Velu defeat the troops and reclaim her fort and sovereignty." And she succeeded!

Udaiyaal, the other adopted daughter gave up her life detonating a British arsenal. Subsequently, a woman's army was built, which was name Udaiyaal to honour the courageous young woman for the sacrifice.

Having gained possession of the Sivaganga estate, Nachiyar ruled the kingdom for about a decade, and pronounced Vellachi the heir to the throne. In 1780, she bestowed powers to the Marudi brothers as well.

To express her gratitude to Sultan Hyder Ali, Nachiyar constructed a mosque and church at Saragani. Prior to that, the Sultan had built a temple inside his palace. Hyder Ali's son Tipu Sultan aka the Tiger of Mysore also had a cordial relationship with the queen. She even sent a golden tiger to Tipu as a gift.

Vellachi became the second queen of Sivaganga estate in 1790. The gallant Nachiyar breathed her last on December 25, 1796 CE. According to sources, she suffered from heart ailments, underwent treatment in France.

Queen Velu Nachiar is held in great esteem in Tamil Nadu. Even before the first war of Indian Independence in 1857 that involved the legendary warrior queens Laxmi Bai and Jhalkari Bai of Jhansi against the British Raj took place, two courageous women from a remote kingdom in South India had given a fitting reply to the colonial rulers.

As part of his album 'Tamilmatic', Tamil-American hip-hop artist Professor A.L.I. dedicated to Velu Nachiyar a song titled 'Our Queen, 'which is a fitting tribute to a heroic daughter of Bharat.

May the stories of such women unfold, may they continue to be a source of inspiration to women of today…
References:

India Foundation Journal Jul-Aug 2017
(The Role of Women in the Indian Freedom Movement* Dr. Yuthika Mishra (Pages 35,36)
Shakti Power
Velu Nachiyar