P-en-chants…Again by Padmaja Iyengar-Paddy
Cyberwit.net, Price: INR 200, US$ 15
ISBN 978-81-8253-877-1 Pags:144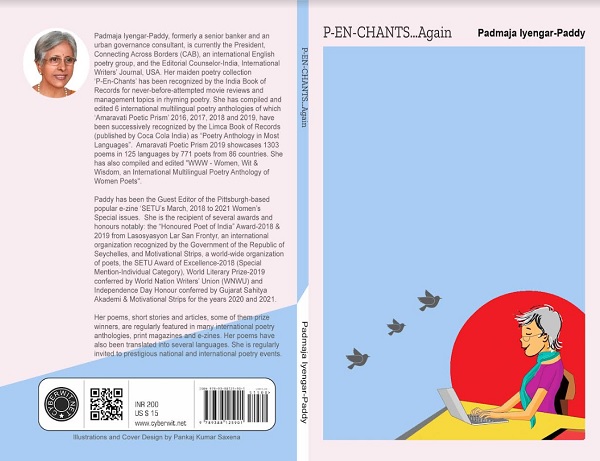 The sight of a decorated chariot is definite to attract the onlooker, to the devout it brings to life varied images with a socio-cultural significance: the human body symbolizes the chariot, with the five horses as senses, the mind holds the rein, the charioteer represents the 'intellect' and the passenger is the 'Self.'

Here is a charioteer who holds the reins of the chariot dexterously, offers a delightful ride to every interested passenger, leaves them asking for more. The chariot in the Preface with poet Padmaja Iyengar-Paddy's thoughts would certainly captivate any individual who browses through this poetic collection –
"I
Owe
My life
To poetry
Words tumble
In asymmetry
From my imagination
But arrange themselves
In harmony and symmetry
The chariot of my daily poems
Rides along as my creativity roams…" (Preface p.11)
The first of the six sections, 'Poetry and Me,' portrays Ms. Padmaja Iyengar as one who believes that truth, and the power of truthful utterances never wane –
Poetry of the heart reaches for the skies
In words that touch the soul and are wise
In the poetry of the heart there are no lies,
As it lingers on in the psyche and never dies.' (Poetry of the Heart p.19)
These thoughts are substantiated in the following lines:
'That dances to the
Rhythm of my heartbeats
Serenades to the flow
of blood through my veins
And traverses the
Crevices of my mind space…' (p 20)
A brilliant rainbow or an awe-inspiring tangerine sunset is unmistakably attractive to the religious and to the rational thinker, although their existential perceptions may vary.

Paddy's love for nature cascades in rhythmic flow just as her verses do: she 'could walk miles and miles,' with her face 'often breaking into a smile!' (Under the canopy, p 25). Such communication with nature not only makes her 'happily prance;' appeals to her 'senses,' it enables her to shed 'unnecessary defenses.' invigorates her, fills her heart with 'ambrosia' and 'soulful music.'
'The swaying leaves, the dancing light and my meaningful poetry,
Come together to end wars and bring peace, love and joy aplenty!' (Light Everywhere p 27)
Love is not restricted to a deep or intense fondness for another human. In the poems under 'Many Splendored Love,' Paddy talks about the 'bonds strong' that 'pervade the universe in many ways..' (I am Love p 34)
'Love is an emotion, a sensation and a feeling,
Ah, love is so soothing, so painful yet healing!' (Ah, Love..p35)
In Petrichor (p36), she passionately remarks:
Love's petrichor
Has the power
Of a rare perfume
That can subsume
Into our whole being…' (Petrichor p 36)
Reading these poems reminded me of the lines from Kahlil Gibran On Love:
"Love has no desire but to fulfil itself…."
Paddy's sense of humour is adequately revealed in yet another rhyming verse 'Catches Win Matches" (p 38)
"until he met this miss
And gave her a kiss.
And now, it seems their match is drawn!' (The Story…p 38)
The twist in The Sequel..
'you be the umpire and take a call
To declare the earlier one a no ball,
And let them take guard anew…'
I have always associated orange peels with their fragrance, their contribution to desserts and everything that is positive and enjoyable. I could never imagine that 'The Orange Peel' could be used for a villainous act:
'He took my face in his hand and then
Squeezed the orange peel in my eyes
Blinding me with his hatred and lies...' (p 43)

'as the sweet taste of orange turned bitter in my mouth,
My eyes hurt and my feelings hit a nadir, deep south…
I picked up the orange peels I'd scattered on the floor,
Blinded, yet clear in mind, I threw them out of the door…' (p 43)
The poetic devices in this verse are brilliant as it highlights the poet's sensitivity and dexterity in using evocative language - 'hum like a wren,' nadir,' 'anguished,' 'caprice,' 'mend the broken fences…' among others.
In the third section titled 'Life,' the poem 'Future Imperfect' exhibits daring thoughts:
'At the end of it all,
One must hear the inner call,
To move on for a better future
Or to carry on with the torture.' (p 56)
As a renowned psychologist mentions: "Sometimes you make the right decision, sometimes you make the decision right."

Several thoughts that express the freedom to live as per one's choice are evident in this section. Likewise, 'Anticipatory Leap' is a poem that can help the depressed and dejected greatly.
'Just as I was preparing for that leap into the unknown
Firm in the belief, life had only its seamier side shown,
I saw a tree on the hilly terrain just below the precipice,
On which a monkey with its little one strapped around it,
Was weighing the option of taking an anticipatory leap
On to the precipice somehow despite the risks steep!' (p 60)
Taming the "monkey-mind" removes a lot of confusions, whims, fancies and helps to arrive at decisions consciously even during the most challenging of situations, the despondent leap can be averted.

The concluding lines of 'Prayer' should serve as balm to the somber mind –
'Oh God! Let these questions be forever my guide,
In the choices I make and the path of my life I decide.' (p 61)
Contrastingly, in a lighter and optimistic mood, 'Hey Chill' asserts:
'Hey Chill! Transfer grudges to trash folder.' (p 64)
'Greed' serves as a caveat as it 'one's ego feed,' 'grows like a weed,' and to 'every form of temptation' leads. (p 66)
Mo(Re)vie(w)s has poetic reviews of movies that Padmaja Iyengar Paddy 'stepped out to watch first day, first show, as she states in the acknowledgment, adding that she is no avid fan of films either.

The following lines are my personal favorites:
"And yet presents a quirky, whimsy and groovy
Slice of life, that's so real and not like a movie!' (Piku p79)

'In today's environment of shrill and aggressive nationalism,
'Neerja, depicts the qualities of a rare and sincere humanism.' (Neerja p 96)
In the 'Tributes' section, I was delighted to see a verse for the "missile man," who is one of my role-models. "Wings of Fire" is an extraordinary story of courage and commitment, a must-read for all youngsters of the digital era.
Dr. APJ Abdul Kalam,
My respectful Salaam! (p 103)
Similarly, the tributes for the legendary Sachin Tendulkar, MS Dhoni and Virat Kohli and to the women with that indomitably spirited Aruna Shanbaug, Nirbhaya, Babies Falak and Asifa are laudable.

The I, Me & Myself section transmits untold peace to the reader; after all, the "summum bonum" of human existence is that eternal bliss:
This state of mind –
Nirvana, try and find -
It leaves one completely fulfilled and pleased,
As there is nothing left to be gained or seized. (Blissful Nothingness p 117)
Embracing life as it comes, her concluding poem with the following lines lets me understand that she is truly a global citizen, who does not wish to stay in a bubble, instead, expand her horizons to the newly emerging world
'The "I" of my outer world
And the "I" of my inner world
Will blend and emerge as "WE"
And together "WE shall set forth
On a journey to a new world…' ('We' are the World.. p 131)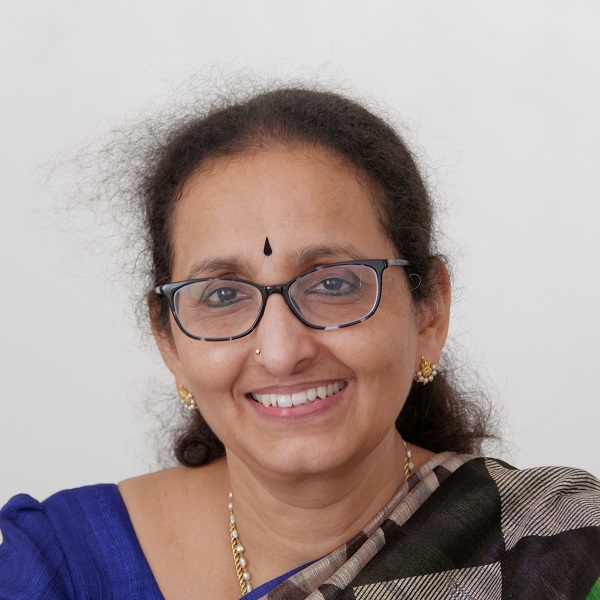 Reading this poetry collection gave me several insights into this multi-faceted persona whom we fondly address as 'Paddy! Artist Pankaj Kumar Saxena's illustration is brilliant just as Dr. Sridevi Selvaraj's foreword accentuates – "To Padmaja Iyengar-Paddy, life and poetry are one and the same." Seconding that, I wish to conclude by stating - she has been a mentor of sorts to innumerable amateur (aka wannabe) writers, empowered them to metamorphose into seasoned writers.

'P-En-Chants…Again.' is certain to offer you an immersive experience. Have a joyful ride with the skilled charioteer Padmaja Iyengar-Paddy.