The absence of good work culture to achieve work-life balance is a common grumble in today's industrial society.

What constitutes good work culture? It is a set of attitudes and practices which promotes the physical and mental health of the workmen, at the same time bringing benefits to the society at large. Much of the inefficiency and lack of enthusiasm at the workplace can be traced back to the absence of the right attitude towards oneself, to life in general and ignorance of the objective that what we finally seek from the work.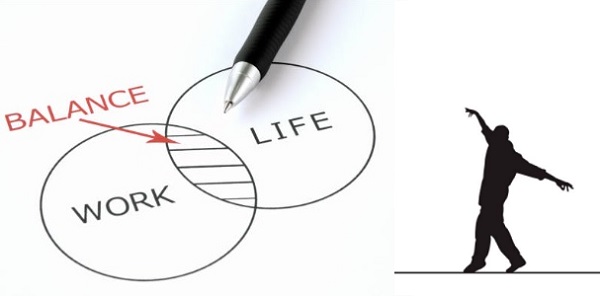 Work-life balance issue is of prime importance for every working man and woman. These issues differ along gender lines. For men, often their jobs come first. For women, their family comes first. Men sacrifice time at home for career advancement and more take-home pay, whereas women sacrifice career advancement and higher pay in order to put their house in order. Thus, there is a constant conflict of minds to stay happy and achieve work-life balance. It was in 1986 that this phrase was used for the first time in the US.

Over the past thirty-five or so years, there has been a substantial increase in work which is felt to be due to, in part, information technology and by an intense, competitive work environment. Long term loyalty and a "sense of corporate community" have been eroded by a performance culture that expects more and more from its employees yet offers little security in return.

Many experts predicted that technology would eliminate most household chores and provide people with much more time to enjoy leisure activities; but many ignore this option, encouraged by the prevailing consumerism culture. People all over the world are experiencing grave situations due to burnout because of overwork and increased stress. This condition is seen in nearly all occupations from blue-collar workers to upper management. We have seen a rise in workplace violence, a decrease in levels of tolerance as well as rising workers' compensation claims is all evidence of an unhealthy work-life balance. Professionals in this field say there are many causes for this situation ranging from the personal aspiration for career advancement and the pressure of family obligations to the accelerating pace of technology. According to a recent study 80% of people consider their jobs and their work hours excessive because of globalization.

These difficult and exhausting conditions are having adverse effects. According to the study, fifty-five per cent of top corporate executives are not happy in their current positions. They wish to switch over. About sixty-four per cent of workers feel that their work pressures are "self-inflicted", and it is taking a toll on them. The study shows that eighty-one per cent of global respondents say their jobs are affecting their health.

Between forty-six and fifty-nine per cent of workers feel that stress is affecting their interpersonal and sexual relationships. Additionally, men feel that there is certain negativity associated with saying "I can't do this".

Man is an amphibian who lives simultaneously in two worlds. The inner consciousness and the outer consciousness. There is this constant interaction between the inner and outer. The human consciousness is multidimensional and as such expressed in many dimensions. How does this interaction take place? Education trains our minds to be observant and true observation is devoid of reactions and judgement, likes and dislikes, desires and motives, and preferences and prejudices.

With this multidimensional attitude, people work with a number of motives, which range from downright selfishness to intense selflessness. Sometimes there is a combination of both of these characteristics. People generally work for a career. The work culture is different in PSUs and the private sector. In the private sector, people work hard out of fear of losing their job or getting punished. Work culture is poor in most Government departments. There is very little of accountability in PSUs and the Government. There is an absence of incentives and punishment. This gives a place for a sense of apathy and insensitivity. There is no personal feel in government departments. Everything is unfriendly. Some Chairmen of PSUs of course have produced outstanding results through their individual leadership qualities and managerial aptitude. To name few are Mr. Gurdeep Singh, CMD of NTPC, Mr. Shrikant Vaidya of Indian Oil Corporation, Dr. Alka Mittal of ONGC. Dr Alka has been instrumental in bringing sea change in the attitude of workmen during her tenure as Director HR. The work culture changes as chairmen change. Some bring with them an atmosphere where positive results occur, and some are responsible for grievous outcomes. In the case of private companies, such as Tatas, Infosys, Wipro, HLL, L&T and a few others, positive work culture is a way of life. Just take a look at missionary organizations where people work with zeal and without expecting compensation. For example, the spiritual authority of Gajanan Maharaj at Shegaon, Sai Baba at Shirdi, both being the places in Maharashtra, or in many Gurudwaras across India, make people work selflessly for the love of humanism, without conventional motivational inputs. Similarly, for those working in missions of Ramakrishna Paramhans, Swami Vivekananda, Raman Maharshi, Chinmaya and many others, the motivation is selfless service to spiritual ideals.

We have not been able to translate such spirituality into practices in Government-run institutions. Thus, we find that most of the utilities and services, run by the Government, are working at low levels of productivity and are affected by a negative work culture. Discourses in Bhagavad Gita, teach ethical and moral conduct, they teach that every endeavor is a religious ritual. In spite of this religious legacy and practice, India is one of the most corrupt countries in the world.
This brings us to the conclusion that religious teachings and practices do not add value to their ethical behavior and moral upbringing. In other words, people behave in more and more unethical and immoral ways.

In stark contrast are some western countries, where religion is only perhaps once a week service in the church and are devoid of bribery or favoritism. Therefore, we can infer that work ethics and religiosity are not directly connected. Western countries through their management practices, make the people accountable for what they do. And when Indians work in the west, they follow these codes of conduct defined by management. We wanted to become patriots before independence. People of India then worked selflessly and with honesty, as they were craving to be free from the shackles of the British but once we freed ourselves without bloodshed, the country has decayed. In the stark contrast stand people like Mr. T.N. Seshan who had proved that he could enforce discipline in the voting process by simply applying available rules and regulations. It can be seen that philosophy of ethics and morals can be established in all organizations only through a will of the leader and combination of inputs.

Taking the time to carefully establish priorities is often the only effective way to unravel the mystery of how to achieve work-life balance. If you value religion above all else and your job forces you to work on Sundays or any other day for that matter (so you can't attend religious services) your life is going to feel out of balance. If you value family above all else and your job doesn't give you time to be with your family, your life is going to feel out of balance. Taking the time to prioritize your values will help you see what's working for you and what's not.

Once values are prioritized, then one can ask himself, am I living my life in accordance with these values? How close am I to becoming the person I want to be? Do I treat my family in accordance with my values? If you see a conflict arising between the person you are and the person you want to become, make choices and set goals based on your new set of values, always bowing to the goals of the highest value first. Keep working on achieving the goal of living your life in accordance with your highest values. As you do, you will move more and more in the direction of a balanced, fulfilling, stress-free life.
Images (c) istock.com