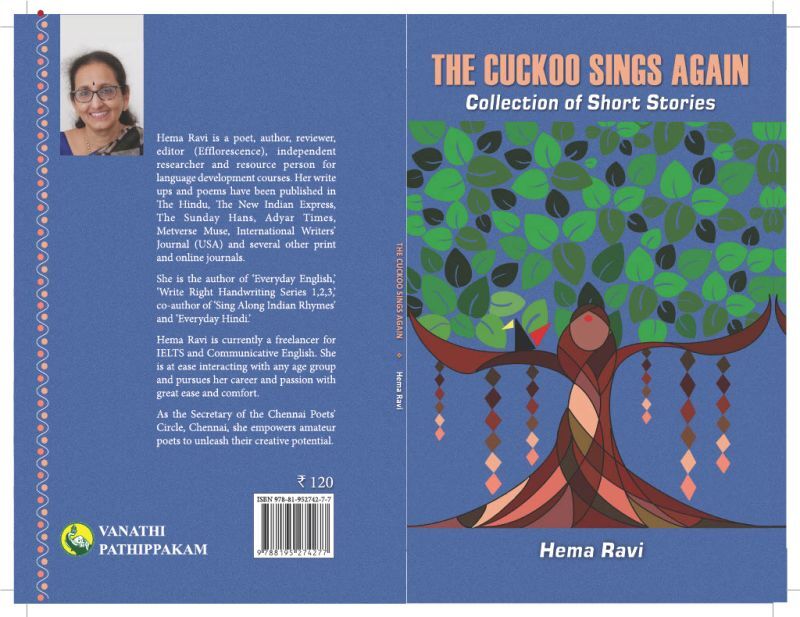 Ms. Hema Ravi, inter alia, is a much-awarded, a super-accomplished, and a sensitive poet, an excellent essayist, in-depth reviewer, an able editor of poetry anthologies notably "Efflorescence" in her capacity as the Secretary of Chennai Poets' Circle, a much-respected and long-standing poetry group of Chennai, South India, and an insightful and award-winning short story writer. Besides, her poems and articles on a variety of topics, some of them prize-winners, too have been widely published.
"The Cuckoo Sings Again" is Hema Ravi's latest published short story collection. It showcases sixteen short stories authored by her, each a nugget, presenting a slice of life with much sensitivity and a rare gentleness that's immediately appealing and heart-warming! Not really surprising, since by author's own admission, the short stories have been carved out of her own personal experiences!
The very first short story "The Train Journey" is a riveting account of a long train journey that "ended uneventfully, with great learnings though"! This story has all the elements – suspense, drama and emotions – that spice up a story! Read it and you'll know what I mean!
The short stories in "The Cuckoo Sings Again" bear the hallmark of the author Hema Ravi's writing style – simple yet engaging, meaningful yet non-preachy! There are lessons for us in each of the stories shared by the author written in her easy-flowing style, conveyed gently without any assertions!
"Nostalgia" in this short story collection, is one of my personal favorites because I found it highly relatable! The Periamma (aunt) in this story, reminded me of the genial and generous Aunt Dahlia's character in my favorite author P G Wodehouse's novels featuring Bertie Wooster and Jeeves!
"A Thief Meets his Match" is a must-read short story for all, especially women who stay alone at home while their husband is out at work. It offers a great lesson on presence of mind and facing a crunch situation with courage (may be, in the story, it may seem like bravado!). Again, this story too is highly relatable as the incident narrated in the story, could happen to any of us!
Among the stand-out and outstanding features of "The Cuckoo Sings Again" that offers a rich reading fare, are the excellent and appropriate photos accompanying each story (clicked by Mr. N. Ravi (Hema's ever-supportive husband) and the way some stories have been peppered and embellished with Hema's poems and haiku, that make the reading experience enriching, enlightening and entertaining! The attractive and superior book cover brilliantly designed by her son-in-law Srivats is yet another value addition to the book, besides the excellently penned short stories themselves! This slim volume of 16 short stories is truly a treasure trove of valuable lessons in good writing, appropriate usage of words to suit a situation and some truly moral-enhancing life lessons!
This short story collection can rightly serve as a knowledge resource and guidance document for aspiring writers on how to approach writing and on how to write an interesting short story.
I picked up "The Cuckoo Sings Again" for a leisurely reading spread over a few Sundays, but believe me, once I started reading it, it was unputdownable! Such is the spell that the stories caste on the reader, as the curiosity to know what happened next and the tempo of events are so ably sustained throughout the book by author Hema Ravi!
My advice - go grab a copy today of "The Cuckoo Sings Again" by Hema Ravi.
About the Book:
The Cuckoo Sings Again - Collection of (16) Short Stories by Hema Ravi, Chennai, India
ISBN ;978-81-962742-7-7, Vanathi Pathippakam, Chennai, India, pp 96 INR 120