When temperatures soar high and higher, when glaciers melt, when cities submerge under water, when infectious diseases make life miserable, we think of pristine Nature, words full of love for Nature and the respite of pure water and air.

Eco-literature and eco-criticism have become a popular call. Somewhere between 650 to 1100 CE, Adi Shankaracharya wrote Ganga Stotram. He wrote many timeless philosophical and poetic pieces like Bhasya, Upadesasahasri, and various commentaries.
Water is the most precious, life giving resource of Nature. It is essential for the survival and happiness of creation and creatures. Adi Shankaracharya wrote this highly poetic, musical and rhythmic piece as an Ode to life giving Mother Ganga. The mere sound of this stotram brings gushing water and immense peace to the sensitive mind. It lifts up the mood. We personify elements and treat them as members of family in order to bring them very close to our hearts. Ganga is mother. She is life giving. When we take Ganga as mother, we cannot thing of polluting her or harming her. That is the underlying idea.

Ganga Stotram has fourteen stanzas. The last three stanzas list the benefits of reading, reciting and imbibing the values of Ganga Stotram.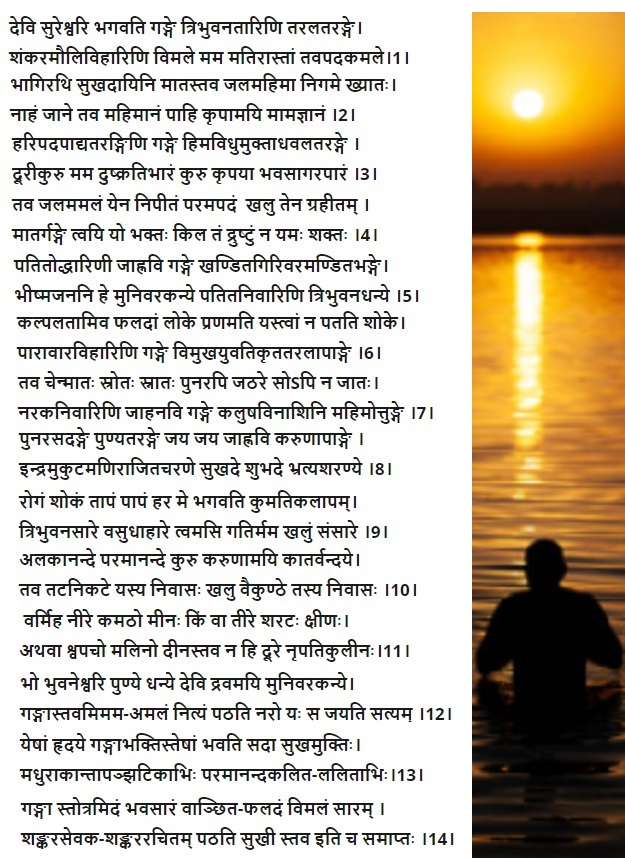 The Stotram begins with salutations to the river Ganga bringing in all the images of free flowing water, liberation and endless waves. It appears as though we are amidst Ganga. The scriptures sing of her glory. Ganga protects an individual, a society, a race and the thereby the whole creation. The poet seeks protection and safety. He knows about the might of Nature. A human knows nothing in comparison to the might of Nature.

Mother Ganga is beautifully adorned in white colour, white waves like white moon and white pearl. She is pure and so is her colour. We wish to cross this ocean of Karma roofing on her waves. The poet prays her to salvage him from Maya. Even death is defeated at the feet of Mother Ganga as she grants deathlessness. Mother Ganga uplifts the fallen. She does not discriminate. Everyone belongs to her. She cleanses all. Where there is pure water, there is prosperity. Pure water is the biggest blessing. The harvest is due to Mother Ganga. She bestows fruits and grains sumptuously on humanity. She takes away all grief. Feeling her waves, bathing in her, our sorrows disappear like thin air. Ganga is forever young. She is graceful. She is rhythmic. Her beauty is unparalleled. Her gait is charming.

Mother Ganga demands our reverence. She is the preserver of life. She is the nurturer. She is the mother. She can salvage us. Her water cleans our body, heart and soul. It washes our evil ideas. It takes the past away. We are born again bathing in Ganga. Mother Ganga tells us to begin anew on the path of virtue. Misery cannot touch someone in the lap of Ganga. She protects like a mother protects her child. Ganga is glorious. Ganga is the best.

This is how this glorious Ode continues to sing paeans to Mother Ganga. She makes everyone pure. Her feet are adorned with heavenly jewels.

We can understand that the poet is speaking in the larger context. Adi Shankaracharya was one of the best travelled Saint-poet of all times.

He had travelled about one hundred prominent places of the Indian subcontinent right from Ajmer to Hampi to Gauhati to Badrinath to Kanyakumari to Jagannath Puri to Kathmandu to Kurukshetra to Pandharpur to Sabrimala to Kashi to Rameshwaram to Tiruchirapalli to Vrindavan.

He is talking about the jewels of gangetic fields and the crown of Himalayas. The vision of Adi Shankaracharya is simply vast and grand. His poetic heart is overflowing with love for Mother Ganga in this hymn. He prays to her to remove all his pain, sickness, sins, and wrong thoughts. Folded hands, he requests Mother to grant him refuge and endless mercy. He says that all life forms which live in Ganga or near her are blessed. He does not want to go away from her. Such is his love for her. Hearty recitation of Ganga Stotram will dawn an era of awareness on the individual. Truth and salvation will come within reach. He says that we should fill our hearts with the nectar of love for Mother Ganga. He even gives us the musical meter in which this hymn is to be sung. He says that the poem is written by the servant of Shankara. The hymn will bring joy to everyone, the singer, and the listener.

I am simply amazed by the beauty of eco consciousness in this Ode to water. It bathes you in beautiful, purifying thoughts. One can only wonder at the greatness of this sage called Adi Shankaracharya.
Images (c) istock.com