A Profile of Angela Gomes from Bangladesh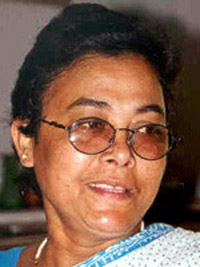 Angela Gomes is a symbol of strength and fortitude for the lakhs of Bangladeshi women whose lives she had touched. Born on July 16, 1952 in Gazipur, Bangladesh, Angela was the seventh of four brothers and five sisters. Resisting her parents' attempts to marry her off early, Gomes managed to get herself a decent education. She won a scholarship to a mission school run by the Sisters of Charity in Jessore. At the Sacred Heart School, Angela was deeply impressed by Father Ceci, a Xaverian priest who was working with the people in the slums of Jessore.

It was in this phase of her life that she began resenting the secondary role that women in Bangladesh were relegated to. "At the age of 13, when I was studying with the nuns, I clearly saw the inequality between the sexes, especially among the poor. I hated the fact that women were abused and humiliated and wanted to do something for them - particularly widows, divorcees and single women," she recalls.

In 1975 - after she had completed her bachelor's degree in economics, history and geography - Angela finally began her work in the villages. At one point, an indictment was drawn up against Angela, accusing her of being a bad influence on the community. Although she fought the charges successfully, she decided to take up the magistrate's advice that she would be better equipped to deal with such attacks if she set up an organization, instead of working alone.
In 1981, therefore, she set up Banchte Shekha ('learning to survive') in a small way. She recalls her early years: "The women didn't trust me at first because I was a Christian. They thought I wanted to convert them. Some women thought it was bad luck to look at my face because I had no children. I would try to talk to them about their problems and they would say 'Where is the problem?' They had all kinds of problems, but only I was aware of them."

Angela did what she could to dispel these doubts. She changed her name to Anju, invented a husband (who she said had gone abroad to study) and finally invented two children (who she said were "back in the village"). She also studied the Koran and comported herself in proper Muslim fashion. With no resources or staff strength to support her, Angela visited these villages alone and largely on foot. That wasn't easy. Nor was gaining the trust of the villagers or resisting the vindictiveness of local leaders.

One example of such opposition is the time when Gomes set up a sericulture program. Angela, with many other women, spent 22 days planting mulberry bushes on both sides of a railway track near Jessore. But some men, who did not like the idea of women organizing themselves, destroyed all the plants they had so painstakingly sowed. She was also accused of trying to convert Muslim women to Christianity, and of packing her organization with Christians - a charge she firmly refutes, with evidence that there are very few Christians in her organization. In yet another instance of sheer perverseness, some persons falsely claiming to be part of her organization, filed a case alleging financial irregularities within Banchte Shekha. However, a donor-instituted special audit put paid to those allegations, when it certified that Banchte Shekha is "an excellent and well-run organization".

The odds have been heavy. However, with patience and single-minded devotion to her cause, Angela has made a significant difference to the lives of lakhs of women in the country. Angela spoke to the women about the problems they faced as women. "Eventually," she says, "they were able to see the thread connecting food, work, education and rights."
Today, Angela is affectionately known as 'Boro Apa' (eldest sister). And Banchte Shekha operates from a 1.5-hectare training complex in Jessore, which accommodates 200 live-in trainees and also serves as a shelter for women. Over 25,000 women in 750 village-based organizations are active members. Angela estimates that over 2 lakh people benefit indirectly from Banchte Shekha's comprehensive interventions in village life.

Banchte Shekha also has a range of income generation schemes - including sustainable agriculture, poultry and livestock farming, handicrafts, sericulture and pisciculture. The organization also has programs on reproductive health, primary health care, water and sanitation, health education, nutritional support, natural disaster relief, basic needs (food, clothing, medicines) relief, a women and child development program, and a hygiene program.

Also crucial is the work they do on social and human rights development and good governance. Angela has instituted programs on social rights education, which talk about gender issues, democratic and legal rights, women and child trafficking, and culture. Banchte Shekha also has a legal aid cell that helps women who are in need of legal counselling or support. This is the only legal aid cell in the country to be run entirely by women. The fact that the organization and its members are aware of the law and their rights has also helped many women negotiate their own space in their homes. Over 350 village women have been trained to be paralegal consultants so far.

For Angela, the success of her efforts was recognition enough. In 1999, when she received the Magsaysay Award, it was a confirmation of all that she believed in. The Ramon Magsaysay Award citation reads: "The board of trustees recognizes her helping rural Bangladeshi women assert their rights to better livelihoods and to gender equality, under the law and in everyday life."

On a personal front, though, Angela has been going through a difficult time. She has been fighting ovarian cancer and undergoing chemotherapy. After the prolonged treatment, she is in a somewhat improved condition now. Although this has slowed her down somewhat, Angela continues to be actively involved in the running of the organization, in visiting the villages and in talking to women about their problems. She makes light of her own problems: "Oh, when I go to heaven, God won't want me. In heaven there is no work. I will say, 'God, what is there for me to do up here? There is no work for me. All the people are happy.' So God will smile and send me back here, because God knows that I have work to do."

(This profile is part of Women's Feature Service's collaboration with Sangat on the South Asia chapter of the 1000 Women for the Nobel Peace Prize Project.)
By arrangement with Women's Feature Service and Sangat