Holidaying in Bellevue, WA, each weekend is spent in driving to a scenic spot near or far. 'Festivals' always evoke joy and anticipation, and 'Tulips' evoked several nostalgic memories of the books read during chidhood.

The drive to Skagit Valley in the morning was about a hour and a half, the return took slightly longer as there was holiday traffic.

Although it was held in three-four places, our entire day was spent in the massive 'Roozen Garde,' one of the places that had organized the festival. I wonder how the idea of the tulip festival was mooted ; the tulips and daffodils on the 350 and 450acres respectively were planted for crop rotation purposes, and due to this, the fields are different each year. All credit to the visionary bulb grower who had migrated from the Netherlands to the United States decades ago along with a bunch of tulip bulbs to plant on his farm.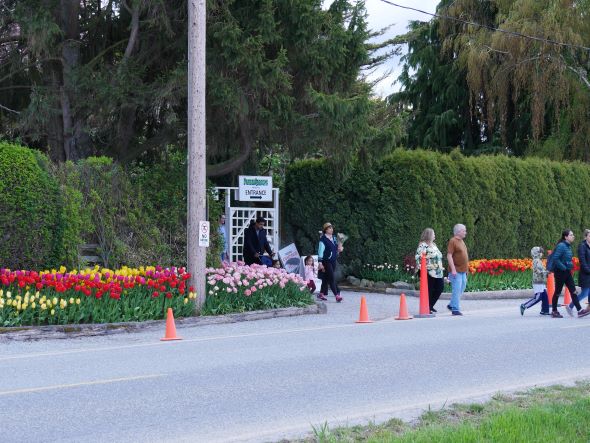 Just past the entrance stood a windmill, beneath which an assortment colourful flowers swayed in front of the hordes of people. The sea of humanity stood dwarfed in front of the floral carpet that stretched endlessly. The garden has about 750 acres of tulips and daffodils in an assortment of varieties and colors.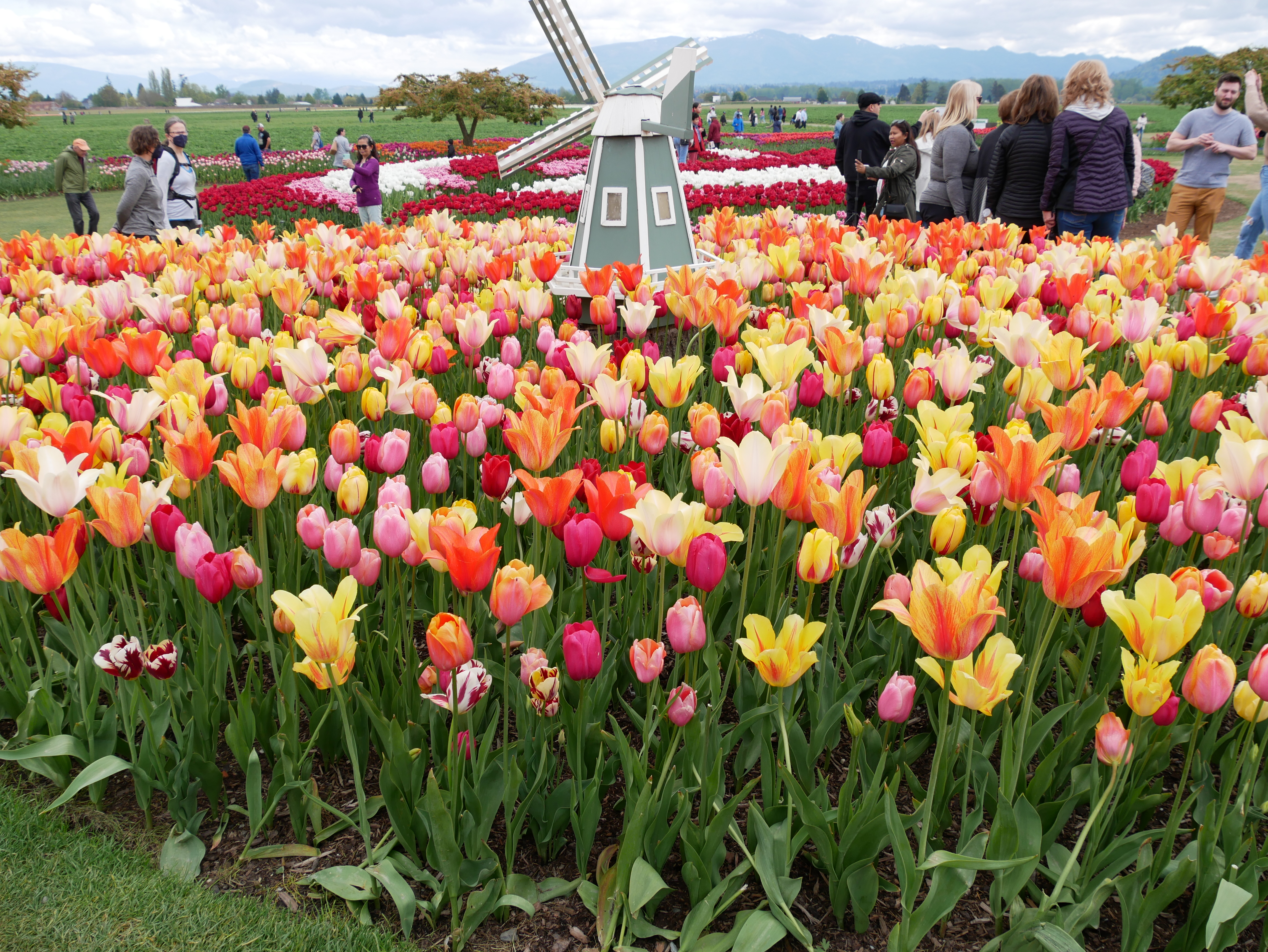 As far as the eyes could perceive was a mindboggling display of colors; there were millions of large tulips in red, yellow, white, peach, tangerine, pink, purple, scarlet, two-colored and multi-colored flowers. The distant snow-capped hills (the Cascades, I guess!) formed the ideal backdrop to the enchanting scene, straight out of a fairytale. What one witnessed in films was right in front of us – Unbelievable!

The 'Tulip Festival' evoked great curiosity, enthusiasm and excitement in me (my family), as it did to the thousand other people who walked past the orderly beauties exclaiming: 'Marvellous!' 'Breathtaking!' 'Astounding!' 'Brilliant!… Lovers locked in embrace, gaily attired children escorted by parents, energized photographers with backpacks clicked on endlessly; they just could not take off their eyes from the spectacular scene. Enthusiastic women and children were sashaying, at times, trampling upon or plucking a flower (and this kept the volunteers on their toes as they kept shooing all those who walked on the middle beds instead of the assigned pathways.) Young artists stood on a grassy path capturing the magnificence on canvas.
The long walk was rejuvenating; it also brought in the hunger pangs. The ubiquitous hotdogs, Kettle popcorn, burgers, chips, chocolate fudge, coffee and tea were available in the large makeshift kitchen stall ably managed by a group of young men and women. Adroitly, they catered to the hungry groups that lined up continuously. Food for the body invigorated our bodies and minds to walk on and soak in the magnificent scene once again.

I am left with utter poverty of words unable to describe the rapturous splendor - with childlike innocence, I can say that watching millions of tulips flutter in the Spring sun was an exhilarating experience.
Photos Courtesy: N. Ravi