"Life is not complex. We are complex.
Life is simple, and the simple thing is the right thing."
— Oscar Wilde.
Keeping things simple is skill that is hard to acquire which probably why Isak Munda became such a rage on you tube with his videos which reflect simplicity of mind, family, friends, love and respect for nature, away from the hustle and bustle of urban life. A daily wage construction labourer becoming a You tube star in just a few months is extraordinary tale that merited mention in Prime Minister's Mann Ki Baat.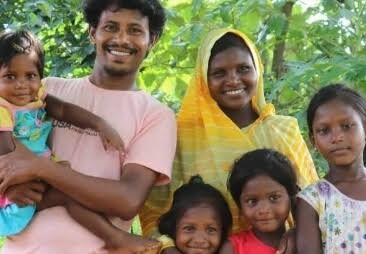 Starting off with a video on eating dal rice, (Isak Munda Eating) he became more creative and began making videos on tribal food and how he with a family of four girls and a wife gathered local food from the forests, ponds and lakes, cooked on wood stoves, village style.

Three months after running the channel, he received Rs 37,000 in his bank account from YouTube. A month later, Rs 5 lakh was remitted. Then came a time when other You Tubers made a beeline to Isak's house to meet him and talk about his success.

What probably made the videos so popular was that the refreshing simplicity of the life Isak led. His humble home, his forest walks for hunting for food along with his family and the two dogs. He began showing what his life looks like through his food videos. How they cook the food, how the whole family sits down on the grass mat to eat together, how he plays with his youngest daughter, how the little one makes the rice ball with her hand and pops it in…small details like these make the videos endearing. You Tube helped him a lot with tips on video ideas, editing tips and so on.

What shines through in his videos is his love, respect for and faith in Nature to provide for his family. The pride in one's own culture and cuisine also comes through very strongly. His wild food trails and hunt for seasonal vegetables, fruits, flowers, and fish are so much in sync with the new age wellness lifestyles. The videos provided fodder for the back to nature/basics trend of the urbanites, and they couldn't have enough of it.

In matter of two years, life changed. Isak is a rich man today. He built a pucca house for his family, bought a car and his home has all the comforts needed. The meals on the mat have been replaced by meals at the dining table. He wants to send his daughters to an English medium school. He owns a car and takes his family for city outings.

He is a village hero. He is taking others along with him on his journey by organising group food events and competitions like – crab-catching, cooking and eating - all in a day. Everyone joins in heartily, there is a lot of bonhomie during the community feasting.

Will the YouTube stardom stay on Isak or will the mundane urban dust rob him of his rustic charm? Only time will tell.