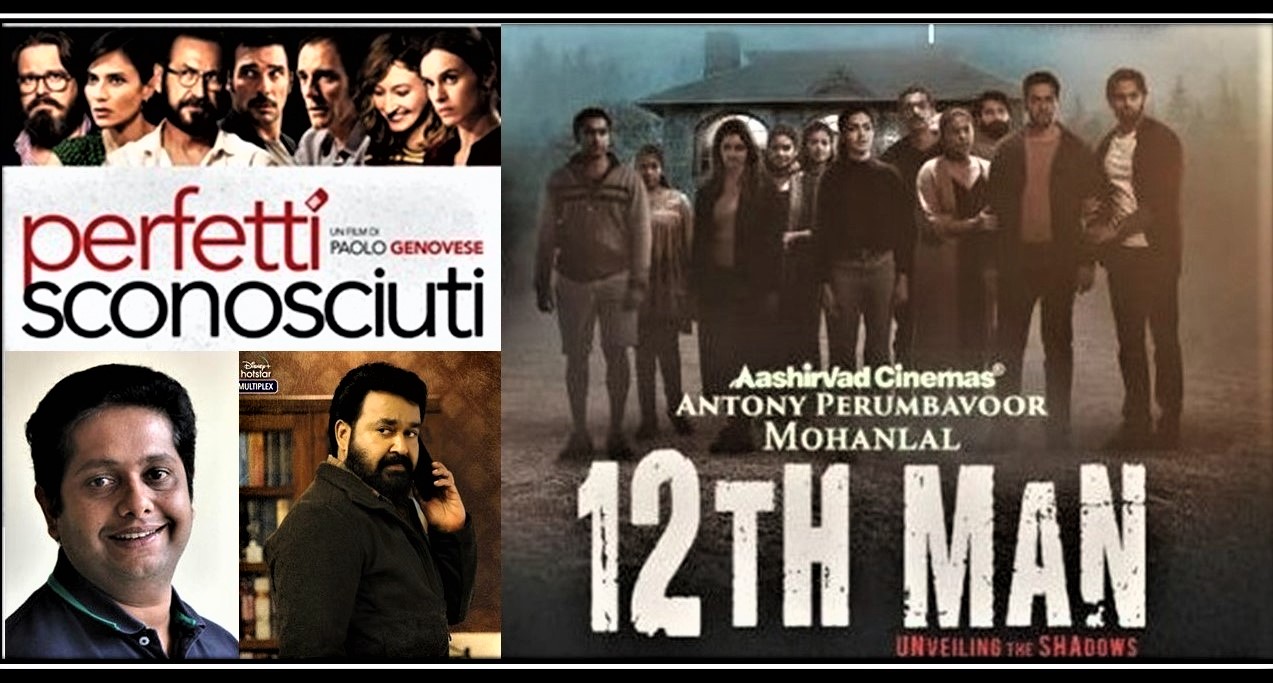 '12th Man,' the recent outing of director Jithu Joseph, is an intriguing mixed bag; but, I can very well say that this is 'The smartest film with the Smart Phone as the HERO'.

Yes. If you watch it you will understand how the innumerable twists and turns happen because of the smart phones, calls, voice calls, Whasapp messages, and videos playing vital roles. The story also reveals that what we see in a friend or husband and wife or fiancée is not real. There is 'someone' whom each other need not necessarily know could be there. This holds good even for the couples. Ahem, even for an intelligent police officer too.

A group of friends and their respective wives, fiancée and also a bachelor and a divorcee are part of the big assembly. After nearly more than half an hour of fooling around (it gets on our nerves too!), they set out for drinks and dinner. One suggests 'Let us play a game'. What game? All their smart phones should be on speaker mode and whenever the calls come the conversation has to be open to all.

When the startup call itself is sour, one with a mom-in-law's uncharitable comments about her daughter- in- law much to her chagrin, with other unexpected calls reveal the seamy sides of many characters in one way or another. A sudden downpour spoils the dinner midway but soon after that the dead body of one of the women sends shock waves among the gang. Adding to their misery, the drunken prankster at the resort, despised by the gang from the beginning, turns out to be a police officer who conducts a combined open investigation. How? Again continuing with the earlier game of 'speakers on smart phones' to get the lead to the murder and murderer.

The movie is supposedly a remake of an Italian movie 'Perfect Strangers' (Perfetti Sconosciuti- 2016) which was a big hit and remade in 22 countries. The difference being the original the game reveals the strangers in the friends and relationships, and romance were shattered. Nevertheless, director Paolo Genovese seemed to have kept a twist in the tale at the end.

'12th Man' is first of all too crowded with almost similar looking and dressed up women. None of the men have anything special to sit in your mind. So when the marathon investigation goes on many times one can lose the story thread. The inter-relationships are so complex and one could easily be baffled if one doesn't follow and understand the conversations keenly.

Yet, Jithu Joseph once again proves that he could handle such complex and perverse thrillers with élan.
Streaming in Disney Hotstar.