The Cuckoo Sings Again ….. collection of short stories ….. by Hema Ravi
Published By Vanathi Pathippakam, February 2022.
ISBN 978-81-952742-7-7 pp 96 Rs. 120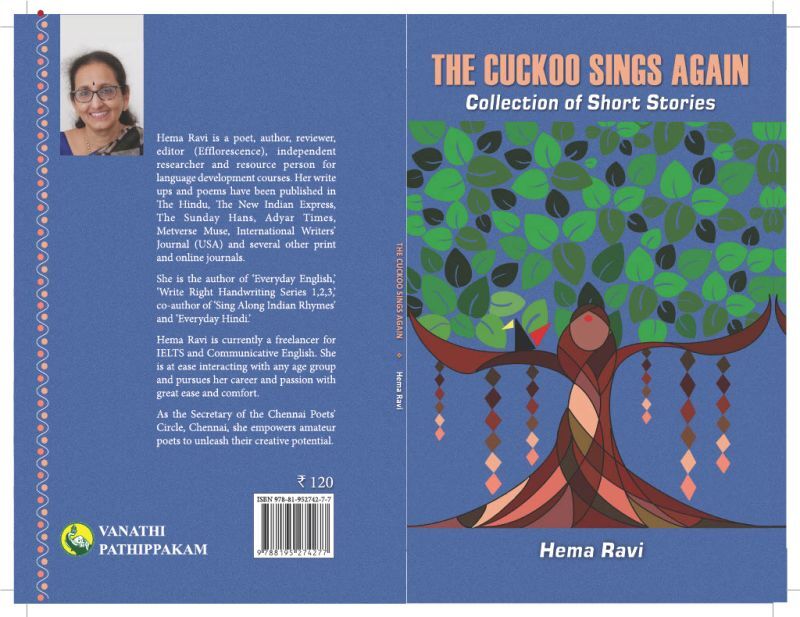 This is Hema Ravi's 3rd book published (Other two books are 1) Everyday English and 2) Write English Right Handwriting Series 1,2,3) and her maiden attempt at publishing her short stories.

This book contains 16 short stories with a very neat and crisp Publisher's Note from Dr. T.R. Ramanathan of the renowned Publishing House Vanathi Pathippakam. Dr. Ramanathan rightly says 'We find the collection of stories also to be a highly finished product of her craftsmanship'.

Smt. Meera Raghavendra Rao, a senior freelance journalist, author and blogger says in her brief foreword: 'The cuckoo is known for its melodious voice, and we never tire of its singing and that's the impression I got when I completed reading the slim volume'.

The book is beautifully designed with a fine, appealing cover page design by Srivats Chandrasekeran.

Another outstanding feature of this book is some amazing black and white photographs at the beginning of each story by N. Ravi. The photograph of the Cuckoo at the beginning of the title story 'The Cuckoo Sings Again' is particularly awesome. Indeed, black and white photographs have their own charm!

Hema Ravi has respectfully dedicated this book to her parents. In her note to the readers, she has also thoughtfully dedicated this short story collection to her immediate and extended family members, her friends and associates for kindling her creativity.

The title 'The cuckoo sings again' having kindled my curiosity, I read the title story first though the serial number of the story was 4. It is a lively, easy description where the Protagonist Seema for whom the rough and tumble of married life has all but taken away her passion for singing because she has no 'me time' hears casually from the transistor of a mobile tea vendor an immortal song of poet Subramania Bharathi sung by a renowned Carnatic Singer and it provokes her to sing sub consciously and gets spontaneous applause from passers by! The Cuckoo in her is awake! No wonder this story got an award, as some of her other short stories too, in this book!

'The Train Journey' is very interesting where the house wife travelling from Dehradun to Chennai for the first time with her two young children overcomes the nervousness of having to travel with strangers and experiences 'great learnings'.

'An Orator is born' perfectly justifies the opening quote in the story 'Quiet people have the loudest minds'. I liked that natural narrative where an excited Nupur, while sharing with her mother over phone her joy of winning a prize says " Zara taharo, Baahar aathee " (to get a better signal from the phone)

There's the touching story of 'Beyond Stereotypes' of labourer Thangamma working with her husband in the crematorium for her daily bread. Her husband dies and the struggle for life continues. She had to bring up her young son. How she thinks out of the box for the sake of her son's future is tellingly emphasised.

All other stories are equally interesting and eminently readable, particularly two very short stories titled 'Athithi Devo bhava ' and 'Letter from Mother to Daughter', more so as the author herself says that 'these stories are based on real – life incidents, but the story that impressed me the most was ' Survival against Odds'. I read the story twice. Seena and Ranga had been colleagues at School (Ranga somewhat senior) and they have together worked for the upliftment of Bloomsberg School. The essence of the story is in the two letters, One written by Ranga to Seena and the other by Seena to Ranga in the form of a reply. It is to the credit of the writer that the confident nature of Seena's character is so clearly highlighted in her reply. It shows how amidst all the struggles in her life (her son did not have a sense of hearing, her husband succumbed in a road accident) and yet she raised her son with poise and confidence with a positive approach and with whatever she learnt from her husband and mother on People Management. Her ability to face any problems in life with equanimity stand out. In the beginning of the story, Seena is mentioned as gifting a book ´The Prophet" by Khalil Gibran. By quoting aptly from the same book at the end of the story , the author has added a great touch of relevance.

Overall, I really enjoyed reading this book. Every story has a subtle but positive message. Style of writing is simplistic, devoid of unnecessary frills and yet elegant.

I wish Hema Ravi writes more and more short stories in her easy, natural and free flowing style.

As the title of this review states, this is delightful book of short stories for serene and reflective reading.