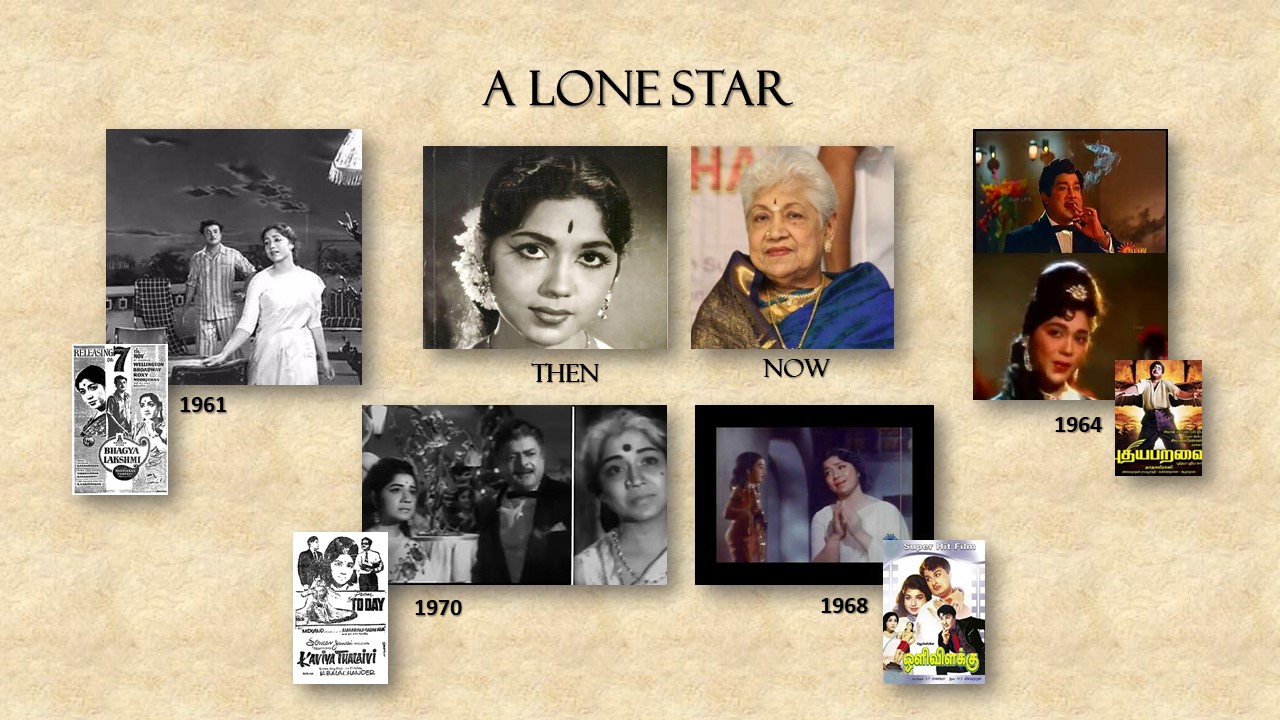 When I had posted a writeup on the popular Tamil heroines of yesteryears some time back, a few of my friends questioned me why I left out Sowcar Janaki, who was a versatile actor of those times?

Yes. Their concern was true in a way but, also one couldn't justify that she had been a popular heroine and many of her films even with very popular actors like Sivaji, Gemini and MGR also had one another popular heroine of those periods. Sivaji's 'Puthiya Paravai' had Saroja Devi in the titular role, Gemini's 'Parthal Pasi Theerum' was a multistarrer where Savithri was the main, MGR's 'Oli Vilakku' had Jayalalithaa. Well, in movies like 'Kaviya Thalaivi' she was the main character with a dual role. It is to K Balachander's credit that he made a dull Sowcar into a versatile artiste with his drama 'Ethir Neechchal' and later with films like 'Kaviya Thalaivi'.

No doubt Janaki is a multi faceted personality and donned several roles and drew the attention of the audience as well as critics. Her style and English used to demonstrate her native intelligence. I just watched a bit of Sowcar talking in a recent function about her casting in 'Puthiaya Paravai' in the role of a Nightclub Chanteuse (crooner) and how she dressed herself up with a sari in a different style for the memorable song 'Parththa Gnabakam' and how it turned out to be raging hit. In fact, she said director Dada Mirasi was against her from the start for that role but it was Sivaji Ganesan who compelled him to cast Sowcar in that role with confidence.

Well, I do remember not only Janaki's memorable acting in several films and here I share just four of my favorite songs which were picturized on her. The songs were simply superb, melodious and evergreen. Accidentally two of the songs of my choice are based on pure classical genres. The credits of all these goes to the inimitable duo Viswanathan-Ramamurthy. 'Malai pozhuthin' from 'Bhagyalakshmi' is set in raga Chandrakauns and 'Oru naal iravu' from 'Kaviya Thalaivi' in Madhukauns or Sumanesa Ranjani. The other two are also equally popular and memorable. In fact, the 'Oli Vilakku' Song was repeatedly blared everywhere when MGR was under treatment in Brooklyn Hospital reflecting the sentiments and prayers of the Tamil population.

The credit also should go to P Susheela who had rendered all these songs with the perfect emotion and style.