Stickiness in tech language refers to aspects of a website that makes the user linger on the site. About a decade and half ago, techies were tasked to makes websites and apps as sticky as possible. They did a good job apparently; as a result we had half the world population sticking their heads into phones. So more than decade after making apps and websites as sticky as possible tech (sleeping) giants, are waking up to the fact that screen addiction has caused more harm than they ever imagined. They are facing a severe backlash on the very same apps they developed about the irreversible harm done to society by technology.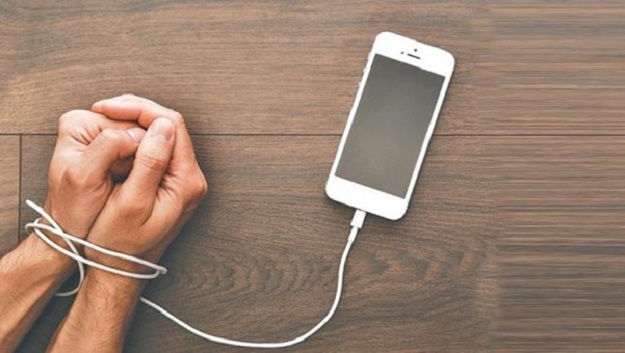 Image: Microsoft Stock Library
Old schoolers and tech-skeptics were wary of the technology and even polite in the criticism of new technology by calling attention to the unintended consequences social impact of new technology, but the world was deaf and they were brushed aside as the naysayers of our generation. During the Arab Spring between 2011-13 social media was heralded as the tool for freedom and democracy. By 2016 people were saying can you imagine life without a smartphone? Then the dark side of technology emerged when social media was used by Russians to meddle in US elections to divide Americans by race, religion and ideology.

Slowly people discovered that Zuckerberg himself keeps his children off social media because he knew how habit forming they were and how they mess up the brain. There was outrage but too late to do anything about it. Young kids had been crowned FB Kings and hooked on the dopamine rush. Lives had been hijacked, the world was online but totally disconnected from real life and real people. People were living dopamine driven lives. The result: curated positivity, scripted lives, fake news, mistrust and misinformation all around. It was becoming hard to believe anything or anyone anymore. At one point Steve Jobs is known to have said, "Misuse of technology is a social problem, not a technological one." What else do you expect the founder of the company to say?

What Carl Sagan said fits very well here, though he said it much before social media came into being, " In the littered field of self-congratulatory chauvinisms, there is only one that seems to hold up, one sense in which we are special. Due to our own actions or inactions and misuse of our technology, we live at an extraordinary time, for the Earth at least – the first time that a species has become able to wipe itself out."

By 2018 Zukerberg had to confess "The world feels anxious and divided, and Facebook has a lot of work to do - whether it's protecting our community from abuse and hate, defending against interference by nation states, or making sure that time spent on Facebook is time well spent."

Two years down the line in 2020, social media became central to the farmer protest in India, to rally supporters across the world and amplify the protesting voices. Clicktivism was at its peak. Sharing toolkits was de-rigueur and there were international celebrities joining the chorus. Mainstream media was becoming irrelevant, because they were agenda driven. Discussions and directions happened on social media. Prime time news was replaced by You Tube videos. Algorithms were having the time of their life. Radicalisation and polarisation were having a field day.

This is how we got where we are in this world today in 2022. Now I believe tech companies are feeling guilty and are working hard to make social apps less addictive. One strategy is to make users post candid shots from everyday lives; warts and all. Well begun I would say, let's get back our unhooked selves. Let's also start having a social scientist scrutinize every new technology before its roll out.