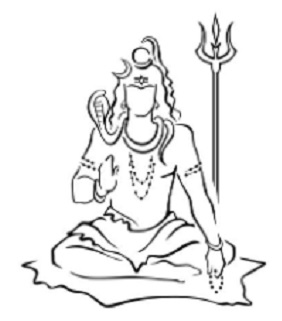 Shiva is a force. All symbols that signify Shiva are there to remind us of HIS presence. In essence, Shiva is the cosmic force. There is a consciousness running through things. All matter, big or small vibrates with certain energy. There is a link, a chain that connects all that exists or even does not exist. The name of that link is Shiva. Shiva symbolizes forces of Nature - air, water, stars, animals, normal and away from normal beings and things. While HE breathes in fresh air in the mountains, snakes adorn HIS neck. Lion skin is HIS mattress. Damru is HIS music. Moon is is ornament. Flowing water sits on HIS head.

Ghosts are HIS friends. Trident is HIS weapon. HE loves good food but HE also loves dhatura.

People do not get the idea behind SHIVA. Symbols are sacred and necessary for everyone to be reminded of HIS presence but Shiva HIMSELF is above all this. The concept of Shiva is about cosmic reality.

Shiva is incomplete without Shakti, the female force. As the lingam depicts, Shiva and Shakti are ONE. Only in Togetherness, they exist in fullness. Male and female are the two sides of creation unified in Shiva. Lingam stands for creation, regeneration and birth. It is symbolic of hope, of future, of all tomorrows.

Shiva does not move without Shakti. Shakti has no place without Shiva. Jointly, they are the world, all the worlds. Shiva stands for a happy physical and mental life, a healthy conjugal life. Shiva means fulfillment. Shiva is sustenance, the enjoyment of life, the dance, and the trance. HE is easily pleased. All HE wants is a pure heart. HE does not need many offerings. Your faith and devotion are enough. He is called Bhole Baba, the innocent one, the easily pleased one, the easy one. HE is available to all, all the time. HE can be reached just with a thought. HE is our cosmic reality.

Shiva also stands for death and destruction and all those inexplicable cosmic ways. Laws of Nature are to be respected or Destruction awaits humanity. Tandava is the dance before death. Shiva is the destroyer.

While we all worship Shiva, we sometimes miss ruminating on the essence. The universe has been packed in this concept.

With Shiva, flowers, fragrance and sandalwood paste go side by side ashes, and intoxicants. The spectrum is all pervading, all encompassing. Dance, yoga, music, creation, happiness stand side by side the third eye of destruction and the dance of death. The scales of Shiva are incomprehensible. One can only have some inkling of it.

And this Shiva is lifeless without Shakti, the female force. The beauty and the truth of the concept cannot be overemphasized. That the universe itself is a balancing act. The forces are in tandem. That conflict and friction are roughed out by fusion and symphony. Life, it's continuance, and sustenance depends on the happy coordination of the male and the female force. Once lost in Shiva, you do not need feminism. There is no world, no existence, no creation without any of the two forces. The forces are not contradictory. The contradiction is not the norm.

The male-female tandem applies to Nature, ecology, social and political order. It runs through all things. Effort combined by perseverance is all that is life.

Such is the concept of Shiva. We should strive to have a broader and deeper understanding of Shiva.
Image (c) istock.com