H.G. Wells in his A Short History of the World (1922) called Asoka, "greatest of kings…His reign for eight-and-twenty years was one of the brightest interludes in the troubled history of mankind." https://www.bartleby.com/86/29.html However, despite his numerous rock edicts scattered all over the Indian peninsula, no sculpture had been found depicting his features.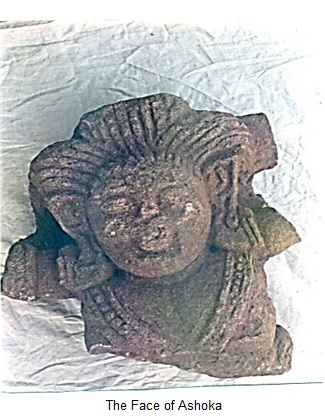 As the Kalinga war led to Ashoka's transformation to the Dhamma King, it is only befitting that finally a unique bust of Ashoka should be discovered in Orissa at Langudi Hill near Jajpur district. The Orissan Institute of Maritime and South East Asia Studies has unearthed this remarkable find in 2000-2001at Langudi Hill which has been identified as Pushpagiri Vihara mentioned by Xuanzang, the Chinese pilgrim (c. 700 CE). [1]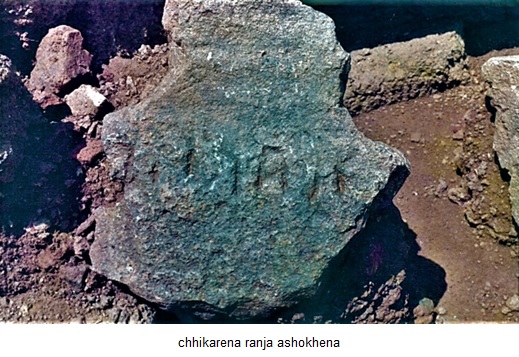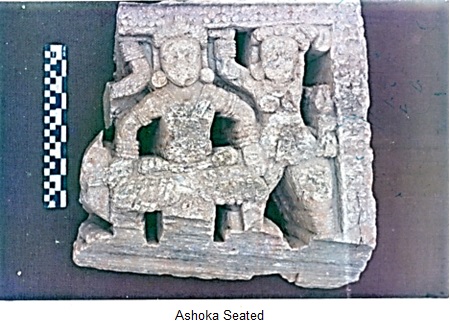 The Prakrit inscription on the back of the bust has been deciphered as "chhikarena ranja asokhena" that is, "sri karena ranja asokhena" in Sanskrit, meaning "by the doer of prosperity King Ashoka". [2] The writing has been dated to the 2nd century BCE. The bust is made of khandolite stone and was found in the stupa region. Its size is 34 x 29 x 14 cms. Ashoka is shown seated with earrings, necklace.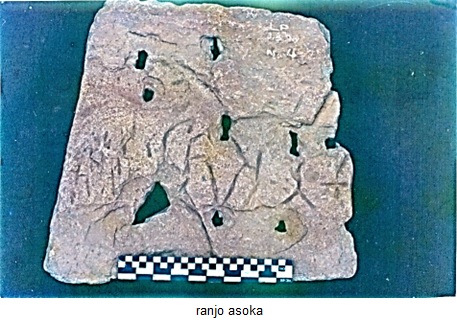 Another find was a stone sculpture 52 x 50 x 12 cms showing a seated male with a crown flanked by two women of whom the one on the left was a broken image. Here the inscription reads "ranjo asoka" and is dated to the 2nd century BCE as well.[3] The royal figure wears a turban or crown with earrings and an upper garment on neck and shoulder. There is a belt and armlets as well.

So now we know what Ashoka looked like. [4]
Footnotes:
Dr. B.N. Mukherjee, "An Early Inscription from the Langudi Hill Area", in Utkal Pradip, vol. II, No.1, June 1998, Utkal University, Vani Vihar, Bhubaneswar.
Dr. B. N. Mukherjee, letter of 22.7.2000 to Dr. D.R. Pradhan, Secretary, Orissan Institute of Maritime and South East Asian Studies, Bhuvaneswar, Orissa.
N. N. Swamy, Dy. Superintending Epigraphist, Archaeological Survey of India, Mysore, letter of 1.6.2001 to Dr. D.R. Pradhan op.cit.
The photographs and other details were made available by Shri R. Balakrishnan, IAS, Commissioner, Tourism & Culture Department, Govt. of Orissa.Also see Dr. D.R. Pradhan's "Two Rare Statues of Asoka Discovered at Langudi Hill" in the CIAA Newsletter, Issue #13, SOAS, London, June 2001.