The Andaman and Nicobar Islands are India's largest and best-known coral reefs. They are also found in the Gulf of Mannar and Kutch. Except for Lakshadweep, all of these reefs are fringing reefs. Intertidal places along the central west coast, such as Ratnagiri, Gaveshani Bank, and other similar sites, include patchy corals. Kollam in Kerala to Enayam Puthenthurai in Tamil Nadu both have hermatypic corals. Over 1,962 kilometres long, the coral reefs of the Bay of Bengal, which is located in the Indo-Pacific seas and runs across the Bay of Bengal, are habitat to around two hundred types of corals. In bays and inlets, patch reefs follow the coastlines, forming a fringing reef system. The west coast of the Andamans has a 320-kilometre-long barrier reef with a four-metre-deep lagoon. Ritchie's Archipelago and South Andaman Islands are home to channel reefs. Channels next to the fringing reef of neighbouring islands include knolls (hump-line structures). The reef flat may reach 500 metres from the coast in the Andamans and 1,000 metres from the shore in the Nicobars. Additionally, coral reefs offer antibiosis and buffer zones, and they are an essential aspect of the local marine ecosystem, sustaining varied and distinct marine species.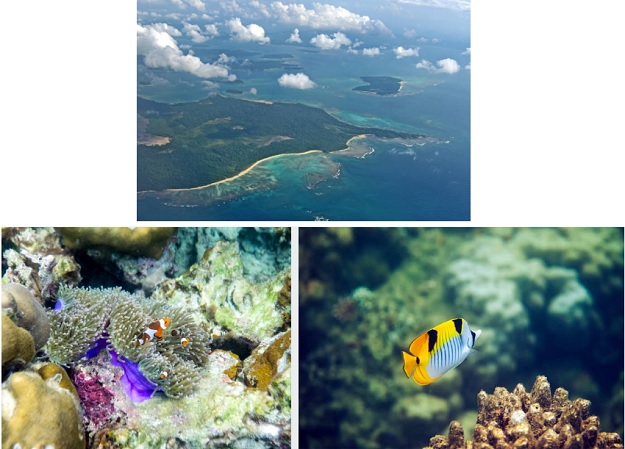 Coral and algae are mutually dependent. Zooxanthellae, the tiny algae that reside in coral tissues, have a symbiotic association. The coral's principal food source is algae, which are also responsible for their colour. Stressed Algae leave coral when it becomes stressed. A symbiotic link between algae and coral tissue is disrupted when ocean temperatures rise or pollution levels increase. Without algae, the coral loses its primary source of sustenance, becomes white or extremely pale, and is more prone to illness. Coral bleaching may occur as a consequence of rising ocean temperatures.

When the water temperature is very high (>25oC), corals eject the algae (zooxanthellae) that live in their tissues, resulting in a white coral. Corals are not dead when they become white. Coral may be driven out of algae by a shift in water temperature of as low as one degree Celsius. Coral bleaching may occur for a variety of causes, including low tides, pollution, and excessive sunshine. While corals may survive a bleaching episode, they are more vulnerable to death as a result of the additional stress they experience.

Coral bleaching is mostly caused by rising ocean temperatures as a result of human-induced climate change. Polluted runoff from rainstorms may quickly dilute ocean water and cause coral bleaching along the coast. High sun irradiation may lead to coral bleaching in shallow water when the temperature is high. During very low tides, exposure to the air may lead to coral bleaching. Reefs have already been affected by the extraction of corals and coastal sand, the construction work, the siltation due to deforestation and effluents of wood-based industries as well as domestic and industrial wastes, oil pollution, the activities of shell- and coral traders as well. Additionally, corals in the Andamans and Nicobars have suffered greatly due to the Starfish (Acanthaster planci). The crown-of-thorns starfish, (Acanthaster planci), is a huge starfish that preys upon hard, or stony, coral polyps (Scleractinia). Overuse of the reefs by tourists, including trampling, trash and the toppling of coral blocks as well as scuba diving and snorkelling, has already started to leave its scars.

The El Nino event and the rising sea surface temperature (SST) in the coastal Andaman Sea are responsible for the bleaching. Because of heat stress, coral calcification is declining at an accelerating rate. According to bleaching occurrences across the globe, El Nino has had a devastating effect on the world's coral reefs, which have lost 16%of their cover since 1998, with a maximum death rate of 70% in the Indian Ocean area.

These fragile ecosystems are at risk of being often threatened, even though they provide a high level of services in support of healthy and sustainable reef habitats, coastal protection, tourist development, and the establishment of recreational opportunities for the coastal population.

About 83.6 % of the scleractinian corals were found bleached in recent years. A bleaching rate of 91.5% was found within the Andaman Sea area of South Andaman; with a bleaching rate of 83.2% being found within the region of North Andaman. In North and Middle Andaman, there was no proof of coral bleaching, whereas, in South Andaman, 74.2 % of the corals were bleached. it had been disclosed that bleaching occurred up to a depth of 30-metre within the 40-metre-deep investigation. Bleaching had the best influence at depths of 0-6 m, followed by depths of 6-15 m.

The Andaman Sea coastal zone of North Andaman had a good recovery rate (29.25 %) whereas the Bay region of South Andaman region had a low recovery rate (19.18 %). Australia's Great Barrier reef is in peril from rising water temperatures and losing bright coral colours from most of the world's biggest reef systems. The coral reefs of 3,50,000-square-km area within the Coral Ocean are bleached to associate a calculable 90% of their original colour. What happens once corals expel the Protoctista that the reefs need to grow and also the reefs become white as a result of rising water temperatures. Bleaching is generally the result of world warming, which is created by human-caused emissions of greenhouse gases. Mass bleaching on the reef system has occurred sixfold since 1998, in line with a recent study from Australia's Climate Council. We should cut emissions if we want to stop the extinction of the world's coral reefs. The "Status of Coral Reefs of the World: 2020" report, documents the loss of approximately 14 per cent of the world's coral since 2009.

Coral Reefs type a crucial part of ocean water. Several marine species are in danger of extinction due to the protection they get from predators provided by coral reefs. Fishermen and tourists accumulate wherever coral reefs are present. They are a key tourist attraction and are in danger due to the destruction of reefs. Extra protection for coastal communities is provided by reefs, that absorb the impact of waves and storm surges. We should act quickly to guard corals, which may be done by limiting or prohibition coral assortment, implementing coastal management in operational areas, and educating locals- significantly those that inherit contact with corals- regarding the importance of protecting this fragile and valuable marine resource. Inaction, incompetence, and negligence in managing guests would possibly result in the annihilation of this unique marine resource from the Bay of Bengal islands. We must tend to raise our awareness to defend this vulnerable species before it becomes extinct.
Images (c) istock.com