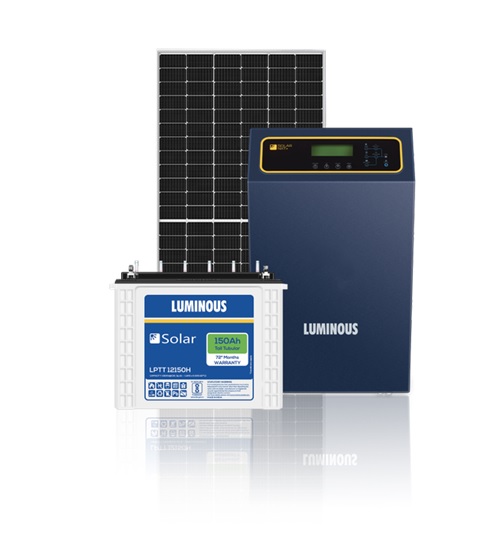 As the energy prices continue to rise, an increasing number of homeowners are reducing their dependence on the local grid and shifting to home solar systems. And while this a positive move that will have a positive impact on our planet and people, there are still some who are skeptical about going solar. The reason is that they have certain misconceptions about home solar systems that dissuade them from taking the plunge. So, to cleat the smokescreen, here's a post that talks about the five most common myths around home solar systems.
Myth 1: Home solar systems are way too expensive.
The upfront cost of installing a home solar system is high if you compare it to your monthly energy bills, but it's not that home solar systems are so expensive that one can't even afford them. Also, if you consider the fact that most homeowners can recover the cost of their home solar systems in less than 5 years which means they continue to enjoy free electricity for the next 15-20 years then you would realize that installing a home solar system is a great value proposition.
Myth 2: Installing solar panels causes damage to the roof.
This is one of the most bizarre myths around home solar panel systems. Some people think that installing solar panels has a negative impact on the structural integrity of a building and its roof. But solar panels are not too heavy or too large to have any impact on a building's roof. But on the contrary, installing solar panels help protect a roof from external factors such as rain, hailstorms, birds, animals, and more.
Myth 3: Home solar systems cannot run heavy load appliances.
A common misconception about home solar systems is that they cannot run heavy appliances like air conditioners, geysers, microwaves, heaters, and more. But that's not true. The fact is that the more the power requirement, the more the solar panels you need to generate the required power. So, all you need is enough space on your roof to install the required number of solar panels. Plus, you need to install a heavy-duty solar inverter with a higher VA Rating. You don't need to worry about that as reputable brand like Luminous India offers a wide range of heavy-duty inverters that can run even the heaviest loads.
Myth 4: Home solar systems work better with higher temperature conditions.
Do you know that a solar panel does not depend on the Sun's heat, and it instead harnesses the sun's light to generate energy? In fact, beyond a certain temperature the solar panels' efficiency begins to lower with every single degree rise in temperature. In fact, people also think that home solar panels don't work at all on cloudy days. The fact is that while clouds do impact the efficiency of solar panels but it's not that solar panels completely cease to function on cloudy days.
Myth 5: Home solar systems are difficult to maintain.
We really don't know where these misconceptions come from because these are in complete contrast with some of the most unique selling points of home solar panels. For instance, one of the biggest USPs of solar panels is that they require minimal maintenance and upkeep. You just need to clean them with water to get rid of any accumulated dust, debris, snow, or bird droppings that may be impacting the panel's efficiency. In addition to that, you need to schedule a periodic maintenance every six months or in a year, depending on how frequently your panels require to be serviced.
Ready to take the plunge?
Now that you know the facts, it would be safe to assume that you are already thinking of going solar. You decision to go solar will not only help you make substantial savings on your energy bills, but it will also help you contribute to a greener Earth. So, get in touch with a reputable solar products manufacturer such as Luminous India and check out their wide range of solar products, today!