Begum Akhtar, when in Pakistan sang an improvised Hindi love ballad, "Hamari Atariya Pe Awo Sajana, Sara Jhagda Khatam Ho Jaae "(Come Beloved to My Doorstep, Let Us End All Our Quarrels)" listeners recall how the hall was stunned with her urges to end the enmity. A silence spelt as though there was no Wagah-Attari Border and both the nations had become one. People forgot that how Pakistan was always at loggerheads with its younger brother. (Pakistan became independent on 14th August and India on 15th August 1947, thus India is one day younger than Pakistan).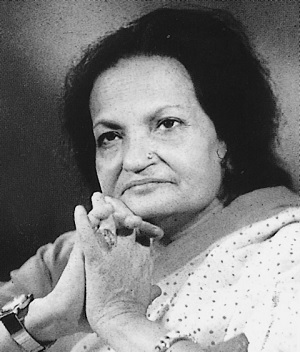 In Pakistan as well as India, Begum Akhtar is a household name. In 2024, it will be half-century after her death but she still enthralls listeners. Recordings made throughout her career of over four decades have helped make her music more accessible to music aficionados. After independence, she sang on All India Radio as well as on national and international concert stages. She is the only female singer who achieved success at all levels of court patronage, feudal salons, theatre (where light-classical singing dominated), and film. A great deal of admiration is also devoted to Begum Akhtar's progression from a musical prodigy to a respectable wedded lady who gave up her singing career for a brief period only to resurface into the public domain as a national symbol of the courtly musical culture which had influenced her. The central element of that culture is her sublime renderings of Urdu poetry in the ghazal, for which she has been dubbed Malika-e-Ghazal (Queen of Ghazal). A wide range of people from all over the world has paid eloquent tributes to Begum Akhtar, whose life she touched in countless ways. Faiz Ahmad Faiz, the twentieth century's most renowned Urdu poet, wrote: "Her personal charm, her great generosity of heart and sympathy for good causes made her acquaintance as rewarding as her art."

The distinguished performance career of Begum Akhtar is a prime example of how literary expertise has influenced both her musical and personal success. As was the case with her husband, poetry was a prominent and favored form of expression for her. This connection, which overcame the contradiction between her socioeconomic background and his, valued their union and gave her social validity. Begum Akhtar describes how she sees herself in relation to the Urdu ghazal in her own introduction to the ghazal broadcast: "My father wrote poetry. What is this singing, recite a ghazal, sing a ghazal so that your listeners might enjoy it," he used to say.

Begum Akhtar's music falls within the category usually described as "light classical" or "semi-classical," indicating music set to words in two idioms: the elite language of Urdu (decked with Farsi, the language of the ruling Moghuls), and Hindi, the language of the feudal countryside Begum Akhtar, an epitome of polite comportment, had a close connection to Lucknow, entered the scene as a wholly unusual character because she was not only a remarkable ghazal singer but also a woman with an elite husband. She was from Lucknow, and in her music and verses, as well as in her voice, habits, and personal style, she embodied its mediaeval high culture as her entire being brought to mind images of old Lucknow.

Akhtari Bai was born in Faizabad, a small town near Lucknow, and grew up with her mother Mushtari, a professional singer. It was essential that Akhtari's "sonorous voice" and "impressive recall for music" necessitated early education from male professional masters who also handled her early career. She was taught by three teachers in succession over her moves to larger urban centers. Imdad Khan, a well-known sarangi musician and accompaniment of various well-known courtesan singers, taught Akhtari "voice training" in Patna, though she thought his first raga, Todi, was too "difficult." Then, in Gaya, Ghulam Muhammad Khan temporarily taught her, but it was his younger brother Ata Muhammad Khan, who relocated to Faizabad to train her, was her primary instructor and adviser. Akhtari was 13 years old when he initiated the move of both mother and daughter to Calcutta, which was then the metropolis of film, recording studio, musical patronage, and theatre stage.

According to Begum Akhtar, she trained like classical (male) singers, putting in a lot of practice time each day, first with exercises to improve her lower voice range (kharaj bharna), then progressing to more difficult vocal exercises. However, since Ata Muhammad was a talented musician, he showed the young Akhtari how to sing a variety of songs in front of an audience. The little girl, however, found this demanding training to be burdensome and boring. But once she had achieved success as a performer, she showed her sincere gratitude to her ustad, praising him for the way he had painstakingly shaped and made her voice supple. She also says that the female artists she heard in Calcutta taught her a lot. When she was a little child in Faizabad, her favorite vocalists were stage performer Chandabaai, Jaddan Baai, and Gauhar Jaan. She names a few male light music performers, such as Jhande Khan, who is most known for his stage songs, and Moizuddin Khan, who sang thumris.

Another component of Ata Muhammad Khan's teaching was career management. He introduced her to exclusive events and arranged engagements for her at the start of her career in music. She first attracted attention from the general public at a concert held in her teacher's honor to raise money for the Bihar Earthquake victims in 1934. She received appreciation for her performance from notable female nationalist and leader Vijaylakshmi Pandit, who was present at the ceremony. Akhtari received a recording request from the HMV Music Company in Calcutta about 1930 within the same time frame. These 78 rpm records were played on the radio and by businesses as public draws, like the newly introduced tea companies, and several of them attained the notoriety that has persisted to the present day. She became well-known since her three-minute records had Akhtari's name at the ending. Although her early success with records undoubtedly encouraged more and wider patronage, they at the time provided meagre in the way of immediate monetary gain.

Kolkata served as the hub of India's expanding film industry before Bombay. Akhtari took part in both the blossoming stage and the film productions that combined drama with songs as a singer-actress. She and other singers appeared in several important movies in the late 1930s and the early 1940s. As a result of the widespread pre-composed film tunes, Akhtari started to disregard her classical music practice. She remembers that her teacher responded by giving her an ultimatum: "Either you focus on music, or you become an actress." He said that because Akhtari Bai's musical ability was in jeopardy since he would play a crucial role in her feudal patronage preparation under his guidance.

She began to accept employment in feudal establishments in Calcutta as designed by Ata Muhammad Khan.. The Raja of Nandgaon, who asked her and her mother to live in his city mansion, was her first serious engagement. As her renown increased, she received invitations from various significant Indian courts, including the Maharaja of Kashmir and the Nawab of Rampur, where she temporarily resided and received magnificent rewards. Over time, her engagements increased. These occurrences took place in a secluded elite environment, and nothing is known about their personal or musical nature. What is known is that they required Akhtari Bai's assured involvement in circles of wealthy connoisseurs and literati, including her future husband, who was a close friend of the Nawab of Rampur and a frequent visitor to his musical soirees. . As a result, her passionate and complex musical art was enriched by poetic sensibility and refinement, which gave her performances more depth and sensitivity.

Her vivacious manner of personal engagement includes the kind of easy repartee and poetic quotation treasured by Urdu-speaking elites all across the world. Following Calcutta, Bombay became a prominent centre for such patronage, musical employment and film production. Akhtari sang and starred in a number of films in Bombay, and also performed for wealthy clientele. Two stand out: businessman-poet Yahya Jasdanwala, who recorded her singing secretly, and Nawab Zahir Yar Jung, nobleman and minister from the Hyderabad court, who held her performances in his railway saloon during his visits to Bombay.

By the late 1930s, her collected wealth had allowed the now-famous Akhtari Bai to establish herself in Lucknow as a dazzling artist in high demand among the city's sophisticated clients. She bought a magnificent home in a posh neighborhood and inscribed it "Villa Akhtar" (Akhtar Manzil) in the style of famous citizens, an inscription that still stands today despite the fact that the house has changed hands many times. She and her mother greeted visitors and consumers here, and she also performed for them on important occasions. Weddings were the most important of these because in this area of India, a wedding celebration is generally incomplete without a female song and dance performance. This remembrance elucidates a facet of Akhtari's performance that has never been described in print: miming and dancing. Both dance and singing were definitely part of Akhtari's training, and she employed them in her performances, albeit dance was restricted to the opening act, and she turned to sing after her guests requested her to be seated.

In this renowned centre of Urdu poetry, Akhtari was the most well-regarded musical interpreter of ghazal poems. She was invariably granted the pleasure of presenting the most prominent poet's poems in the distinguished final slot on the program—usually Jigar Muradabadi—at the city's annual all-India festival of new poetry and music (Sher-o-Naghma).

Akhtari wore the traditional court dress of a bodice, full skirt, and tight trousers on informal occasions. Akhtari had become a modern woman who smoked and wore slacks while driving her one-of-a-kind Packard vehicle, which she received as a gift from the Nawab of Rampur along with a famous blue diamond. Her image was one of "sartorial brilliance," "glamorous personality," "light-complexed beauty," smiles, charisma, and affection. It's little surprise that her performances and her prominent presence in pre-Independence Lucknow are recalled with a mix of nostalgia, joy, and adoration.

But Akhtari's reign, dubbed "the sole true freedom granted to Indian women," came to an abrupt end due to her own actions. She literally utilized her liberation to acquire the dependency of matrimony at a time when Lucknow's courtesan performance culture was still in full force. According to sources and her husband's recollections, she broke with tradition by proposing marriage to Barrister Ishtiaq Abbasi, a rich Lucknow barrister and a music connoisseur. Despite their previous friendship and a common love of poetry and music, Akhtari's identity and way of life were transformed by marriage. "Akhtari" became Akhtar Abbasi, and her courtesan epithet "Baai" was replaced with the respectable title Begum. She not only ceased performing when she moved into the domestic realm of a respectable patrilineal household, but she also stopped singing. She might have musical events at her home as a Begum, but even in private, relatives, servants, and friends were not allowed to hear her be who she was before.

Begum Akhtar staked her independence to gain dependence. It was because as she explained later, she wished to marry the man she loved and become his Begum. Other variables may have played a role; one of them could have been the prospect of a ban on professional women singers in the year of her marriage. However, she had already accepted such a "ban" as a result of her marriage. Another reason emerges from her personal past that is her mother's death which had left her so depressed after her marriage that her husband was willing to let her sing in order for her to become herself again, on a condition that she won't sing publicly in Lucknow. She was encouraged to pursue her dream by a (male) family member and an acquaintance who produced music at All India Radio, and an emotional first recording session took place in the privacy of the studio. Begum Akhtar's comeback to singing, like her earlier creative decisions, was motivated by a personal as well as a musical impulse, and it was spurred by men. She maintained her respectability as a wedded woman while simultaneously resuming regular radio programs, thanks to the anonymity of recorded sound. She continued to broadcast from Lucknow as well as nationally from Delhi, and she was now a contributor to the Radio. She only sang at a War Benefit Concert once, and it was for an entirely female audience. As a result, she was known as Begum Abbasi in Lucknow. Even when she returned to performing, she did so under the name Akhtar Ishtiaq, a variant of her marital name based on her husband's first name, however, her name was later changed to Begum Akhtar.

Throughout the 1960s, Begum Akhtar participated in a number of cultural exchange programs abroad, including those to Pakistan, where her song vehemently called for unity, Afghanistan, where the King lavishly honored her, and the Soviet Union. In addition, she received several national awards, for example, the Sangeet Natak Akademi Award for Hindustani Vocal Music in 1972. Such formal recognition raised her profile even further in the later years of her life. Begum Akhtar returned to the recording industry, this time working with HMV Bombay. In some ways, this second phase of her career was in continuation of her first phase but now she sang and expanded on the same musical repertoire and originality that had made her a popular performer prior to her marriage. She now had a blend of light classical music genres in both Hindi and Urdu, drawing on conventional formal conventions and classical ragas, according to both written sources and long play recordings. She sang and recorded other people's music before, and now Akhtar began to develop her own musical settings for poems she chose.

Begum's expertise was Urdu ghazals from her early years in Lucknow. Poets knew, respected, and patronized her because she continued to "spotlight" contemporary poets' work through her musical interpretations. On the centennial of Ghalib, Urdu literature's most illustrious poet, she was inevitably picked to depict and document his work. Simultaneously, she continued to use the lyrics of her songs as her personal language, as she had been trained to do in her profession's highly interactive performance style. But, in response to the demands of the concert stage and the prevalent ideational frame based on the notion of "classical" music, Begum Akhtar's artistic evolution also reflected the significant change, or rather transformation. She has the musical and personal flexibility to respond to a wide range of listeners and performance conditions as a result of her training and prior experience. This sensitivity to the setting helped her to construct a classicized adaptation of the private salon performance's powerful, yet explosive emotionality, which she has now distilled into a self-contained musical enactment: a concert-style of light music. Instead of using her hands for expressive gestures or miming, she firmly rooted herself in the process of music-making by playing the harmonium while singing, exactly as she would have done in her earlier salon presentations. Later in her career, Begum Akhtar declared the ghazal to be classical music, despite the fact that she was aware of possible opposition: The ghazal, as well as the singing technique associated with it, is a classical music genre (Classiki Musiqi). Its impact is powerful when sung in a true manner, as long as it stays within cultivated musical parameters (Spoken Introduction, AIR LP Begum Akhtar Talks About, and Sings, the Ghazal).
So, the question arises as to what are the limits of this blend that she brought in mainstream music? Musicians and music writers debate two primary topics: one is the mastery of various ragas, and the other is a compositional idiom defined by stylistic elements, schools, or locations. The legitimacy gained through discipleship with a master of a recognized musical lineage is linked to both. Begum Akhtar is known among light classical singers for her raga repertoire and her ability to construct raga settings on the spot. Her music is described stylistically as an idiomatic blend of the broad depth of the Purab style, which is native to her region, with the elaborate Panjab style's romanticism. Her discipleship with Ata Muhammad Khan, as well as Abdul Wahid Khan, one of the two best professors of Hindustani music in the twentieth century, validated this unique "Akhtar style."

Abdul Wahid Khan, trained her after she left Calcutta and before 1947, most likely on one of her travels to Bombay. His nephew, the legendary sarangi player Shakoor Khan, used to accompany her. Begum Akhtar eventually became a disciple of Arvind Parikh, who was well-known at the time. This was to learn the sitar in the vocal (gayaki) manner of Vilayat Khan, his great master. Arvind Parikh remembers a significant event that reveals how Begum Akhtar's training and performance were constructed around her thirst to learn. He was surprised when she handed him her tambura to tune instead of tuning it herself and claimed, as male soloists always do, the soloist's authority to control the intonation of the accompanying instruments during her first study session with him. She explained that her sarangi player had always tuned the tambura for her, so she had never learned how to do it. The first thing Arvind Parikh did was show her how to do it herself.

It is unknown how Begum Akhtar's professors influenced her classicized approach and compositions. Perhaps they composed for her while staying anonymous; alternatively, some of the composers named in her albums may have just served as arrangers for the studio group. "Always heartfelt and elevating," according to composer Murli Manohar Swarup, "a typical pattern which is now recognized throughout India and Pakistan as her individual style." Two melodic alterations, in addition to her use of ragas, lead directly to what the poet Faiz refers to as the "great seriousness of classical expressiveness." One is a generally moderate rhythmic speed that is quickened during instrumental interludes, even if it is enlivened by nimble melodic elaboration. The other is a propensity for long durations of keynotes, phrases, and even entire compositions, all of which are enhanced by melodic improvisation. The responses to this style reflect a type of self-conscious detachment, even nostalgia since it is described as expressing "translucence," "repose," and "serenity." "Her singing always created visions of all that had made Lakhanavi culture so famous and admirable," her Lucknow biographer writes.

Begum Akhtar's concert style, on the other hand, kept what had always been the basis of her artistic identity: her voice. Her voice, in the literal sense, combined enormous flexibility, a wide range of pitch and expression, and a delectable palette of ornamentation, culminating in the famous "break" in her voice, a fault she turned into an expressive enrichment savored by her listeners. What did alter was her pitch focus and tessitura, which both dropped to a lower range than they had been in her early singing career, giving her voice a resonant alto taste. What the poet Faiz referred to as "the honeyed melancholy of her voice" metaphorically became the sound of shared emotion and intimacy, of live poetry through performance. Her singing was the voice of a nostalgic feudal past to her concert audiences, but it was also a personal voice, transmitting the aesthetic experience of that period. Begum Akhtar continued to be what she represented, both in music and in life. Beyond the seclusion of the stage, her personal life matched her unwavering desire to connect with her audience; it was a personal journey for her to express her love for them through her music and to accept theirs. She always hosted friends and music lovers at her hotel while she travelled for concerts, especially during her extended stays in large cities.

Among both musicians and poets, Begum Akhtar had good relationships and admiration for contemporary artists. Another courtesan singer, Rasoolan Bai, was a close friend of hers. She was also great fan of Siddheshwari Devi and used to meet her often. Some of the artists who visited Begum Akhtar included Ustad Bade Ghulam Ali Khan, Ustad Amir Khan, Ustad Hafiz Ali Khan, and Ustad Vilayat Khan. She had visited the most popular author and music director of Marathi cinema Mr P.L. Deshpande, in Pune and had a musical soiree when another icon of classical singing, Pt. Bhimsen Joshi was present. Dr Vasantrao Deshpande, the famous classical singer of Maharashtra had a deep impact of Begum Akhtar on his singing, and both knew each other very well. In fact Pt. Vasantrao's entry into classical scene was patronized by Begum herself. He proved to be a great classical performer and went on to carve a niche for himself with his own unique style. Pandit Kumar Gandharva would also pay her a visit whenever he was in Lucknow since Kumar was a great fan of her style of rendering. In an interview with Acharya K. C. D. Brahaspati, Begum said that Ustad Faiyaz Khan and Ustad Bade Ghulam Ali Khan's music was so powerful that it could bring tears to the eyes of even the most ardent Hindu or Muslim. Begum displayed her deep admiration for their talent.

Begum Akhtar's initial popularity was largely due to Behzad Lucknawi's poem "Deewana banana hai toh, Deewana bana de..." who wrote verses exclusively for her. Begum Akhtar's favourite poets in addition to Ghalib, Mir, Jigar, Faiz, Kaifi, Shakeel, Shamim and Dagh were many contemporary poets and masters of the ghazal form. She once paid Firaq Gorakhpuri a visit in a Daryaganj hotel and gave him a CD of his ghazal, which had been played at her mehfil the night before. Begum Akhtar and her husband Abbasi sahib are often credited with her refined taste in poetry. Many nights, Begum Akhtar, Abbasi sahib, and his buddies would perform ghazals in a steady progression. Her advanced comprehension of Urdu poetry is considered to have been influenced by Abbasi sahib. Begum Akhtar played a crucial role in the milieu of Urdu literature. At this point she had turned into a mediator and transmitter of Urdu verse, adding to the brilliance of conspicuous artists and making them famous. She stayed in contact with crafted significant writers and knew a considerable lot of them as dear companions. She gave the ghazal an unprecedented new lease of life while offering an enormous commitment to keeping Urdu at the standard of Hindustani culture, which is invaluable.

Soirees with select groups of professionals remained the setting that most inspired Begum Akhtar to express herself freely and compassionately through her music. The individual, shared quality of the melodic experience was supported by infrequent bits of repartee between her and an extraordinary audience. Begum Akhtar's fans reciprocated Begum Akhtar's affection. Along with her specialty, she is fondly connected with a character that now embodies the attributes of a developed, well-positioned, and extraordinarily decent Lucknow woman. The experienced vocalist's meticulous preparation and ability to satisfy via performance had blended with the Begum's compassionate warmth and liberality.

In the late 1960s, she was invited to take up a newly created seat of Light Music at Lucknow's renowned Bhatkhande College of Music. Although she taught off and on, the drive produced no relevant results. Begum Akhtar spent a lot of time travelling outside of Lucknow, and she also didn't have the temperament to make detailed preparations and instructions, although few students were educated by Begum Akhtar on an individual basis. Begum Akhtar taught certain young women from upper middle-class families who were her disciples the traditional way of hereditary musicians for the concerts they would do later, according to some of her disciples. Shanti Hiranand, their sole long-term student, lived with her for many years and was always on stage with Begum as a vocal backup. She was reportedly chosen as Begum Akhtar's musical successor. Rita Ganguly, a later disciple of Begum Akhtar, also recalls how she was asked to join her on stage by Begum Akhtar. What's interesting is that to all of her followers, Begum Akhtar was "Ammi" (mother, mummy), a maternal figure rather than a master figure, standing in a nurturing and kinship solidarity relationship rather than domination accepting submission. Of course, the conventional words for addressing professors are reserved for men, but there are alternatives that are at least formally gender-neutral; one apparent example is Professor or Guru, titles used for teachers at Bhatkhande College, where she temporarily taught. Begum Akhtar, on the other hand, avoided such formal language and therefore removed herself from the status and prestige it entails. Beyond language, Rita Ganguly and Rekha Surya wrote in their memoirs that she loved her students like daughters, lavishing food and gifts on them and never taking a penny in payment.

Begum Akhtar experienced a sense of impending death in the final few months of her life as she was turning to Sufism and in search of the beyond. She sang at the last audio broadcast on AIR a Kafi Azmi ghazal that began, "Main Dhundhta Hoon Jise, Wo Yahan Nahi Milta" (I am hunting for someone who can't be found here). During one of her farewell soirees, she performed a rendition of Hafiz Hoshiyarpuri's well-known ghazal: " Mohabbat Karnewale Kam Na Honge, Teri Mehfil Mein Lekin Hum Na Honge" (Your lovers will be no less in number, Only I shall no more be among them).

At a concert in Ahmedabad on October 30, 1974, while singing Shakeel Badauni's ghazal "Ae Mohabbat Tere Anjaam Pe Rona Aaya" she suffered a heart attack while she raised her voice to a crescendo. She died while singing for a mesmerized audience at the age of 60. Her final resting place was in the mango orchard at Pasandbagh, Lucknow, next to her mother's grave. This place she had chosen long ago when she was temporarily away from singing after her mother's death.

Begum Akhtar had the guts to establish herself in a struggling world of patriarchy, is no doubt a stupendous task. The spontaneous vibrancy that Begum Akhtar, as an artist, spread through the words of poetry continued to delight listeners then for a long time and she continues that magic today. Recording from the first three minutes of the song to the long concert songs of her later years is the magic of her vocal cords. Begum Akhtar trained two of her disciples to take over after her, Shanti Hiranand and Rita Ganguly. Shanti Hiranand taught Begum Akhtar's music with the same style and accuracy at the Central Music Academy of India, Indian Arts Center, Delhi. She was honored by the Government of India with the Padma Shri award. Rita Ganguly, on the other hand, cultivates traditional feudal music. She has also received the Padma Shri award. Thus two of her disciples were recipients of illustrious awards by the Government of India. Yet, according to classical aficionados, Begum Akhtar's unique and passionate style is believed to come alive with the voice of renowned singer Shobha Gurtu. Shobha Gurtu considers herself a staunch follower of the Begum Akhtar style. In fact, Ishtiaq Abbasi was moved to tears by Shobha Gurtu's performance. The other two best professional female singers, Farida Khanum and Iqbal Bano have gained popularity in Pakistan by singing in the style of Begum Akhtar.

That Begum Akhtar is the undisputed Malika-e-Ghazal is a fact that no one can deny. Begum Sahiba literally performed the herculean task of ​​taking out ghazal from the courtyards and patios of feudal mansions and manors and establishing it in the drawing-room of masses and classes alike and bringing it to its present popular form. In 1968, the Government of India awarded her the fourth highest civilian award, the Padma Shri, for her outstanding and exceptional work in the field of music. In 1972, the Sangeet Natak Academy awarded her the prestigious Artist Award. Posthumously, in 1975, Begum Sahiba was awarded the Padma Bhushan. Undoubtedly, Begum Akhtar represented the era in which her life was entwined through her music. To rule forever in the hearts of millions of music lovers as an uncrowned empress of Gazal singing is the highest award she has received.
Image courtesy Times of India