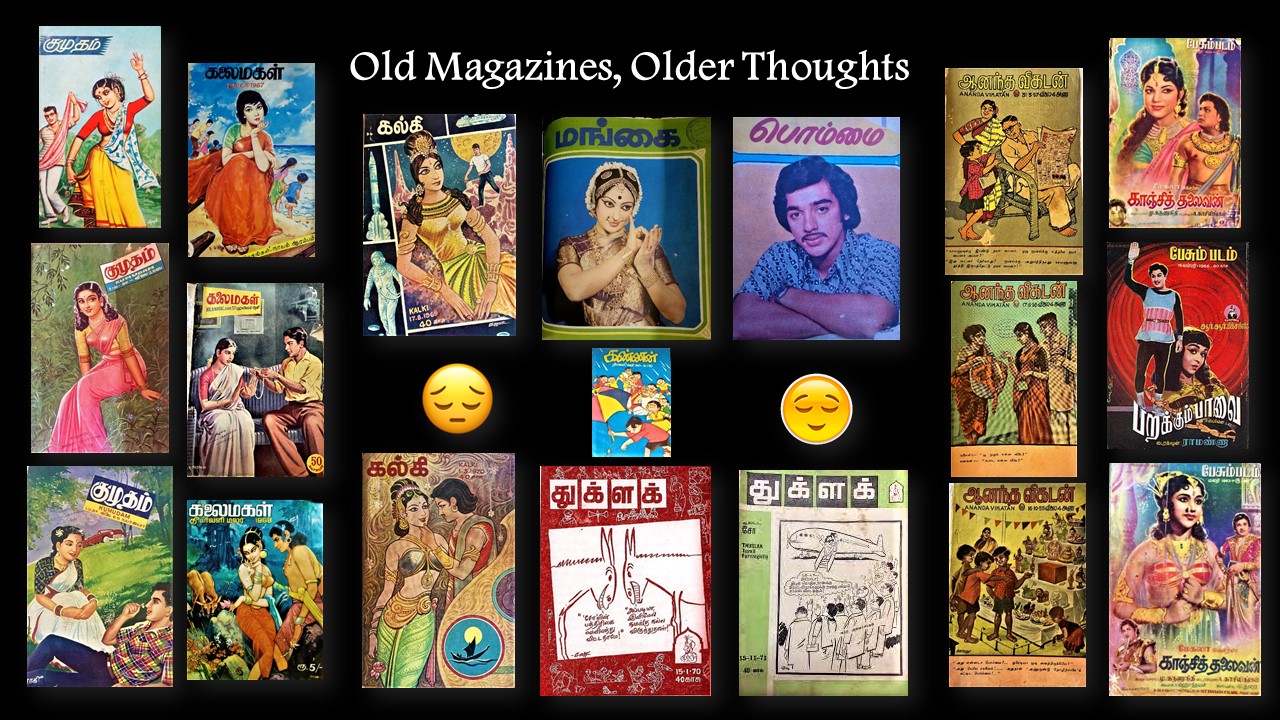 A Word of Caution: This post is slightly lengthy (533 words) and may just be informative for the new-gen and aide-mémoire for the old-gen.

During my growing years, my only friends were Tamil magazines. I wasn't very proficient in English both in school and college. Especially during school days, I remember trying to find as many magazines as possible and read them. I share some of the significant memories of the popular Tamil magazines during those times and the changes that took place.

It was Kumudam which broke the format of having content. Editorial etc., on the first page. They started filling the first page itself with tidbits and matter without having a content page. The issue which came like that first was, if my memory is correct, carried by religious discourse scholar of those times Sivananda Vijyalakshmi.

Vikatan always carried the wordless cartoon in its content page for a long time and the cover page was always a cartoon invariably created by their main artist Gopulu. Later, other artists like Maya, Simha, Sarathy and Jeyaraj also had drawn the cover cartoon. Vikatan never published any cover story during those times. Once he published a colorful cover picture and referred to the cover story to fool the readers because the issue was dated April 1.

Mostly Kalki and Kalaigmagal followed the same format religiously for a long period. Now Kalki's format has been changed and only online.

There was a children's magazine 'Kannan' which I used to read from Kalaimagal publications. That also became extinct long back.

'Pesum Padam' the film magazine of yore survived for long with its compact size and contents but vanished at one stage. Same fate was met with 'Kundoosi' and 'Kalai', other mags similar to Pesum Padam. 'Bommai' published by Dalton Publication was the first eye-catching film magazine in Tamil with color pages and articles, letters etc. But, it was closed later. Same way they were the one to start 'Mangai' a monthly magazine for women equally with good content later to be closed down.

Deepavali special issues were brought out by all Tamil magazines except Kumudam just with a few more pages and smelling of Gunega scent.

Weeklies like 'Idayam Pesukirathu' by Manian and 'Kungumam' by Savi were started but after a few years both were off the field. Earlier Writer Saavi worked for 'Dinamani Kathir' weekly and brought several changes in the format, writer, artists and contents. Again it was for a short duration.

'Tuglak' was a completely political magazine brought out in Tamil by Cho. The first issue carried two donkeys which became very famous later. Initial stages they too carried a page of Tamil film reviews. But, the magazine is having a successful run even now.

Yes. The above-mentioned magazines, except those that went out of the field, are there with a lot of changes to suit the present population of readers. I do see them now and then but I think that I have turned too old to read, relate and appreciate them except for a few articles or some stories.

It is a fact that 'Changes are the Permanent things' in this world. Oxymoron? Yes.

You may ask why I recall all these?

Recalling old times is the best way to keep one lively and wise for those who have reached the evening of their lives.