A student desirous of obtaining a doctoral degree in any subject has to write and publish the required number of research papers in peer-reviewed international or national journals based on the subject of his or her doctoral degree. The research papers invariably end with the bibliography as the research papers are supposed to be incomplete without quoting bibliographical references. A hard taskmaster doctoral guide of that particular student may check these references for the facts quoted in the research paper to his satisfaction and if the guide finds any fictional part in the research paper, he may throw it into the wastepaper basket or if he or she is more sophisticated may feed that research paper to the shredding machine, pronto. References are thus historical facts and not fiction and these historical facts cannot be distorted.

On 30/03/2022, there was an article published in BBC News Delhi by Aparna Alluri titled "Tipu Sultan: Painting of British defeat in India sold at auction." The article starts with these paragraphs,
"A painting capturing the momentous victory in the battle of Indian rulers over British East India Company troops in 1780 has sold at auction in London. Sotheby's accepted a bid of £500,000 ($658,000) for the painting. It shows Haider Ali, the sultan of the kingdom of Mysore, and his son, Tipu, defeating, Company forces in the famed Battle of Pollilur. Tipu, known as the "Tiger of Mysore", became the Company's fiercest foe until he was defeated and killed in 1799." The article ends with these lines, " Now, with his legacy as a Muslim king being re-evaluated in an increasingly Hindu nationalist India, the Battle of Pollilur is a reminder of the obstacle he posed to British conquest ".
Please note the line, "…a Muslim king being re-evaluated in an increasingly Hindu nationalist India,…"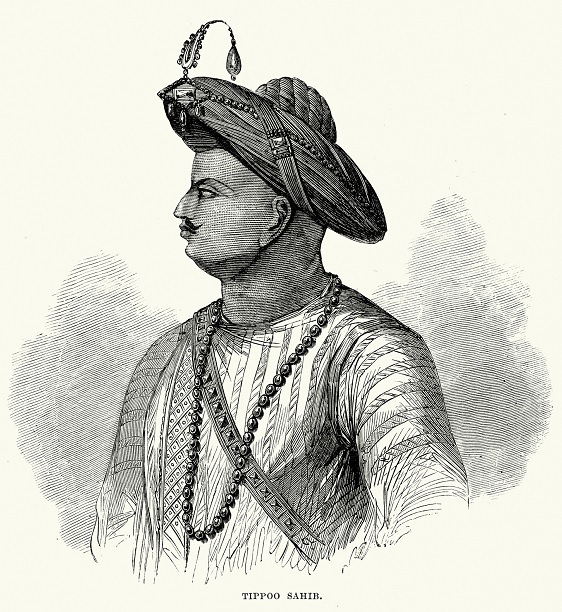 On the very same day, i.e. 30/03/2022, an article appeared in New York Times written by Mike Ives titled, "A Mural Lionizing an Indian Ruler Was Sold at Auction. His Legacy Is Contested". It starts with the paragraph,
"The mural shows Indian cavalry troops advancing from both sides on a cornered British army, guns blazing. In one part of the 18th-century battlefield, the victorious commander sits on an elephant holding a red rose." This victorious commander is Tipu Sultan. In another paragraph, the writer says, "But in modern India, the commander's legacy is complicated. Politicians from India's governing political party, which has increasingly embraced Hindu nationalist rhetoric under Prime Minister Narendra Modi, have spent years downplaying his achievements. The commander, Tipu Sultan, was a Muslim; they say he is responsible for the deaths of Hindus."
Please note the two lines of this paragraph, one being, "… have spent years downplaying his achievements , and the other, "..they say he is responsible for the deaths of Hindus." Here the objection is for the words, "they say..." Why "they say?" say? Nothing is required to be said. It is a historical fact written in black and whiteand is available in the archives.

In history hearsay, falsification, and suppression of historical truths are not permitted because history is a science. British, French, and Mysore chronicles provided comprehensive accounts of what had occurred in South India in the 18th century. It is obvious from the use of partial truths and fabrications, these journalists have proved that they are ignorant of the facts. They need to have at the very least read the catalogue note that was displayed with the painting. Even though the interpretation was incorrect, it made a clear reference of the Battle of Pollilur. These two journalists have distorted historical facts as the last option.

Elaine de la Taille Tretinville, a member of Les Ripaud Montaudeverts' family, died at the age 91 at her Paris apartment on December 8, 1988, when an old trunk was found in the attic of her home. A diary was found in the trunk which was written by the most well-known Montaudevert, Francois Fidele Ripaud de Montaudevert. It began, "I, Francois Ripaud, am old today, but I want to tell you the true story of Tipu Sultan,"

Ripaud, who was raised in Saffre, of northwest France, enlisted as a sailor on the Le Palmier at the age of 11. Following a number of adventures, and then marriage he settled in Mauritius, then a French territory. He sailed to Mangalore in 1797 after learning that Tipu Sultan had links with the French Army and promised to "create a big force in Mauritius and place it at Tipu's disposal." Tipu, whose army had received military training from French officers working for his father, leapt at the chance and handed Ripaud letters of recommendation. In order to recruit participants for an "expedition to proceed to Mysore to support Tipu in his battle to British encroachment in south India," Ripaud, who had returned to Mauritius, issued a decree on August 19, 1798.

Note that Napoleon had invaded Egypt two months earlier with plans to unite with India to attack the British. The governor of Mauritius was given orders to collaborate with Ripaud and so he was able to travel to Mangalore with a shipload of French soldiers to Mysore. Life at Tipu's court was a luxury for Ripaud, but soon he began to have some uncertainties. His entry in his diary on January 14, 1799, says
"I'm disturbed by Tipu Sultan's treatment of these most gentle souls, the Hindus. During the siege of Mangalore, Tipu's soldiers daily exposed the heads of many innocent Brahmins within sight from the fort for the Zamorin and his Hindu followers to see."
After a few days, he wrote in his diary of what he witnessed in Calicut, "Most of the Hindu men and women were hanged...first mothers were hanged with their children tied to their necks. That barbarian Tipu Sultan tied the naked Christians and Hindus to the legs of elephants and made the elephants move around till the bodies of the helpless victims were torn to pieces. Temples and churches were ordered to be burned down, desecrated and destroyed. Christian and Hindu women were forced to marry Mohammedans, and similarly, their men (after conversion to Islam) were forced to marry Mohammedan women. Christians who refused to be honoured with Islam were ordered to be killed by hanging immediately." These events were corroborated by Fra Bartholomew, a renowned Portuguese traveller and historian, who was present in Tipu's war zone writes in his, "A Voyage to the East Indies":
"First a corps of 30,000 barbarians who butchered everybody on the way … followed by the field gun unit under the French commander, M. Lally. Tipu was riding on an elephant behind which another army of 30 000 soldiers followed. Most of the men and women were hanged in Calicut, first mothers were hanged with their children tied to necks of mothers. That barbarian Tipu Sultan tied the naked Christian and Hindus to the legs of elephants and made the elephants to move around till the bodies of the helpless victims were torn to pieces. Temples and churches were ordered to be burned down, desecrated, and destroyed. … Those Christians who refused to be honoured with Islam were ordered to be killed by hanging immediately. These atrocities were told to me by the victims of Tipu Sultan who escaped from the clutches of his army and reached Varapphuza, which is the centre of Carmichael Christian Mission. I myself helped many victims to cross the Varapphuza river by boats."
The Divisional Archives Office in Mysore, the Madras Archives, the National Archives in Calcutta, the National Archives Regional Office in Pondicherry, the Bibliotheque Nationale de Paris, and the India Office Records all have documentation and archives of all historical occurrences. The East India Company and British India Government's 105,000 manuscripts and printed maps are included in the 14 kilometres of shelves, files, and boxes of papers that make up the India Office Records of the British Library.

Indian history has been fabricated, with the malafide and illicit intention of portraying barbarian Mughal invaders as tolerant rulers when, in reality, they were terrorists and the murderers of millions of Hindus. To serve the self-serving and distorted interests of the governing clique, there has been a determined effort to distort and fabricate recorded Indian history, frequently even by portraying tragic times of Indian history as beautiful and progressive. One of these endeavours focuses on Tipu Sultan of Mysore's life and actions. Tipu spent the majority of his life In Kerala, where he waged wars of annexation and conversion to Islam. If you live in Kerala, you don't need to read any history books to be aware of Tipu's oppression. The brutality of Tipu remains a part of folklore, even though it happened only a few generations ago. After Tipu's military campaign, or "padayottam," as it is known locally, temples were destroyed, some idols of gold were buried and people were killed. Therefore, Tipu Sultan's brutality in Kerala is the best indicator of his genuine character. One of the historical records of Kerala that are now available in the research by distinguished Kerala historian Kevalam Madhavan Panickar, who acquired letters by Tipu Sultan to his various army commanders while conducting extensive research on Kerala history at The India Office Library in London.
March 22, 1788, to Abdul Kadir, "More than 12,000 Hindus received recognitions from Islam. They included a sizable number of Namboodri Brahmins. The Hindu community should be informed widely of this accomplishment. Then you should bring the local Hindus before you and convert them to Islam. No Namboodri Brahmin should be spared."

December 14, 1788, to Calicut Army Commander. I'm sending Mir Hussain Ali with two of my supporters. You should catch and execute every Hindu with their help. Those under 20 years old may be kept in prison, while the remaining 5000 should be executed from treetops. These are my orders."

December 21, 1788, to Sheik Kutub: "242 Nairs are being sent as prisoners. Categorise them according to their social and family status. After honouring them with Islam, sufficient dress materials may be given to the men and their women."

January 18, 1790, to Syed Abdul Dulai: " With the grace of Prophet Muhammed and Allah, almost all Hindus in Calicut are converted to Islam. Only a few are still not converted on the borders of Cochin State. I am determined to convert them also very soon. I consider this as Jehad to achieve that object."

January 19, 1790, to Badroos Saman Khan: "Don't you know that I have achieved a great victory recently in Malabar and over 4 lakh Hindus were converted to Islam. I am now determined to march against that 'Cursed Raman Nair' without delay". (Reference is to Rama Varma Raja of Travancore State who was popularly known as Dharma Raja for giving shelter in his state to all those who fled Malabar.)
Dr. C.K. Kareem, a Muslim historian from Kerala, said that Tipu Sultan belonged to "Sufi" traditions. Never heard that the Sufi tradition preached in genocide.

Left-liberals and Islamists deliberately omitted and erased historical information when creating the curricula that would be taught in Indian schools and colleges after the country gained its independence. They said that revealing the truth about history would offend religious minorities. Thus, from the official account of Indian history, the Goan Inquisition and Muslim persecution of Hindus were forever erased. Liberals in the west and in India vehemently opposed any attempt to right these wrongs, blaming Hindus and the BJP for altering Indian history. This intolerance was shown in a bold public exhibition in response to the Kashmir files movie. Muslim organisations petitioned the court to impose a ban on the movie because it offended Kashmiri Muslims' feelings rather than because it was false. However, the advent of the internet has given the Hindu community the opportunity to discover the truth that historians have been hiding for many years.

Hyder Ali and Tipu were frequently praised by left-liberals and Islamists as patriots who battled the British invasion of Mysore. The first Anglo-Mysorian War, according to Mysore, French, and British chronicles, took place On august 25, 1767, when Hyderali attacked the British East India Company and the Nawab of Carnatic (now Karnataka).

During the Anglo-Mysore Wars, the British controlled Madras and the Northern District (Rajamundry, Elluru, Kondapalli, and Guntur) in South India. The first Anglo-Mysore War began in 1767 as a result of England's annexation of the northern part of India from the Mughal Emperor Shah Alam II in 1765. The whole Malabar region was then ruled by Mysore, with the exception of the forts at Quilon, Kochi, and Cannanore, which were held by the Dutch, Mahe by the French, and Tellichery and Anjengo(Attingal) by the British.

Four large forces seized all of South India, with the exception of Travancore, in 1766 AD. They included the Marathas, Hyder Ali of Mysore, the Nizam of Hyderabad, and the Nawab of Carnatic. The voices of the British, French, and Dutch were scarce back then. Through their victory over Tipu in 1799 AD, the British rose to prominence in South India. Large tracts of South India that Hyder Ali and Tipu had already claimed were inevitably theirs.

Hyder Ali and Tipu were never acknowledged as Mysore's legitimate rulers by the Mysore Kingdom or Mysore's post-independence state. No use criticising the BJP because they didn't exist back then. Since 1947 until the present, the Karnataka government has referred to these two Muslim monarchs as "Usurpers." They refer to the years 1761–1799 AD as the "time of Usurpation" in their publication, the Mysore Gazetteer.

Leaders are individuals who handle government affairs while providing equality for all citizens. Muslim conquerors who publicly favoured Muslims and imposed the Jizya tax on all Hindus, regardless of caste or class, were the Mughal terrorists like Tipu, not the emperors. If they didn't pay the Jizya tax, poor Hindus were coerced into joining the gangster cult religion of Islam. If they didn't pay their taxes on time, the majority of them had their hands and legs amputated, ears slashed out, and eyes gouged. Instead of living with limitations, they consented to become Muslims. Muslims in South India today were coerced into becoming Muslims by terrorist Tipu Sultan. The government channel Doordarshan, which served as the voice for Christian and Islamic propaganda during the Congress era, aired a series in 1989 to commemorate terrorist Tipu Sultan, who invaded Mysore from 1782 to 1799 A.D. Islamic terrorism (Jihad) words were engraved on traitor Tipu's sword. The serial's name, "The Sword of Tipu Sultan," was chosen on purpose to offend Hindus.

The fanatic Islamic terrorist Tipu Sultan of Mysore is being elevated to the same patriotic pedestal as Chhatrapati Shivaji, Sambhaji Raje, Hemchandra, Maharaja Ranjit Singh, Maharana Pratap Singh, and Pazhassi Raja of Kerala despite all of this by suppressing, distorting, and fabricating historical records.

James Murphy translated Hitler's Mein Kampf into English. He states what Hitler said about the power of a big lie:
In the big lie there is always a certain force of credibility because the broad masses of a nation are always more easily corrupted in the deeper strata of their emotional nature than consciously or voluntarily and thus in the primitive simplicity of their minds they more readily fall victims to the big lie than the small lie since they themselves often tell small lies in little matters but would be ashamed to resort to large-scale falsehoods it would never come into their heads to fabricate colossal untruths and they would not believe that others could have the impudence to distort the truth so infamously even though the facts which prove this to be so may be brought clearly to their minds they will still doubt and waver and will continue to think that there may be some other explanation for the grossly impudent lie always leaves traces behind it even after it has been nailed down a fact which is known to all expert liars in this world and to all who conspire together in the art of lying these people know only too well how to use falsehood for the basest purposes.
By the way, do you think Tipu Sultan died on 4th May 1799? No. On 21st June 2022 he surfaced in Amravati, Maharashtra, with his aides, not with a sword but with a knife and cut the throat of a naive chemist and killed him. This Chemist was the attacker's friend for a long time. The attacker proved to be a snake in the grass. The chemist could not defend himself because it was an attack from behind, suddenly charged. Then on 28th June he surfaced with his aide with a machete and hacked to death an innocent Hindu sartorial expert. It was a battle between a tiny needle of a sewing machine versus machete and a machete won. Machete won because it was an unexpected attack. If the intentions of the attacker were known then the tailor might have had a chance to pierce his fabric cutting scissors in the abdomen of the attacker. You are required to have the wit and agility of Chhatrapati Shivaji Maharaj who killed Afzalkhan piercing his abdomen with a fist-load, a claw-like weapon called waghnakh in Marathi, literal meaning tiger's nails.

Proverbs sometimes work like Chutney in Idli Sambhar, (famous South Indian snacks, loved in Mysore) with which the words can be eaten! Here are some nasty African proverbs.
1. An erected penis has no conscience. (Uganda).
2. The anger of a penis doesn't destroy the vagina. (Zimbabwe).
3. The day a mosquito land on your testicles is the day you will know there is a better way of resolving issues without using violence (Togo).
Take your pick.

References:
1.https://defenceforumindia.com/threads/the-tyrant-diaries.49976/
2 http://voiceofdharma.org/books/tipu/ch04.htm


Image (c) istock.com