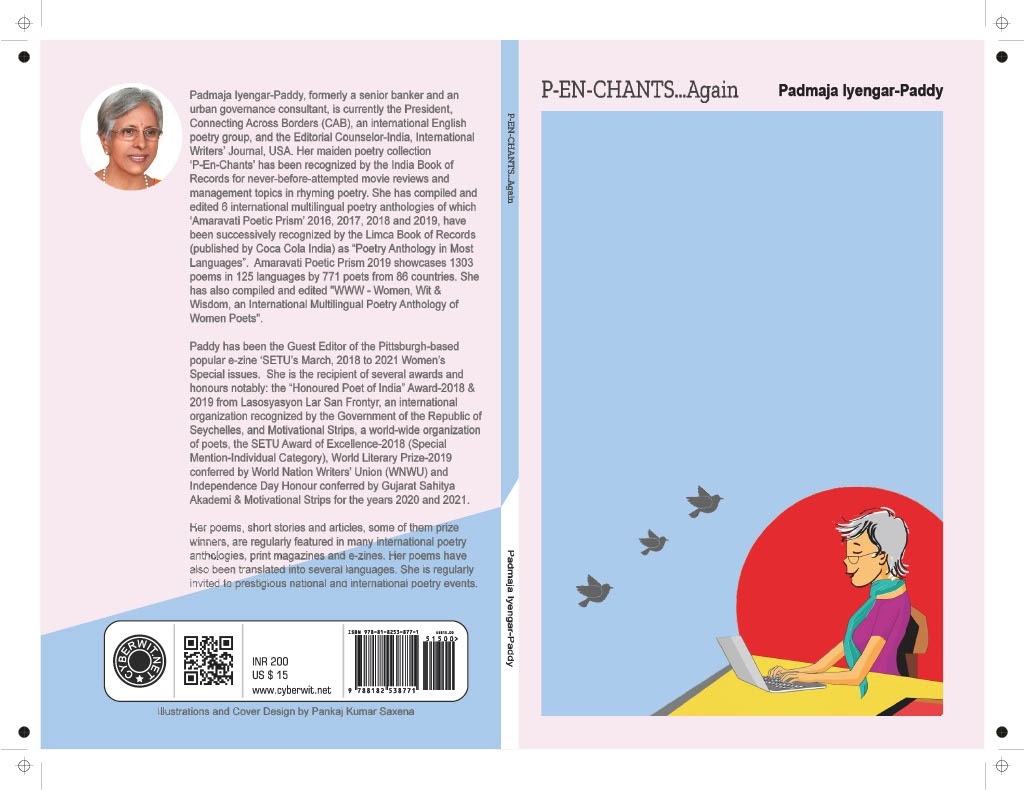 You can't judge a book by its cover until you open it and read it. P-EN-CHANTS…Again is a book that's packed with methodically woven poems on various concepts.
Padmaja Iyengar - Paddy has a great perception of poetry, and she opines on what poetry really is in this poem:
In Shiva's cosmic dance
In the lover's glance
In words that freelance
In him, her, them, me
All I want to see
And will ever see
Is poetry, poetry,
And only poetry!
How beautifully she quoted! Lovely!
She explains 'POETRY OF THE HEART' thus:
When from the heart, a poem emanates,
Indo a chain reaction, it often detonates:
Words exploding with meaning and rhythm,
Like the colourful rays of light from a prism.
P-EN-CHANTS…Again
It's true! Poetry comes from the heart and takes birth in the heart which is a clear picture of the poet's mind!
Rhythm of heartbeats
Serenades to the flow
Of blood through my veins
And traverses the
Crevices of my mind space
Padmaja Iyengar - Paddy also says that poetry is very much advantageous to herself, and she is not separated from poetry.
How nice! Poem and Poet are together, and a poet speaks on the behalf of the readers.
Fulfilled, peaceful and happy,
My wandering thoughts and I
Return home to become
One with beauty
Here, she explains about a person who is depressed and disinterested.
Mind seems to aimlessly wander;
Precious time it seems to squander,
No aims, no objectives, no vision;
Life plods on, on a goalless mission.
I strongly feel that one does get this feeling sometime or the other in one's life!
In her poem 'I AM LOVE', She expresses her heartfelt feelings this way. People who know her or read these lines certainly feel what love is and how a human being expresses love or warmth!
I touch people in many ways,
For me, they race and chase,
Mine is an undeniable presence
That can be felt even in absence.
She also speaks about 'SOME RELATIONSHIPS' in a vivid manner….
Smiles are out,
Lips pursed,
Better zipped,
Eyes downcast.
Relationship without a future,
Can be a terrible mental torture,
As it meanders meaninglessly,
And prolongs quite senselessly.
Her way of expression makes us ponder about our connectivity with our friends and family in a detailed manner! Aren't these lines true? Yes, they are!
Accept failures with humility
Avoid self-defeating self-pity
See those around you
Who get lesser than due
And learn to live with dignity
Here, When I read her words, I recall William Wordsworth who penned hundreds of poems so beautifully, using rhyme and rhythm. Her thoughts are crystal clear with a piece of valuable advice!
Some people carry a chip on their shoulder,
As if they are carrying some huge boulder.
Smile away cares and move on,
And ensure all worries are gone.
Hey, chill! Transfer grudges to trash folder!
See, how beautifully and sensibly she tells us to use the 'trash folder'! Penning down her ideas in a simple and sensible way is her specialty which is loved by the reader.
Her poem 'FREEDOM' talks about her feelings about lifestyle, why we truly need freedom, and how beneficial it is to live like a free bird! It's amazing to read her lines:
Whenever I see the horizon,
I know that's my destination.
I keep travelling in anticipation,
Of this journey's culmination!
She brings out the positivity in melancholy thoughts and hopes during gloomy days through her well-penned poems. One can easily resonate while reading her beautiful verses!
I am….
The falling leaf
The gripping grief
The fading sunlight
The bird in low flight…
Padmaja Iyengar–Paddy, formerly a senior banker and an urban governance consultant, is currently the President, of Connecting Across Borders (CAB), an international English poetry group, and the Editorial Counsellor-India, International Writers' Journal, USA. Her maiden poetry collection P-En-Chants' has been recognized by the India Book of Records for never-before-attempted movie reviews and management topics in rhyming poetry. She has compiled and edited 6 international multilingual poetry anthologies of which 'Amaravati Poetic Prism' 2016, 2017,2018, and 2019, have been successively recognized by the Limca Book of Records (published by Coca Cola India) as "Poetry Anthology in Most Languages". She has also compiled and edited "WWW – Women – Wit & Wisdom, an International Multilingual Poetry Anthology of Women Poets".
She is the recipient of several awards and honors nationally and internationally. Her poems, short stories, and articles, some of them prize winners, are regularly featured in many international poetry anthologies, print magazines, and e-zines. She is regularly invited to prestigious national and international poetry events.
Paddy is a very close friend of mine with whom I share my thoughts, ideas, feelings, and many more things. When we sit together, we talk about hundreds of things on various subjects. I am delightednto write a review of her book which is packed with love, friendliness, kindness, worldly topics, film reviews, and different types of poems.
Padmaja Iyengar-Paddy's thoughts and words continue this way without any break. She's the one who inspires and encourages the readers through her poems. A reader can learn a lot from her lovely and reasonable lines. I loved her book so much. I'm sure you too will love it.
A book is a gift you can open again and again. I recommend that all the readers go for P-EN-CHANTS…Again asap.
BOOK INFORMATION:

Title of the Book: P-EN-CHANTS…Again
Genre: POETRY
Author: Padmaja Iyengar-Paddy
ISBN: 978-81-8253-877-1
Publisher: Cyberwit, Allahabad