Connecting Across Borders (CAB) is an international poetry initiative helmed by Ms. Padmaja Iyengar-Paddy as President, Dr. Sridevi Selvaraj as Vice President and Ms. Hema Ravi as Secretaty. CTTE College for Women is a Chennai (India)-based College headed by Dr. Sriodevi Selvaraj as the Principal.

It was a great confluence of superior and erudite minds at the Panel Discussion on 15 August 2022 on "The Idea of Freedom: Then & Now", jointly organized by Connection Across Borders (CAB) and CTTE College for Women, Chennai, India.

The panel members were:

Padma Shri Dr. Sitanshu Yashaschandra, Vadodara, India, a nationally renowned Gujarati poet, playwright, and critic. His books have been translated into English, Hindi, Marathi, Bengali etc. He is the former Vice Chancellor of Saurashtra University and a former Chief Editor of the Encyclopedia of Indian Literature. Dr. Sitanshu Yashaschandra has been honoured with the Sahitya Akademi Award, the Sarasvati Samman (New Delhi), Gangadhar Maher Samman (Orissa), Kusumagraj Samman (Maharashtra), Kabir Samman (Bharat Bhavan, Bhopal) and Gujarat Gaurav Award etc. He was conferred the Padma Shri (India's fourth highest civilian award) by the Government of India in 2006.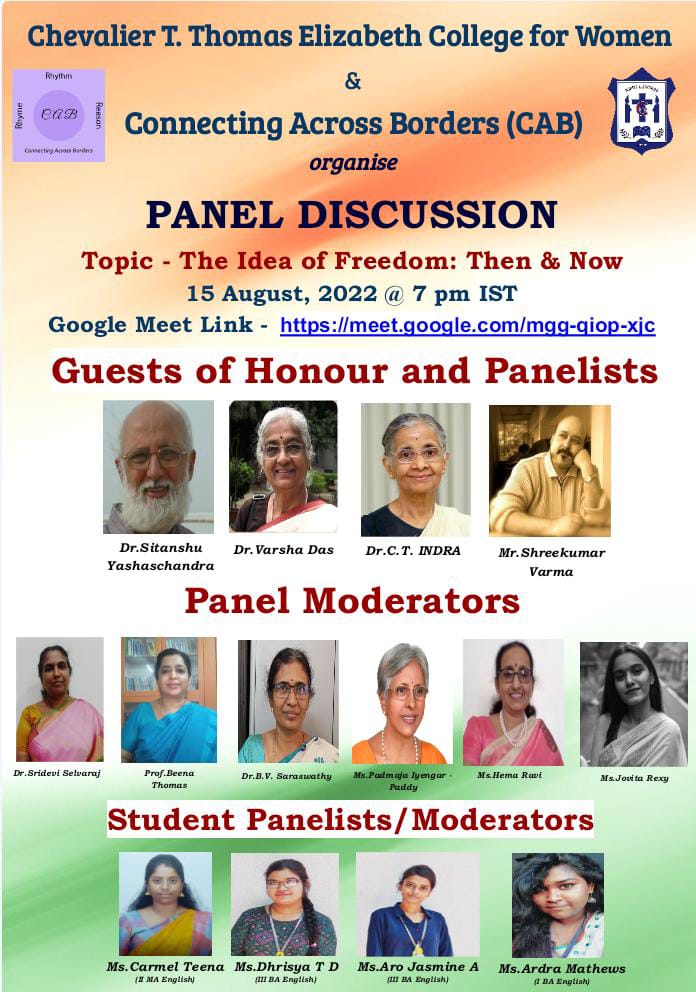 Dr. Varsha Das, New Delhi, India, who writes fiction, non-fiction, poetry, radio plays and also for children in Gujarati, Hindi and English; and translates from Bangla, English, Gujarati, Hindi, Marathi and Odia. She is the recipient of several awards from organizations like Kendra Sahitya Akademi, Gujarati Sahitya Parishad, Soka University, Tokyo, etc. She is a former Director of National Book Trust, India and after her retirement served as the Director of National Gandhi Museum, New Delhi.

Mr. Shreekumar Varma, Chennai, India, is an author, playwright, children's writer, poet, newspaper columnist, literary reviewer and translator, and taught English Literature and Journalism at the Madras Christian College, and Creative English at the Chennai Mathematical Institute for 13 years. He is a recipient of the R. K. Narayan Award-2015, and the Charles Wallace Fellowship-2004. He was Writer-in-Residence at Stirling University, Scotland.

Dr. C.T. Indra, Chennai, India, the Director of the International Centre at the University of Madras, is largely responsible for the introduction and success of an Australian Studies course (Masters), which allows postgraduate students to specialise in the work of Australian writers. She has also been a recipient of a Fulbright Post-Doctoral Fellowship to Harvard University, a British Council visitorship to Cambridge University, and a Faculty Enrichment Award to Canada from the Shastri Indo Canadian Institute.

The Panel Moderators were the faculty members of the CTTE College for Women, Prof. Beena Thomas, Prof. B.V. Saraswathy, and Ms. Jovita Rexy, alumna of the College, currently serving as Asst. Professor in the CTTE college and the UG/PG students of CTTE College, ably led by their Principal Dr. Sridevi Selvaraj who is also the Vice President of CAB.

The event commenced with India's evocative National Anthem Jana, Mana Gana, befitting the august occasion of the 75th Independence Day of India.

Ms. Padmaja Iyengar-Paddy, President, CAB, welcomed the guests with her brief address.;

It was truly an enlightening and enriching experience to see and hear the eminent panellists sharing their knowledge and wisdom, and their perspective on "The Idea of Freedom: Then & Now". It was especially heartening to see them take questions from the young student panellists, appreciating the students for their candid observations and patiently answering their questions. Their answers added further dimensions to the theme of the Panel Discussion. It was evident that the erudite and accomplished panellists enjoyed their interactions with the young students.

Prof. Beena Thomas shared her valuable takeaways of the evening and Dr. Sridevi Selvaraj summed up the Panel Discussion succinctly in her address. Seamless technical support for the event was ably provided by CTTE College for Women.

Ms. Hema Ravi, Secretary, CAB, proposed a Vote of Thanks. The event concluded with a screening of the Participation Certificates accompanied by a patriotic song playing in the background.

A memorable evening celebrating Azadi ka Amrit Mahotsav.