The protagonist of the Bengali novel "Arogya Niketan" by renowned Bengali author "Tarashankar Bandopadhyaya" is "Jibon Moshai," a Nadi Vaidya (a doctor who diagnoses the condition based on the patient's pulse rhythms). Jibon Moshai can diagnose a patient's condition by hearing his/her pulses. In the patients' pulses, he detects the sound of the impending death as well.

Speaking about the sound of his own death he says,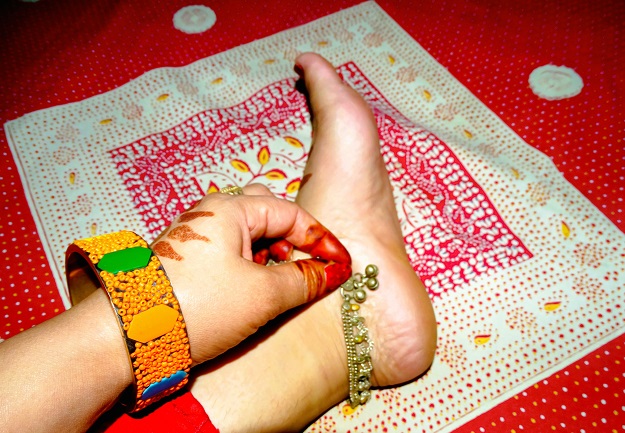 "Listen, she (the death) has anklets around her feet and she is slowly approaching…. making a lovely sound… chhunn…chhunn. She is there, over the embankment on the opposite side. The sound is gradually becoming louder and louder…. The sound of her anklets has now abruptly stopped…… She appears to have stopped….. Close to my pillow. She says nothing….. And she is silent. She appears to be preparing to take me in her arms…… Yes…. she has put her arms around me and………….."

Death's final moments are indeed so beautiful? What precisely transpires to the body during death? What happens to the lifeless body the instant the life departs from it till the dead body on the pyre is lit? Should we celebrate the body's liberation or lament the loss?

Shailendra wrote, "Chalte Chalte Thak Gaya Main Aur Sans Bhi Dhalne Lagi, Tab Rah Khud Mujhe Apni Bahon Mein Leker Chalne Lagi," (I became tired while walking miles and miles and almost lost my breath, then the path itself took me into its arms and resumed the journey).

Bhagwan Sri Krishna said in Shrimad Bhagavad Gita 2.23, "nainam chindanti shastrani nainam dahati pavaka, na cainam kledayantyapo na sosayati marutah (Weapons cannot shred the soul, nor can fire burn it. Water cannot wet it, nor can the wind dry it.)

If this is true then why mourn death? Isn't death a rebirth? A baby comes out of the mother's womb, into the world. The uterus becomes empty again to give birth to another life. The baby is born and the umbilical cord is cut. Exactly in the same way, the human body also has an umbilical cord attached to it, which is invisible and is called the Silver Cord. At the moment of death this invisible cord breaks and the subtle body separates from the gross dead body, to be reborn again. This body is floating horizontally on top of the dead body, trying to get back in but because the umbilical cord is broken, it cannot. Our physical body that we see with our own eyes is the gross body. Apart from this two more bodies are moving around us, the subtle body, which is conscious in the dream state, and the casual body, which is constantly awake, never changes and is witness to what we do throughout our lives. The subtle body works for the spiritual progress of the person. This casual body about which Sri Krishna says, Nainan Chhindanti Sastrani Nainan Dahti Pavak: . However, the subtle body which is conscious when we sleep continues to change according to the karma of the birth. So who gets liberation?

Each body is surrounded by seven koshas or cocoons. Pranamay Kosha flows in the blood, stays in the cavity of the heart. This is the cell that dies due to lack of oxygen. Annamaya Kosha forms by intake of food we eat and is visible, in the form of our flesh, fat, bones, marrow. This Kosha is responsible for self-realization.

Vasanmaya Kosha is the reservoir of anger, greed, hatred, infatuation, jealousy. Negative thoughts, the tendency to look down on others, people who turn their noses up at the sight of someone they do not like, or hearing of someone's name, people who draw blood, salt-and-pepper mentality. This Vasana Kosh is present in the mother-in-law who is looking for a chance to hit her daughter-in-law, mother-in-law who interferes in her son's life and try to separate him from his wife,or the mother who teaches her daughter to insult her mother in law at every opportunity, tells her to keep her husband under control, wives who mentally torture their husbands, men who rape their girlfriends by luring them into marrying, father-in-laws who keep an evil eye on their daughters-in-laws, newlyweds who secretly wish their in-laws's early death, wives who treat husband's parents as waste paper baskets, bhala uski sari meri sari se safed kyon kind of jealous women, women interested in materialistic life style, clothes, cosmetics, women who lodge a police complaint when the maid carries a simple kitchen spoon by mistake, people who sold Remdesivir drug in black market during Corona, and nurses who stole it without giving it to the patient, doctors who prescribe unnecessary tests so as to continue their professional chain, corrupt public servants and politicians, greed, fear, hunger and many other evil desires originate from this Vasana Kosha. It becomes evil and the stronger the lust in this cell of Vasana Kosha, the more time it takes for a crow to touch the Pinda, for a dead body which is called the Kaksparsha. Ninety per cent of people live in this cell.

For the Hindi movie Teesri Kasam, Shailendra wrote an incredibly lovely poem. The song is in the style of a Chaiti folk song, which is a well-known Bihar folklore that also commemorates Bhagwan Sri Raama's birthday. Kaviraj Shailendra draws inspiration from the traditional Indian rural bhajan by none other than Kabir's Pinjre waali Muniya Satguru Tera Hai Byapaari. This Vasana Kosh is referred to by Shailendra as Pinjadewali Muniya. The Vasana Kosh is Muniya, and the physical body made of flesh and bones is a Pinjda, which is a cage. Shailendra writes:

Chalat musafir moh liya re pinjde waali muniya
Ud ud baithi halvaiya dokaniya,
Aare Barfi ke sab ras le liya re, Pinjde waali munia
Ud ud baithi bajajva dokaniya,
Aahaa, Kapda ke sab ras le liya re, Pinjde waali munia
Ud ud baithi panvadiya dokaniya, Hey Rama,
Beeda ke sab ras le liya re, Pinjde waali munia

The Halvaiya, who makes sweets, the Bajajva, who makes fabric, and the Panvadiya, who makes paan, (betel leaf), the three main social groups of Bihar, captivate the Munia bird (Vasana Kosh).

So a person who self realizes that, 'Zindagi se badi saja hi nahi, aur jurm kya hai pata hi nahi', (There's no punishment bigger than life, And I don't even know what my crime is) starts his journey towards the next, Manomaya kosha.

Manomay kosha is viewed as the ability to think holistically, wisdom, positivity, sanskar, and order to steer Vasana Kosha in the right way. Shailendra had come with stanza for this. He wrote: Tumhare Mahal Chaubare, Yahi Rah Jayenge Saare, Akad Kis Baat ki Pyare, Ye sar Phir Bhi Zukana Hai (All of your manors and mansions will remain here. What do you take pride in, sweetheart; you will eventually give it up dear.) He further says to be humble and pray saying Mann ki kitab se tum, mera naam hi mita dena, gun to na tha koi bhi, avgun mere bhula dena ( I never chanted your name O God, but kindly delete my name from your book as a sinner, I didn't have any virtues, I beg to forgive my vices).

The road to the next kosha that is Dnyanmaya Kosha can be travelled by embracing the minimalistic way of life.

Dnyanmaya kosha is the call to the subtle body not to linger after death. It also leads to spiritual upliftment. In Shailendras words, kehte hain gyaani, duniyaa hai faani,paani pe likhi likhaayi, hai sabki dekhi,,hai sabki jaani, haath kisike na aayi, kuchh tera naa mera,musafir jaayega kahaan (The wise say that this world is a mirage. Everything is recorded on water, where everyone can see and experience it but no one could access it. Nothing is mine and nothing is yours. Where are you going, o traveller?) The realization that the world is an illusion leads a person to the next Kosha that is Vigyanmaya Kosha. It is the realization that the death is a joyous occasion as the person has strived to come out of Vasana Kosh and has succeded. In the words of Shailendra again, idhar jhoom ke gaaye zindagi udhar hai maut khadi Koi kya jaane kahaan hai seema uljhan aan padi kaano mein zara keh de ki aaye kaun disha se hum, (Life is dancing and singing on this side, while death is standing on the other. Since it is unclear where the boundary is and my head is currently clouded, please direct me the right route to reach you.) No confusion there. He tells you how to approach Him. A man here becomes creative and optimistic and he is now looking beyond. He is ready to take his journey to the different world. And then he reaches the last stage of a Kosha, called Ananadmaya Kosha.

This is a blissful cocoon. Specially crafted for you by Him. Realization of universal truth and communication with Him is the alchemy of this kosha. This kosha works to convince us that death is the ultimate truth. The ring or aura that appears around the bodies of saints is the covering of the subtle body and the blissful kosha, blessed cover. The body becomes lighter and one feels that there is only joyful, lively, truthful ambience everywhere. At the time of death the person's face is very calm, neither twisted nor furrowed. Because he is calling Him like Shailendra called, "O re manjhi....s s s....! Mere saajan hai uspar... abki bar, le chal par...." (O boatman, my savoir is on the other side of the bank, take me through this time.)

His savoir, redeemer is standing on the other side of the bank. A boatman has a smiling face. There is neither Yamdoot with a terrible horn on his head nor a buffalo with the red eyes. There is a divine and a guiding light. The traveler in the boat is in a state of happiness. He sings Shailendra's words: Mai bandini piya ki, chir sangini hoon sajan ki ( I am glued to Him, I will be with him forever, my savoir) Forever because I do not wish a rebirth. Moksha is what I want.

In the words of Acharya Rajneesh, Death is a celebration. A person who achieves the suitable balance of the seven rings around the body, his life and death becomes the gamut of the seven tones, and in the rainbow of seven colors that person takes eternal rest, humming , " O re Maanziiiiii " or listening to the sound of anklets, chhunn….chhunn.