"Instead of celebrating my birthday, it would be my proud privilege if 5 September is observed as Teachers' day." – Dr Sarvepalli Radhakrishnan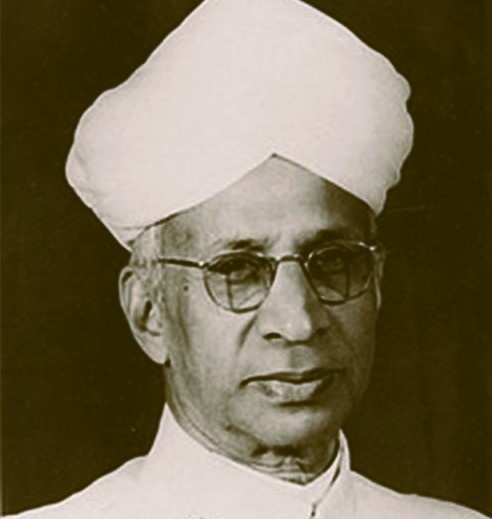 Like every year, this year also, 5th September which is known as Teacher's Day has arrived on this day. On this day, joy, gaiety and respect are on the outer surface of the atmosphere and behind this, if someone speculates, an image will emerge and that will be of a great teacher, President of India, recipient of Bharat Ratna, the best civilian award of India, great philosopher Dr Sarvepalli Radhakrishnan. Everyone knows his birth anniversary is commemorated as Teacher's day across the country. Amidst all recognition of Dr Sarvepalli Radhakrishnan, he kept his recognition as a teacher on top. His philosophical vision always compelled him to recognize the need of the hour. He was resilient that the demand of a country can be fulfilled only by philosophy. If we move to a little observation of the past it will be realized that whenever the need of the country and the society, change, it is reflected in Philosophy. In compliance with the particular philosophy, a change is admitted in education policy and implemented in educational institutes through the modified curriculum. From time to time Change in education policy is a result of the change in Philosophy which exhibits the methods to reach the objectives to fulfill the need of any country. Spreading any type of hegemony is possible through education. So, this must have been the reason behind Sarvepalli Radhakrishnan Ji's s thought to appreciate the tedious task of teachers who directly and indirectly build the nation through their education and training.

I would not like to present all those facts about him except a short story which is associated with Teacher's Day, I will definitely expound on that here. When he was sitting in his office as the President of India, his disciples approached to him to seek permission to celebrate his birthday with pomp. Dr Radhakrishnan revealed his wish to honour the teachers everywhere instead of celebrating his birthday. This way, teachers who were working excellent diligently with perseverance on meager wages should be encouraged and rewarded as they are building the students especially their characters and students are the backbones of any country, teachers deserved applause, honour and recognition. This way immense energy will be infused in less recognized teachers. Students will be resilient and alert only if teachers are, then country will be and make progress.

A teacher's prime duty is to cater to the knowledge and skills required of students. Teaching is a long process requiring the everlasting efforts of teachers. So it should be taken seriously and should be valued. A person without education is bound to imitate others with no analysis and does not have the power to change. Dr Radhakrishnan said - Books are the means by which we build bridges between cultures. So, education is the only medium that can sow the seeds of knowledge, character, and culture, tradition in students which will undoubtedly bear fruits and flowers in the future. But I can not fail to exhibit its present changed scenario. No doubt rapid progress s perceptible everywhere in society which has accepted the change at a great cost. That is why I thought to pen down. Today teachers have made deviated from their original roles and position. To understand this we must roam in our past, without a teacher, both progress and salvation of anyone were not possible, no matter whether he/she may belong how a high noble family. All have needed a guru. The names of Gurus Dronacharya, Aadi Shankaracharya, Vishwamitra, Parshuram, Ramakrishna Paramhansa, Vashishh, and Chanakya can not be forgotten. Today, when we remember these gurus and feel happy to remember their greatness of the guru, the entire human society bows down to them. They catered for disciples the strength of their knowledge and skills and prepared them for the welfare of humanity. They were able to do that as they were having freedom of expression, no interference from any side in their works and restriction on them, except morality. Now society has changed. The role of the teacher has changed. As teachers are known for freedom of expression, today, teachers can not speak their minds at all. They are supposed to follow specific groups. They don't have substantial freedom of expression, if they go with their freedom of expression, they are bound to face many difficulties in their academic journey and are afraid that they ever reach the destination of their academic journey. This is the reason that the relationship between teacher and teacher, teacher and student has also changed a lot. As for as the teacher-student relationship is concerned, it can be stated that where the teachers build the future of their students, the same students only consider them as the only teachers who teach them particular courses during the particular period and as soon as that time passes, don't feel to greet them when they pass by. In such treatment there is no fault of the students, only this rapidly changing scenario of society is at the center. Society changed, and the way the change has been adopted, it has ruined the trust which makes any bond between guys. Each makes a rapport with someone only with his meaning, in the same way, students also make their own. The teacher is considered a guru only for a short period as long as he is teaching them, after that he turned into a stranger face to them and perhaps the teachers have also become something like this. Everything has become professional based on give and take, nothing more than this. It is apt to quote the lines of Dr Radhakrishnan- The end –product of education should be a free creative man, who can battle against historical circumstances and adversities of nature.

So many criteria have been made for the teachers to prove their efficiency and to demonstrate their activeness in their field. For this, they are inclined to get registered in the different types of training in name of upgrading their knowledge and skills. Teachers are not to concentrate only on making students capable but they focus on their own make-up (to keep themselves to reach the targets fixed for promotion /appointment without fail). It shows entire teaching periods teachers are seen as busy fulfilling the eligibility of the period and eligibility over criteria and trying to please their competent authorities because only eligibility and your ability are not sufficient to move on smoothly on the pavement of the academic journey. All time they are afraid. They are not sure who will stand by you; support you and who will betray you without any specific reason. Teachers are stranger in their fraternity when you face a hard time. If one is not fearless, how works will be accomplished well. Thus many criteria decide the career of a teacher at a workplace. All these factors are seen as responsible for their changed nature of teachers. There are many things to reveal but I think that these above clues are enough to understand the distorted situation which has snatched the original meaning of things. They are supposed to judge the situation and behave accordingly. Never utter words on right and wrong. Is the teacher's position really respectable?

A person without education only intended to imitate, he/she does not have the power to bring change and endorse change. So education is the only medium that can preserve and sow the seeds of changes in the deep depth of the future. Any day celebration shows that there have been some great personalities who went beyond their interest and thought about others. Those towering personalities are still alive in memory. People remember their names with honour.

My questions:
Thus, some questions arise that need to be answered -
Do the teacher's still have the freedom of expression?
Does their expression have any value today?
Does their efficiency and success depend on the flattery of others?
Are these the same teachers Dr Radhakrishnan thought to honour?
My Message:
Selfishness is rewarded within a certain period but selflessness is always rewarded beyond time and space. Despite their demise, they still travel in the hearts of people. Teachers never discard their onus, they must hold their glorified tradition. Their teaching can not be perished. Their teaching and preaching to students guide them throughout their lives. Though Teachers' corporal journeys come to end, their contribution can not be perished, it gets transferred from generation to generation. So, Don't distort teachers' identities and teachers, don't let anyone destroy and tarnish your identity and support your fraternity.