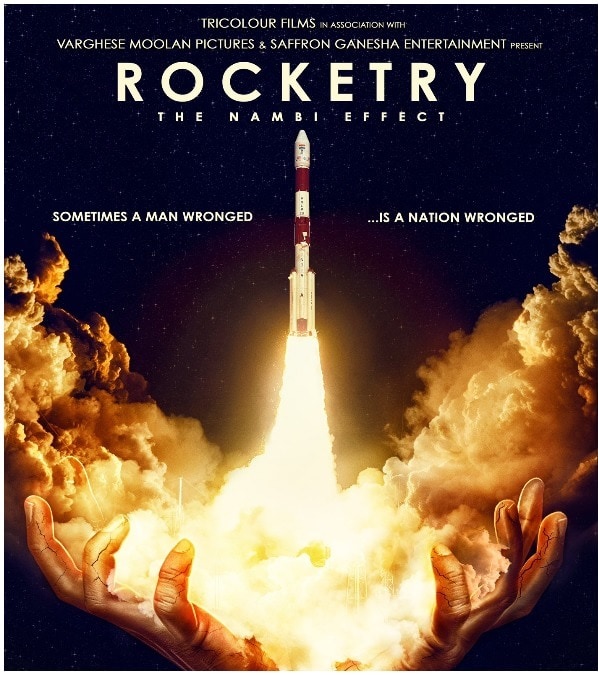 I saw the film 'Rocketry:The Nambi Effect' yesterday and, to say the least, was moved by it.

For anyone seeing the film empathetically it is sure to wet the eyes at least in a couple of scenes. Madhavan has done a marvelous job indeed in cinematically recreating a great hoax played on some people by some investigating agencies and a section of the media for their own purposes in the early half of the 1990s – the ISRO Spy Scandal.

Madhavan is superb in depicting the character of a soft, cheerful, god-fearing scientist at the height of his brilliant career pulled down abruptly to the nadir of despair and desolation, devastating both his body and mind, ruining his professional career and family life.

As a person who worked as part of the media tribe in Thiruvananthapuram when the hoax was played out, I could personally relate to many of the events picturized in the movie. It also brought back to me memories of a wrongdoing that, I think, was still painfully embedded in the minds of a whole generation.

I was working for a national news agency then and in keeping with agencies' general news policy we kept away from any sort of speculative reporting. It was because of the stress on veracity and objectivity that both PTI and UNI, for which I worked, and government media organizations like AIR and Doordarshan, refrained from taking recourse to the kind of reporting that some of the vernacular press did to unravel what ultimately turned out to be a non-existent spy story. And some of the papers did it through the James Bonds and Sherlock Holmeses in their employment who were even sent abroad in their crime busting missions. Unlike James Bond, they did not have any license to kill, but they appeared to relish every opportunity they got to kill reputations.

Madhavan deserves encomiums for taking up the cause of a fallen man like Nambi Narayanan who, significantly, made a Lazarus-like return to life and limelight because of his innate goodness, his innocence, his convictions and his fierce determination not to succumb.

There is a touching scene towards the close of the film. Nambi Narayanan and his wife (played by Madhavan and Simran), come to attend the wedding of a former colleague's daughter, when he gets a phone call informing him of the Supreme Court verdict exonerating him of all charges once and for all. His wife, just a phantom of her old lively self, is so overwhelmed by the news that she collapses on the floor. Earlier, as they come in there is a catcall from someone in the crowd, 'Mariam,' to deride him, but when he and his wife leave all the people assembled there give him a touching farewell with folded hands, as though apologizing for the grave wrong done to him.

The 155-minute film ends with the real Nambi Narayanan making a brief appearance in a television interview by Tamil Superstar Suriya. Overwhelmed by what all he heard from the scientist, Suriya, saying he actually does not know how competent he is in doing so, offers to make an apology on behalf of the people "for the way we treated you, for all the due honors we did not shower on you." Nambi Narayanan's reply is characteristic: "If you make an apology ever so magnanimously and if I accept it, it will create a false sense of closure. But it doesn't fix or change anything. I can't come to terms with that and so I cannot accept your apology. if I am innocent, isn't somebody else guilty? The question is who? A befitting answer has to be found to this question of mine."

In the final shot the film goes to the Rashtrapathi Bhavan where in the presence of an august audience, including Prime Minister Narendra Modi, Nambi Narayanan receives the award of Padma Bhushan from President Ram Nath Kovind.

That should have been a fitting finale or final grace to a long sordid story. But no. Some of Nambi Narayanan's former colleagues in ISRO, led by Dr A E Muthunayagam, former head of the Liquid Propulsions Systems Centre, have come to the press to openly denounce Nambi Narayanan and belittle him and his achievements. The Madhavan film, according to them, is full of lies and false claims. Muthuayagam even does not approve of the Padma Bhushan awarded to Nambi Narayanan by Government of India. His below the belt insinuation at the press meet is that Nambi Narayanan got it because of his connections in New Delhi.

In one of his earlier interviews Nambi Narayanan had said that during the third-degree interrogation he had at the hands of the investigating agencies, he resisted the intense pressure mounted on him to link the name of Muthunayagam to the scandal. Such pressure was obvious as anyone investigating the case at that time would have tried to link the case to all important higher ups and beyond.

And Nambi Narayanan has now received his thanksgiving from Muthunayagam in the form of his uncharitable remarks against him and against a film he has admittedly not seen.