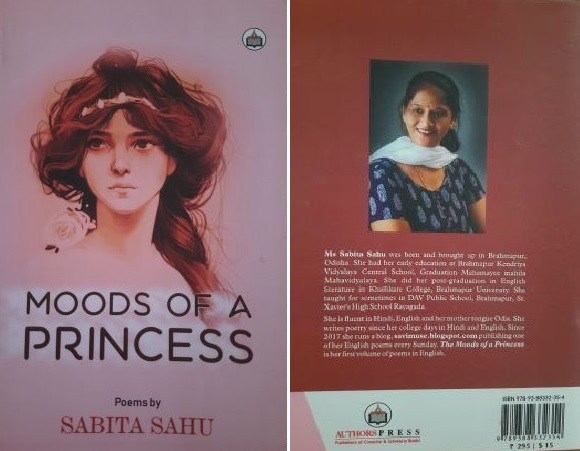 Silence speaks louder than words. Here, she wishes silently something.

A Silent Wish

Do not veil me with silken
Threads, nor crown me
With titles, do not address me
As deity even, for I am fragile
Fragmented being waiting
For my redemption.

She tells why a woman is powerful in these lines:

A Woman She is

She moves faster and defeats the clock
Winding her chores with zing and care
Slips and falls but gathers strength
To counter the shafts of time's quiver.

Epitome of Love

They say love is bling,
But I say it is blazing bright
That lights up the mind and soul
A boon bestowed by the almighty
On man's universe.

How beautifully expressed her feelings in these lines! Depiction and value of time is crystal clear in these lines.

Now no time to shed tears
Nor lament over time's gears
As the sun teaches us to be warm
Time teaches us to be cool and calm.

Death is inevitable and a fact that one needs to understand. Her definition of death is filled with hope and positivity.

Death makes life so liveable
Compels to live with the intensity
A yogi's stance, makes life
A private tryst with destiny.

Her self-confidence is so clearly understood in these lines. Her endurance and fighting spirit are clear.
I have endured my self-doubts,
Filled empty chambers with confidence
I know the waves are turbulent and high

But I am that beginner not to pause or sigh.
Here comes the title of the book explaining the moods and feelings of a princess. Is she a real princess or did she imagine herself to be the princess? Let's see.

After a sandal oil massage
Princess walked on velvet carpets
To her private swimming pool
Scented by Jasmine buds,
Petals of lily and primrose in the pool
Like a designer honey bond gathered……

She compared herself to a beautiful princess and showed lovely comparisons here.

From these lines, she expresses love, kindness, concern, and human qualities so well.

She creates mankind, nourishes,
Nurses and protects without hope
For gratitude or recompense
She does not wait for the gifts,
Never desires power and pelf.

She wants to say that everyone can do anything and face challenges in life through these lovely lines…

Can I face the world now?
Can I investigate the mid-day sun?
Years have rolled by futile years
Taking me in their fold without the bother
To look or laugh but to churn me up
In fallen dreams and swollen nightmares
But life has taught me its mystery
Revealing untold stories of sun and shower.

I enjoyed her book and say that it is a good book to read……. What to say? I fell in love with her book, style of writing, expression of feelings, and wordplay. Overall, it's a collection of beautifully woven poems.

Sabita Sahu was born and brought up in Brahampur, Odisha. She is a bilingual poet who writes poetry in Hindi and English. 'The Moods of a Princess' is her maiden book and her blog – savimuse.blogpost.com can be visited by anyone.
She's an affectionate and amicable person and gets connected with friends easily. Sabita pens down very powerful poems that deal with various subjects like love, peace, honesty, poverty, the rich, feminism, romance, agitation, etc. The list is limitless. She could express her feelings so well through her well-written poems.

I opine that she is a spontaneous and focused writer who can write on any topic, adding her own personal experiences.

She expresses her wish silently, gently, and sensibly through this poem.
BOOK INFORMATION:
Title of the Book: Moods of a Princess
Genre: Poetry
Author: Ms Sabita Sahu
ISBN: 978-93-88332-35-4
Publisher: Authorspress