(N B: I express my sincere gratitude to my friend Shri Dinesh Shankardas, the son of Shailendraji for providing me with the details in the conversation with him, about his iconic father and making available some photographs from his private album. Thank you Dinesh).
On 30 August 2022 Shankardas Rao Kesarilal, the emblematic lyricist of Hindi films, aka Shailendra would have completed 99 years of age had he not died prematurely. On that day he entered his centennial year, starting from 30 August 2022 till 29 August 2023.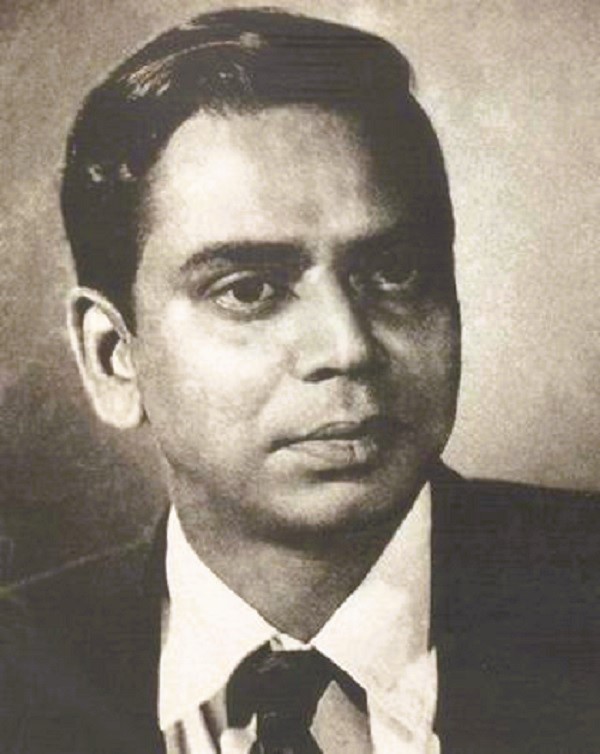 Shailendra was unparalleled. There isn't really another adjective that adequately describes his impact on Hindi film and non film poetry. From the release of his most famous film Barsaat in 1949 till his death on 14 December 1966 he created the entire work of around 900 plus songs in just 17 years. In that regard, just as he himself penned the lines in the Hindi movie Ashiq (1962), O Shama, muze foonk dey ( O candle, blow me out) he blew himself out. The stanza of the song further states, Shaam se lekar roz sahar tak, Tere liye main har raat jali, Maine to haye ye bhi na jaana Kab din duba kab raat dhali, (from evening till dawn I burned myself every night for you, I didn't even realize when the day ended and night was over), he was similar to the fairy-tale silk moth who jumped again and again on the burning candle and died too soon while splitting our hearts and moistening our eyes with his everlasting poetry.

In 2016 while launching a compilation of Shailendra poetry titled Andar Ki Aag, (A fire within) Dinesh Shankardas, the son of Shailendra, revealed in this public event that his parents told him growing up that they were at the lower rung of the society , but until he was in his late 20s and started to learn about his father's life, he had no idea what that meant. Dinesh went to the town in the Arrah region of Bihar where his grandfather was born because he could not understand why his father, a glorious lyricist and a prolific writer of his time in Hindi films had not received any public or governmental recognition. Dinesh discovered that his grandfather had been able to end the cycle of tyranny in the Arrah district. Despite being seated five rows behind other students in the classroom, he decided to continue his education on his own. He was eventually assigned to Rawalpindi, the city where Dinesh's father was born, after finding work as a contractor in the British army. Shailendra did not personally witness caste discrimination in the Hindi film industry. But Shailendra was intensely aware of the term discrimination that was recorded in his notebook of earlier days. While playing hockey, in Rawalpindi, some youngsters from an upper caste made the snide remark, "Now, we will have to play with these kinds of people." That made Shailendra more determined to relocate to Mumbai, Dinesh recalled. Shailendra was pulled to the Communist cause in Bombay and helped create the Indian People's Theatre Association. Shailendra worked closely with Raj Kapoor, Dinesh said, who gave him his big break, and together they created lyrics that frequently referenced the socialist ideals of independent India. However, he understood how caste operates and oppresses. Shailendra gave vent to his feelings when Raj Kapoor made the 1954 film Boot Polish, in which a cobbler in the film says: "Pandit ji mantar padhate hain, woh Ganga ji nahlaate hain/Hum pet ka mantar padhate hai, jute ka muh chamkaate hai, Pandit ko panch chavannee hai, humko toh ek ikannee hai. Fir bhedbhav ye kaisa hai, jab sabko pyar paisa hai. (The pundit chants and bathes in the holy water of Ganga, we chant about belly,and shine the face of the shoe, Pandit gets five annas where as we get only one, then why this discrimination when everyone loves money), Dinesh reminisced.

In 1946, at a poetry meet organized by the IPTA (Indian People's Theater Association), Shailendra, who performed the poems 'Meri Bagian Mein Aag Laga Gayo Re' (He set fire in my garden) and 'Jalata hai Punjab', (Punjab is burning) literally charmed a father and son duo, eminent Hindi film personalities, Prithviraj Kapoor and Raj Kapoor who had come to attend the soiree.

Raj Kapoor, in those days, was shooting for his first feature film 'Aag'. After signing Ram Ganguly as the composer, Raj Kapoor, who was looking for a budding poet to write the lyrics for the film, asked Shailendra, after the soiree was over that if he would write the lyrics for the film, to which Shailendra replied, "I don't write for money and I don't see any reason to write for your film."

"No problem, " Raj Kapoor, not minding his brusque reply, did not forget to hand over his name and address on a piece of paper to Shailendra saying, "If you ever want to meet me, you are always welcome".

Poets specialize in particular genres of poetry; some are romantic, others intellectual, others spiritual, some radical, and yet others are just plain funny. However, it is impossible to categorize Shailendra into a particular genre, style, mood, or philosophy. Shailendra's lyrics appear straightforward at first glance. When you hum his tunes, you won't need to grab the lexicon to look up the definitions of terms you don't know.

Shailendra was born on August 30, 1923, in Rawalpindi (Pakistan). A meager financial situation made his mother Parvati Devi and father Kesarilal move from Bihar to Rawalpindi. After settling down in Rawalpindi, Kesarilal continued to work productively on projects for the military, but this success didn't last very long. A railway laborer who was a sibling of Kesari Lal called the family to Mathura. Shailendra lost his mother early in his life which made him dejected and so very taciturn that it turned him into an introvert. He began to pen down emotional and sad poems to vent his feelings to the void he faced in the life. He came in contact with a writer by the name of Indra Bahadur Khare in Mathura and then he began to publish his sonnets distributed by a magazine being edited in Agra, adopting Shailendra as his new name. His real name was Shankardas. He submitted his poetry to the Hindi publication "Hans," which was being edited by the distinguished Hindi author Munshi Premchand, who recognized the potential in his poems and began publishing them regularly.

Shailendra managed to land a position as an apprentice in Jhansi Railway workshop and then shifted to Mumbai's Matunga railway workshop. His poetic mind was inspired by the screwdrivers, wrenches, and heavy iron hammer beats combined with the flashes and sparks of welding rods, he started to write the best leftist-leaning lines while alone in a solitary room in the railway quarters. While working there, he joined and promoted IPTA, a social drive of the unified Communist Party. He composed and recounted numerous sonnets for IPTA's projects. The communist and liberal impact is obviously noticeable in the majority of his sonnets. For example:

Har zor julm ke takkar men hadtal hamara nara hai, Tumne Mange Thukrai Hain, Tumne toda hai har vada, Chhini hamse sasti roti, tum chhatni par aamadaa ho,To apni bhi taiyari hai, to hamne bhi lalkara hai, (In challenge of your every cruelty our slogan is strike, you have turned down our demands, you have broken every promise, you snatched away even our cheap bread, now you have come for the roof, so we are also ready to challenge you). One more song written for IPTA clearly reflects his opposition to the horrible activities in the public eye. Here, he writes:

Buri hai aag pet ki,Bure hain dil ke daag ye,Na dab sakenge, ek din banenge inqlab ye, Girenge julm ke mahal, Banenge navin ghar,Agar kahin hai swarg to Utar la jamin par Tu Jinda hai,Tu Jindgi ki, Jeet par yakin kar (The fire in the belly, the scars on the heart are bad, You are unable to suppress it as one day they will turn into revolution, mansions of oppression will fall, new dwellings will spring up, if there is heaven somewhere, then bring it here on earth! You are alive; believe in the victory of life.)

Shailendra travelled to Jhansi in 1948 to attend a relative's wedding, where he met Shakuntala, a distant relative. Later, she would become his wife. Shailendra and his wife started their family in Mumbai, but soon when his wife was about to become in a family way, he started to experience financial difficulty because his meager wage from a railroad job was insufficient to meet all of his needs. While rummaging through his pockets he found the visiting card given by Raj Kapoor and then he decided to meet him at his office which was located at Mahalaxmi, Mumbai.

Raj Kapoor welcomed him and Shailendra requested a loan from Raj Kapoor. Raj Kapoor offered him 500 Rupees while mentioning him to compose two melodies including a title tune for his new film 'Barsaat'. At the earliest chance, Shailendra attempted to repay Raj Kapoor the 500 rupees he had borrowed to send his wife to Jhansi. Raj Kapoor said with amusement, "I don't engage in money loans. Kindly write the two unfinished songs for Barsaat." Shailendra composed two tunes - 'Barasat Mein Hum Se Mile Tum Sajan', and 'Patali Kamar Hain, Tirchi Nazar Hain'. The vocals were provided for these two tunes respectively by Lata Mangeshkar and Mukesh individually. Subsequent to being acquainted with the hazy and swooning tones of 'Patli Kamar Hain, Tirchi Nazar Hain" sung by Mukesh, and the ever sweet young Lata's melodious 'Barasat Mein Hum Se Mile Tum Sajan' the charm of Shailendra's words fell on Raj Kapoor as well as on all admirers of Hindi film music. The film 'Barsaat' made history.

Among Shailendra's many talents was his ability to explain a narrative or event succinctly and perfectly. After the success of Barsat, Raj Kapoor began the preparations for his new and upcoming film Awara(1951). He once again beckoned Shailendra to come and meet him as Shailendra had continued to work with Railways after giving Raj Kapoor his two songs for Barsaat. Raj Kapoor requested Shailendra in the meeting for penning the songs for Awara. Shailendra answered that he had already penned two songs in token of having received a loan of Rs 500/- from Raj Kapoor, 250/- Rs. for each song and thus the deal was already over. Shailendra was reluctant to work for the film once again, but Raj Kapoor insisted on listening to the story of the film. Raj Kapoor took him to see KA Abbas, another of Kapoor's close friends and colleagues who wrote the story of the film . Abbas began to narrate the story for about two hours while treating Shailendra as a kind of persona non grata, because Shailendra, in the attire of a railway uniform, shirt torn and holes visible, his hair dishevelled was a picture of Mr. Nobody. Raj Kapoor after listening to the story inquired Shailendra about what could be the gist of the narrative that Abbas told. "Gardish mein tha, aasman ka taara tha. Awaara tha.", (was in difficulty, was a star in the sky, was a vagabond), the poet answered. Hearing his two-hour portrayal summed up in merely two and half lines by Shailendra , Abbas was stunned and understood that this tranquil poet was terribly under rated by him. As a result, these scant lines served as the framework for the signature tune when this tale was turned into the movie, Awara which became huge success and brought box office bonanza And then his introvert upbringing and the castaway treatment by the upper class society due to his poverty made him pen down the lines like, Gharbar nahin, sansar nahin, muzse kisiko pyar nahin, uspaar kisise milne ka ikrarar nahi, (I don't have a home nor family, no one loves me and I don't have a permission to meet anyone on the other side of the fence). The same theme song was skyjacked by Russians. After that Shailendra became full time employee of RK Studio on a monthly salary of Rs 500/- , the figure which continued till his death in 1966. Whether he wrote one song or five or not at all, he would get 500 rupees each month. He never received any raise in the salary. No Dearness allowance, No House Rent allowance, nor bonus. Shailendra never complained or bickered about it. Of course 500/- Rupees was a huge amount in those days. But as Dinesh recalls, Raj Uncle (Raj Kapoor) would give one gold coin to Shailendra when he liked the song, and there was hardly a song which Raj Uncle did not like. Shailendra alongside Hasrat Jaipuri, Shankar-Jaikishan, Mukesh and Lata turned into an essential part of RK Studio's films, Shailendra composed title tunes and different melodies for many of RK Studio movies from 'Barsaat' to 'Mera Naam Joker'.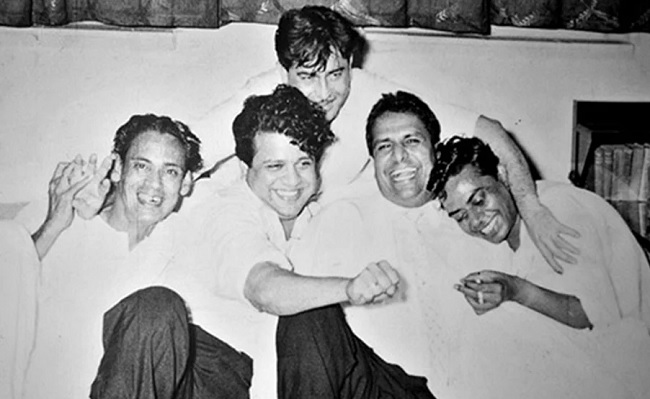 The band generated countless successful songs for films such as Boot Polish, Aah, Anari, Teesri Kasam, Barsaat, Awaara, Chori Chori, Shri 420, Jis Desh Mein Ganga Bahti Hai, Sangam, Mera Naam Joker, and many others. Each song they composed was better than the previous. Shailendra created Raj Kapoor's on-screen persona as the tolerant common nitwit at odds with the ways of a powerful, evil world through these films and the songs he penned. It helped that many of Raj Kapoor's films, made in a newly independent India, had communist overtones that the general public was instantly able to identify with. Shailendra's leftist bent of mind lent the creation for the treasured poetic lines he penned.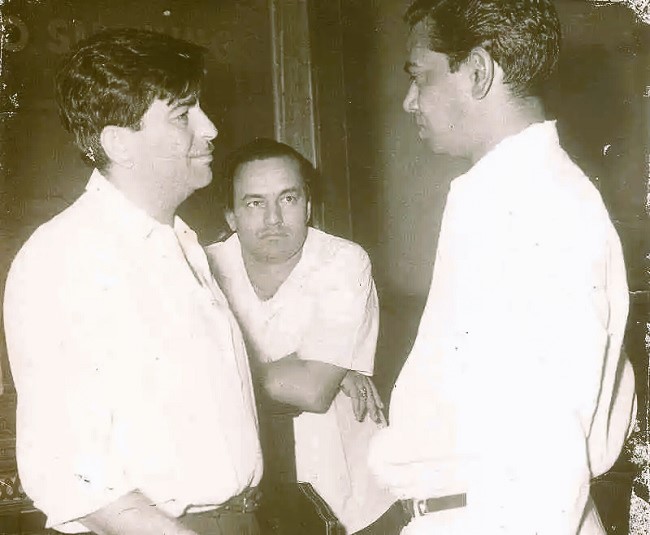 It is unthinkable for the youth of 1950s and 1960s India and the elderly of today to have not heard Mukesh sing Shailendra's "Awara Hoon" and "Mera Joota Hain Japani." At the time, cinema had not yet made it to every corner of India, but due to the popularity of radio, a great deal of people heard and crooned his songs. These two melodies stand out among Shailendra's other compositions as the most well-known Hindi songs ever, both in India and around the world. Shailendra also focused on learning Russian when the Russians literally hijacked the song "Awara Hoon." Raj Kapoor fondly called him Kaviraj and Pushkin, a moniker after Alexander Pushkin, a famous romantic poet of Russia.

Shailendra knew Bengali as well due to his friendship with music director Salil Chaudhary from his IPTA days. Both later teamed up for Bimal Roy's Madhumati (1958), and Parakh (1960). O Sajana, Barkha Bahar Aayi penned by Shailendra and sung by Lata Mangeshkar became super hit song from Parakh.

Both Madhumati and Parakh were super hit. Shailendra wrote screenplay, dialogue and lyrics for Parakh. Bimal Roy won Best Director's award for both the film while Salil Chaudhary won Best Music Director for Madhumati. However, Shailendra won best lyricist award for Yahudi (1958), Anari (1959) and Brahmchari (1968).

Shailendra was a fine human being with a confluence of a poet and lyricist. He spoke with much modesty. Both humility and strong confidence could be seen in him. He never hid anything, flinched, or shown any inflated self-confidence. He had seen what poverty is from close quarters due to his employment in the Matunga railways. He used to work for trade union, which enabled him to see hundreds of people who were homeless, sleeping on sidewalks, living in squalor, begging round-the-clock, working odd jobs, stealing, and then going hungry if they didn't succeed in getting anything. When he had the chance, he wrote the lyrics to the song "Dil Ka Haal Sune Dilwala" from the movie Shri 420 (1955) portraying his scarcity in these lines: chhote se ghar mein gareeb ka beta, main bhee hoon maan ke naseeb ka beta, ranjo gam bachapan ke saathee, aandhiyon mein jale jeevanabaatee, bhookh ne hain bade pyaar se paala." (son of a poor in a tiny house,I am also the son of mother's luck, poverty is a childhood companion, the wick of life burning in the storms, hunger brought me up with great love.). Here this particular line I am the son of mother's luck has a different meaning. What Shailendra meant here is, he was his mother's luck and her fate and was understood by her. It is what his mother brought in as her naseeb, whatever and however that is. Nobody can question the mother-son bond in this manner. Saying she was unlucky for him will allow an escape route for his misery but he does not intend it to be. His mother has given him all, he is her naseeb, whatever and however that may be. He doesn't assert that, despite all, she loves him. He claims that she got him by accident. Further in the same songs he also adds while conveying a message to not express your emotions to others or to sing songs of lamentation, thus: suno magar ye kisee na kahana, tinake ka le ke sahaara na banana, bemausam malhaar na gaana, aadhee raat ko mat chillaana, varana pakad lega pulisavaala ("Listen, but don't say this to anyone, don't swim with the help of straws, don't sing Malhar (Raag)when the season is not apt, don't shout at midnight, otherwise the policeman will catch you).

Further, Shailendra's mind was still bent upon not writing for films but Raj Kapoor was not ready to part with his talent since Shailendra's song had a midas touch. Shailendra some how never wanted to part with his roots and he always felt that the great divide between him and his filmy job was wealth. His lines in "Dil Ka Haal Sune Dilwala" from the movie Shri 420 denotes the truth: Gam se abhi aazaad nahi mai, Khush hun magar aabaad nahi mai, Manzil mere paas khadi hai, Paanv me lekin bedi padi hai, Taang adata hai daulatawala ( I am not yet free from sorrows, I am happy but not delighted, destination is near me but my legs are chained, because a wealthy man is adamant).

Another poignant composition was from Film Ujala (1959). The lines are: suraj jara aa pas aa, Aaj sapnon ki roti pakaayenge hum, ae aasmaan tu bada meherbaan, aaj tujh ko bhi daawat khilaayenge hum. (O Sun, come a bit nearer, let us cook a bread of dream, O sky, you are so benevolent, we will also give you a feast). Further he goes on penning, chulha hai thanda pada aur pet me aag hai
garma garam rotiyan kitna hasi khwab hai (The oven has cooled down (for ages) and belly is hot (due to hunger), hot hotter buns to eat, what a beautiful dream!). An emotional person won't notice when his/her eyes are getting moist because of how skillfully the contrasting scenes of living in poverty and affluence are shown in the movie. How terrible that people only consume roti or bread in their dreams even today in many African countries and some war torn nations.

Shailendra was a master at writing songs with a hook that drew you in and conveyed a deeper message while being easy to sing. Amazingly, he could move from the profound to the commonplace with ease. Even now, he is unmatched in terms of versatility; his songs touch on a variety of subjects, including the natural world, childhood, romance, sorrow, pain, love, optimism, spirituality, philosophy and on occasion, humor and irony. As a result he stands out as the best movie lyricist of all time. His repertoire includes the vast canvas and some of the colors of his paint brush are:

The Dreamer: Vijay Anand's Guide(1967) explored the dreams, despair, desire, passion of a dancer who quits her cheating husband to choose a career with the help of Raju Guide who gives a fillip to her ambitions. Raju croons, Tere mere sapne ab ek rang hai, wo jahan bhi le jaye rahen ham sang hain. (Your and my dreams have same colour, wherever they take us we are together).

The Optimist:
Raj Kapoor's Awara (1951) told the story of child becoming a thief committing larceny while projecting himself innocent. Raj the thief in the film introduces himself in this way, Aabaad nahin barbaad sahi,Gaata hoon khushi ke geet magar, Zakhmon se bhara seena hai mera, Hansti hai magar yeh mast nazar (I am not rich, okay if I am a destitute but still I sing songs of happiness, my heart is full of wounds, but my cute eyes are smiling).

The Nostalgic:
Kishor Kumar's Door Gagan Ki Chhaon Mein, (1964). We would all like to go back to some of our best times with sweet dreams and lovely recollections. We might all identify to this song in our own unique ways, longing for those times to come back just once. Kishor Kumar sings, Mere khwabo ke mahal mere sapno ke nagar,Pi liya jinke liye, maine jivan kaa jahar, Aaj main dhundu kaha,kho gaye jane kidhar (My dream palaces, my dream cities, for which I drank poison, where can I find them, where did they go?).

The Altruist:
Raj Kapoor's Anari, (1959). What is the purpose of life, if you cannot share someone's sorrow and put back the smile on his/her face? Kisiki muskuraahaton pe ho nisar,Kisika dard mil sake to le udhar, Kisike vaste ho tere dil me pyar, Jeena isi ka naam hai (if you can bring about a smile on a face, if you can borrow someone's sorrows, if you have a heart that brims with love for someone, it is a life worth living).

The Nature Lover:
Bimal Roy's Madhumati (1958). A gothic noir film, the protagonist Devendra wanders in the hills for the first time in the new place where he has shifted and falls in love with the ambience. He starts humming, Ye kaun hansata hai fulon men chhupakar,Bahaar bechain hai kiski dhoonpar, Kahin gungun, kahin runjhun ke jaise naache jamin ( who is smiling hiding in flowers, milieu is restless on whose musical tunes, little hum here, few beats there, as if earth is dancing).

The Seeker:
Raja Nawathe's Basant Bahar (1956). The main character of the film Gopal, a royal singer loses his voice just before the competition. He addresses the God to regain his voice, Kahte hain tum ho daya ke saagar, Phir kyun khaali meri gaagar, Jhoomen jhuke kabhi na barse, Kaise ho tum ghanshyaam( They say you are an ocean of mercy, then why my pot is empty, you wander and bend but never pour, what kind of dark cloud are you Oh Ghanshyam?) Look the master craftsman that Shailendra is, he makes a wordplay with the word Ghanashyam. Ghanashyam means dark cloud which brings the rain and it is also the name of Bhagwan Shri Krishna.

The Unrefined:
Raj Kapoor's Anari, (1959). When Raj finds out that Asha the maid servant is really Aarti, the niece of his employer, he understands that he was such a naïve guy, he couldn't know she took him for a ride. He sings, Sab kuch seekha hamne na seekhi Hoshiyari, sach hai duniyawalo ke hum hain anari, (I learnt everything but to be wise, indeed O world, I am a raw).

The Carefree:
That song in Raj Kapoor's Jagte Raho (1956) picturised on actor Motilal as a singing drunk croons, Dil ne hum se jo kaha, humne waisa hi kiya. Phir kabhi fursat se sochenge bhala thha ya bura (I did whatever my heart told me to do, was it good or bad, will think about it afterwards, leisurly).

The Patriot:
Radhu Karmarkar's Jis Desh me Ganga Bahti hai (1960). The endeavours of Vinoba Bhave and Jai Prakash Narayan, who called for hundreds of dacoits to turn themselves in to the police and integrate into mainstream society as a whole, served as inspiration for this film. Raj, the hero of the film talks into surrendering the dreadful dacoit Raka and calls him to join the society while he sings, Aa ab laut chale, Nain bichaye baahe pasare, Tujhko pukare desh tera, (Come now, let us return, with love in the eyes and open arms to embrace, your country beckons you to come).

The Supreme Self Confident :
Raj Kapoor's Awara (1951). The vagabond Raj croons, Ya Gardish mein hoon, Asmaan ka tara hoon, (I am in midst of complexity, but still I am the loadstar).

The Philosopher:
Vijay Anand's Guide (1967) Raju, who works as a tourist guide is released from the jail and he wishes to go back to his lady love Rosie who was in a way responsible for his jail term. The song is in the background, kehte hain gyaani, duniyaa hai faani,paani pe likhi likhaayi, hai sabki dekhi,,hai sabki jaani, haath kisike na aayi, kuchh tera naa mera,musafir jaayega kahaan (The wise say that this world is a mirage. Everything is recorded on water, where everyone can see and experience it but no one could access it. Nothing is mine and nothing is yours. Where are you going, o traveller?)

The Voracious Reader:
Amiya Chakravarty's Patita (1953), Hero of the film Nirmal, after meeting Radha consoles her for the troubles she went through and sings, " Hai sabse madhur who geet jinhe, ham dard ke sur mein gaate hain". (the sweet songs are sung in the tone of sadness). This song is inspired from Percy Bysshe Shelley's "To a Skylark." the lines of which are, Our sincerest laughter, With some pain is fraught; Our sweetest songs are those that tell of saddest thought.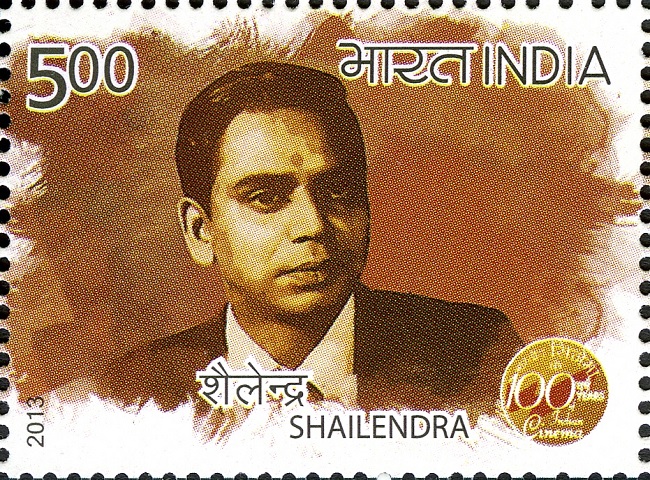 It is outlandish to introduce Shailendra to a class, a style, a mentality. By all accounts, Shailendra's statements are straightforward. You don't need to instantly look up the phrase reference to which at first glance look uncomplicated, are actually jam-packed with logic, significance, and the most profound thoughts, emotions, memories, and dreams. Shailendra's ability to create art as beautiful as his songs, move us to tears and enlightenment at their conclusion, with only a few basic words that is phenomenal.

Listening to Shailendra's tunes is like watching light travel through a crystal and refract into a rainbow of a melancholy kind because you can see his heart at work. He reached for faith even when his inner eye only saw misery. His sonnets demonstrate the constant grip of glum on the very existence. His phrases of trust continued to ring when the sociability came into contact with his looming thoughts. His outlook on the world was gloomy. His poetry captured such incredible suffering and experience that one wonders what inspired him to write such heart wrenching poems. Try out his compositions with songs like Rulake Gaya Sapna Mera (My dream left me weeping) from Jewel Thief (1967), Jeena naheen aaya mohe ab to chhupa le charno may, charno mey (I was not able to live correctly, now give me shelter at your feet), from Basant Bahar (1956), and Kanto me khile hai phul hamaare,Rang bhare aramano ke, Nadan hai jo in kanto se Daaman ko bachaaye jaate hai, (My flower has blossomed in the thorn, fools are those who save their attire from these spikes) from Patita (1953). In Madhumati (1958), the lines Tute hue khvaabo ne, hamako ye sikhaayaa hai dil ne jise paayaa thaa, aankho ne gavaayaa hai ( My shattered dreams have taught me that what the heart got has been lost by my eyes) shows how far-reaching his desires for this purpose were. But in the end, he sought death, and death alone gave him comfort as written for Film Daag of 1952, Inn baharonse kya fayda, jis me dil ki kali jal gayi, jakhm firse hara ho gaya, Ai mere dil kahin aur chal,( what is the use of this spring in which the bud of my heart got burnt, and the wound opened again, O my heart, let us go somewhere else).

The rare kind of seed, Shailendra, was uncommon. The seed not just developed through the extraordinary destitution, it accepted to have covered it in, yet in addition embraced that paucity as an epitome for its imaginative development. The behar and kafiya, i.e meter and rhyme respectively in urdu poetry are regulated and are only allowed in 19 different patterns. Sanskrit's offspring, Hindi, has a greater variety of more than sixty rhythmic metres. The two separate motifs were initially combined by Shailendra and gave a new lease of life to Hindi film songs. Shailendra regularly used odd similes or images, and he had the largest vocabulary for any singer in Hindi film songs. One can recall an event that occurred in 1964 when Sahir Ludhianvi won the Filmfare Award for Best Lyricist for the song "Jo wada kiya wo" from the film Taj Mahal (1963), the genuine winner of the award, said Ludhianvi, should be Shailendra for the Bandini song "Mat ro mata lal tera bahu tere," which Sahir hailed as the most touching patriotic song he had ever heard. He summoned a reserved Shailendra to the podium and presented him with the trophy.

The debacle and failure of his maiden film Teesri Kasam (1966) deteriorated his health as he took heavily to the liquor. He was requested to get admitted in the hospital on December 13, 1966. On their way to the hospital, Shailendra and his wife stopped at Raj Kapoor's cottage, where the actor reminded the patient that he still needed to finish the theme song for Mera Naam Joker. The lyricist jokingly instructed Raj to finish his birthday bash for the next day. (Raj's birthday was December 14th.). But the Kaviraj was never able to finish the song. Shailendra left the planet for his final trip on December 14, 1966. That unfinished song was eventually finished by his son Shailey Shailendra and is today considered one of the all-time greats. The song was Jeena yahan, marna yahan, iske siwa jaana kahan, ( To die here and live here, where else one can go).

Javed Akhtar, an eminent Hindi film script writer once said, "Shailendra comes from the tradition of Kabir, Meera, Khusro. You get that kind of simplicity of these folk poets in Shailendra's lyrics." In 2016, a road was named after Shailendra — Geetkar-Jankavi Shailendra Marg in Dhauli Pyau territory of Mathura, where he spent his initial life prior to moving for Mumbai.

The three time Film Fare Award winner Shailendra for his lyrics also had a commemorative stamp released in his name in 2013. Shailendra's railway colony friends Dwarika Seth and Babulal Sharma are no more, but their family recalls about the lyricist. Dwarika Seth named his son after Shailendra. Dinesh was always perplexed as to why his father had never gotten any national or state-level honours, despite all the adulation and accolades. Shankar Das Rao alias Shailendra is today regarded as a genius as while releasing the book Andar Ki Aag, veteran critic Dr Namvar Singh repeated the words of Babu Jagjivan Raam, (the Ex- Defence Minister of India, during Indo Pak war of 1971) that Shailendra was the greatest poet after Sant Ravidas.

To be continued.