Mikhail Gorbachev, the last President of the erstwhile USSR and a revolutionary reformer "who changed his country and the world" by ending the cold war without bloodshed died on August 30, 2022, at the age of 91.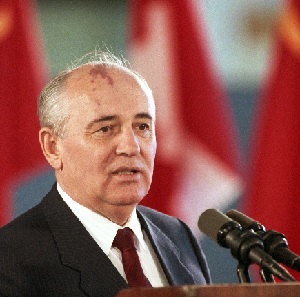 The peasant boy, who claimed himself as "belonging to the so-called children-of-the-war [of Nazis] generation", on becoming the General Secretary of the Soviet Communist Party in 1985 at the young age of 54, set out to make the world less suspicious of communism and importantly conflict-free by avoiding the "traditional, authoritarian, anti-western norm" of his predecessors like Brezhnev.

He was none other than that "exceptional ruler" of Russia and "a world statesman", called Gorbachev, who chose "glasnost" and "perestroika" not as mere slogans but as the path forward to reform the communist party and give choice to people of the erstwhile Soviet Union to make their society more an open one.

Though came to power as a loyal son of the communist party, Gorbachev, on assuming power, looking at the legacy of seven decades of Communist rule, and the corruption bred by it, the demotivated workforce producing shoddy goods and the soppy distribution system with new eyes, said to Eduard A. Shevardnadze, who later became his trusted foreign minister, "We cannot live this way any longer".

That said, he lifted restrictions on the media, allowed previously censored books to be published, oversaw an attack on corruption in the upper echelons of the communist party as a result of which hundreds of bureaucrats lost their jobs, and finally moving away from the State policy of atheism, promulgated a freedom-of conscience law guaranteeing the right of the people to "satisfy their spiritual need".

Simply put, Gorbachev, in the words of the former Russian liberal opposition leader, Grigory Yavlinsky, "gave freedom to hundreds of millions of people in Russia and around it, and also half of Europe". Indeed, "few leaders in history have had such a decisive influence on their time".

He gave Russians free elections and a multiparty system and simultaneously created parliamentary institutions for ensuring participatory governance. Yet, the 'perestroika' that he started could not reach the destination he wanted—democratic, human socialism, which he perceived as the very destination in itself rather than as a place on the path to communism. But Russian society, as the liberal economist, Ruslan Grinberg said, perhaps "… don't know what to do with it" [democracy].

Indeed, in an interview given in 2000, Gorbachev himself commented about this haplessness of Russian society thus: "It's not so easy to give up the inheritance we received from Stalinism and neo-Stalinism when people were turned into cogs in the wheel, and those in power made all the decisions for them".

As the UN Secretary General Guterres wrote in his Twitter tribute, Gorbachev "was a one-of-a-kind statesman", for he was the leader who "made no attempt to keep himself in office by using force."

It hardly needs to be stressed here that in the death of Gorbachev, "the world has lost a towering global leader, committed multilateralist, and tireless advocate for peace", which fact well reflects in these extraordinary accomplishments of Gorbachev: one, presided over an arms agreement with the US that eliminated for the first time an entire class of nuclear weapons; two, withdrawn most of the tactical nuclear weapons from Eastern Europe; three, withdrawn Soviet forces from Afghanistan; four, allowed unification of Germany in 1990 peacefully, an event which according to many observers brought the cold war to an end; and five, unlike his predecessors, he, refusing to intervene militarily when the governments were threatened, allowed Eastern Bloc countries to break apart and thus avoided significant bloodshed in Central and Eastern Europe.

Gorbachev, in the words of his biographer, William Taubman, a professor emeritus at Amherst College in Massachusetts, "was a good man—he was a decent man… his tragedy is in a sense that he was too decent for the country he was leading." That his decency alone was the reason for his accepting the Soviet Union's dissolution as a fait accompli despite having all the power in the world within him to suppress the revolt.

Nevertheless, by announcing his resignation as Soviet Union President in a speech delivered on December 25, 1991 in front of television cameras that was broadcast internationally, thus: "I hereby discontinue my activities at the post of President of the Union of Soviet Socialist Republics…", he perhaps, averted a possible civil war.

In that speech, presenting his assessment of the path traversed by the USSR since 1986, he said that society "was already suffocating in the grip of the command-bureaucratic system. Doomed to serve ideology and to bear the burden of the arms race… everything had to be changed fundamentally. That is why I have never once regretted that I did not take advantage of the position of General Secretary just to "reign" for a few years. I would have considered that irresponsible and immoral."

That was Gorbachev, the statesman, who was awarded the Nobel Peace Prize 1990 "for the leading role he played in the radical changes in East-West relations." Posterity will remember this "social democrat, who believed in equality of opportunity, publicly supported education and medical care, a guaranteed minimum of social welfare, and a socially oriented market economy, all within a democratic political framework", as a leader who brought the cold war to a peaceful end.