With time waiting for me, I planned to take the public transport to reach Downtown in Columbus, Ohio. While waiting for the bus, I casually looked round and was welcomed by a neat cabin like shelter at the bus stand. Few foldable seats were available, which were neatly placed. On one side of the shelter, the bus route was very clearly depicted while the other areas were lined with local pictures of the town.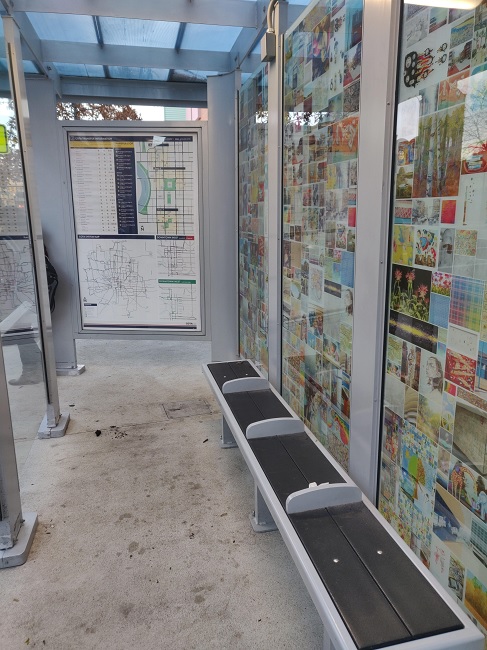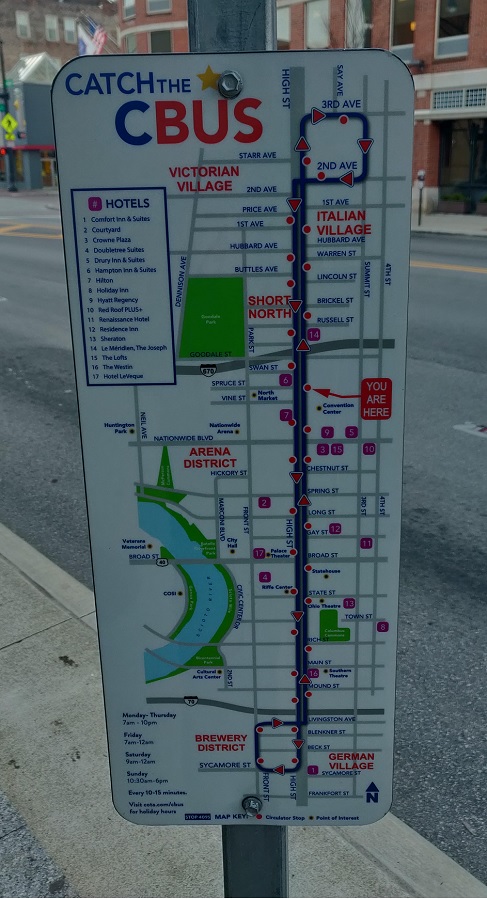 I hardly had to wait for long for the bus to turn up. The bus came to a halt at the kerb on the extreme right of the road and the automatic doors opened at the front and rear end of the bus.

We two of us got into the bus through the front door and checked with the driver if the bus goes to Downtown. The driver said yes. Then I pulled out two one dollar notes from my pocket and placed it at the "fare box" and got the tickets. To my surprise, on seeing the tickets, I found that if we plan to return within two hours of boarding the bus, I can use the same tickets without paying any additional fare.

The seats in the bus were arranged in two layers on either side with the crib for children at the centre. In the first half of the bus the seats were lower than the windows while in the latter half, the seats were raised. This gave a better view of the road side, through the window at the rear.

The bus moved at a steady slow pace and kept to the extreme right of the road. A display above the driver provided the details of each bus stop on arrival along with an announcement.

On either side of the bus, just above the windows were strings running across the bus from the front to the rear. Any passenger wanting to alight can pull the string when a bell would ring to inform the driver to halt and an announcement is made that the bus halts due to a request from a passenger.

To support the last mile connectivity, a facility is available where passengers could fit their bicycles in the bus as their luggage and then board the bus. When they get down from the bus at their destination they can collect the bicycles which is then used for the last leg of their journey.

Though slow, I enjoyed the bus ride to Downtown.