While driving down Columbus - Ohio, I came across a few pet shops enroute. My curiosity made me stop at one of these shops. On entering the shop, I found it to be very spacious. On the left side were neatly arranged glass kennels, with good lighting and ventilation. There were over dozen breeds of puppies and they were housed breed wise, in the kennels. Visitors could easily view the puppies through the glass, watch them at play and choose the one they prefer to own.
As I was watching the puppies at play, a young girl with a cheerful smile greeted me with a puppy on hand, which was very hyperactive.

"Hi sir, would you like to play with this puppy", she asked. "This is Cavalier King Charles Spaniel", she gushed. I am an avid animal lover and before I could reply, I found myself holding the puppy gingerly in my hands. She ushered me to an open cabin, left me to enjoy some time with the puppy and closed the cabin door. In passing she mentioned that this breed is classified as a toy dog by Kennel Club. They are friendly and affectionate and hence require a lot of human interaction.

I found that it refused to stay for long in my arms, even though I fondly caressed it. When I put it down, it wagged its tail and vigorously started to nibble at my shoelace. After a few minutes, it loosened out my shoelace.

A little while later, for variety, the girl brought a brown Shiba Inu, which was almost fox like and an ancient Japanese breed and also a Cockapoo, a cross between Cocker Spaniel and a Poodle. After spending some more time with variety of puppies, I moved over to see the other pets.

There were a variety of cats, and one was lazing out in a hammock.
There were a couple of parakeets which were very selective in sitting on the hands of the visitors, when invited. There were two colourful parrots which were very attractive.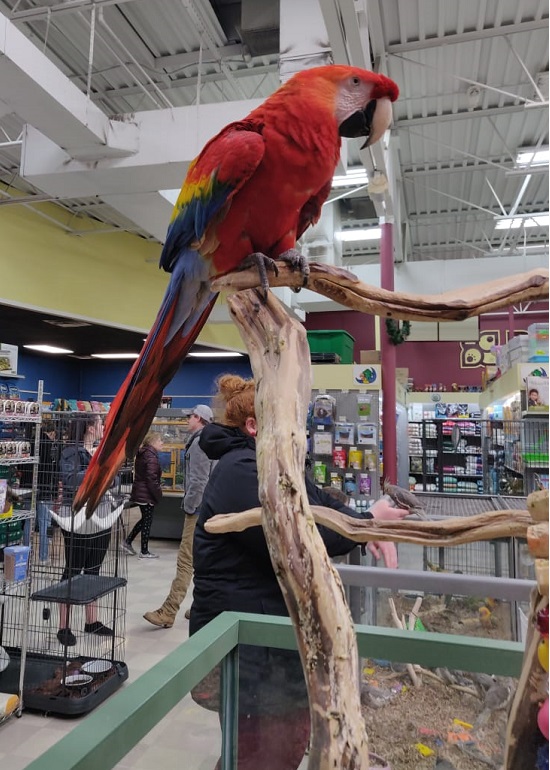 I had the pleasure of fondling bunny rabbits and holding a few birds. There was a tortoise too available as a pet.

I left the pet shop a bit reluctantly after an hour carrying back fond memories of the relaxed atmosphere that prevailed amongst the variety of animals and birds at the pet shop.