In 2003, Indian post issued a special stamp dedicated to her.

In 2015, the Indian Navy acknowledged her naval heroics by naming a patrol vessel after the only woman in history to fight and repeatedly defeat the Portuguese in the latter half of the 16th century.



in Bantwal Taluka of Dakshina Kannada, a historian, Prof. T. Pujary has erected a museum to commemorate this legend.

At a busy junction in Bengaluru cast in bronze, she stands beside her cannon, pointing into the distance.


Who was she?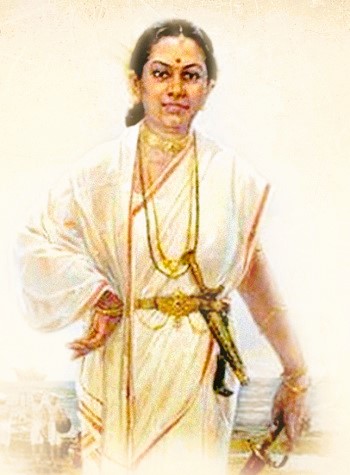 Rani Abbakka Chowta! A woman full of gumption, fortitude, indefatigable courage and a doughty spirit. She held her own as one of the first freedom fighters, her heroism commensurate with that of renowned Rani Laxmi Bai of Jhansi, Rani Rudramma Devi of Warangal and Rani Chennamma of Kittur. This was in an age when other nations knew nothing about women power! Rather late yet fortunately, her incredible narrative is beginning to emerge from the shadows of history.

In the 1500s, parts of Tulu Nadu (Tamil Nadu) were under a Digambar Jain dynasty, known as the Chowta dynasty, which followed the matrilineal system of inheritance. The Jain Kings had migrated from Gujarat in the 12th century. Abbakka, born in this family, was crowned queen by her uncle, Tirumala Raya of Chowta. He married her off to King Laxmappa Bangera Arasa of Baindoor, but it turned out to be a star-crossed marriage.

From an early age princess Abbakka had been trained in warfare and diplomacy. She was well versed in sword fighting, archery, cavalry, military strategy and all other matters of statecraft. It was after her marriage that she became aware of the injustice and inhumanity of the Portuguese overlords and determined to fight them. That had become the bone of contention between her and her husband who was afraid to take on the might of the European aggressors. Negotiating with the enemy he struck a final blow on their disintegrating marriage.

The Portuguese, some years after Vasco Da Gama discovered India, with their superior naval technology, put a strangle-hold over the spice routes in the Indian Ocean; they built forts in strategic ports; the hitherto free trade zones for Indian, African, Arab and Persian ships were now under Portuguese control and these ships were forced to pay for a permit to operate these routes. Defiant local powers were no match for the advanced naval strength and know-how of the Portuguese. But they did not remain uncontested for long. Rani Abbakka had become a veritable thorn in their expansionist flesh.

Not content with capturing the port of Mangalore in 1526, the Portuguese now trained their sights on Ullal. Ensconced between the Arabian Sea and the lush Western Ghats, it was a thriving port and the subsidiary capital of the Chowtas. Infuriated and exasperated with the unfair demands of taxes and homage, fearless Abbakka continued to resist their power and to trade with the Arabs.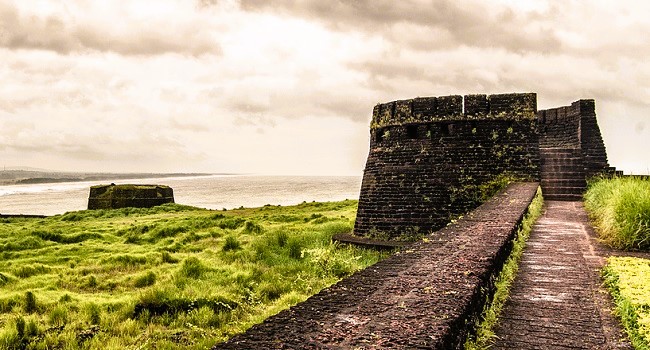 The ruins of the fort of Ullal

Besides being a great warrior she was a stateswoman who amalgamated the different subjects of her kingdom. Her military force was comprised of people of all castes, creeds, religions and professions, from Mogaveeras and Billava archers to Mappilah oarsmen. In bloody battles over four decades, she repeatedly repulsed Portuguese endeavours to overpower her. That earned the legendary Abakka, the fitting title of 'the Fearless Queen', Abhaya Rani. One of the first Indians to fight colonialism she is often regarded as the first woman freedom fighter of India. In Karnataka, she is considered among the foremost women warriors and is celebrated as such along with Rani Kittur Chennamma, Keladi Chennamma, Rani Chennabhairadevi, and Onake Obavva.

Her effrontery was an unbearable insult to their might. The Portuguese fleet first attacked her in 1556 under the command of Admiral Don Alvaro de Silveira. This battle ended in a strained cease-fire. The second time they came back with a larger force and caused damage to Abbakka's settlement in Ullal. Once again, with her military and diplomatic prowess she collaborated with Arab Moors and the Zamorin of Kozhikode and succeeded in holding back the invaders.

In the next battle they took control of the palace but the queen manoeuvred to escape and so survived to defend her territory and get her pound of flesh. Without warning, in the dark of the night, she and her trusted soldiers fell upon the Portuguese. She eliminated General Joao Peixoto and seventy of his men. The remaining Portuguese troops panicked in this unforeseen, vicious attack and retreated.

Flummoxed by her mounting prominence and apprehensive that it would incite other rulers to an uprising, the Portuguese orchestrated a treacherous scheme. First they passed strict edicts against Ullal and Abbakka threatening anyone who would ally with her. This only instigated the firebrand further and with contempt she continued her insolent disobedience. In 1581 the maddened and totally frustrated Portuguese sent Anthony D' Noronha, the Portuguese Viceroy of Goa with 3000 Portuguese troops supported by an armada of battleships to assault Ullal.

Abbakka returning from her morning prayers at a temple was totally stunned by this pre-dawn attack. Even so, with a thunderous battle cry of "Save the motherland. Fight them on land and the sea. Fight them on the streets and the beaches. Push them back to the waters", she roared on horseback through the ranks and led from the forefront, firing flaming arrows at the Portuguese ships. The sea raged red in the blaze of ships that night, as if furious against the Portuguese because this gallant rebel had been wounded in the crossfire!

Alas! The Portuguese succeeded in their vile intention and Abbakka was taken captive with the help of some traitorous mercenary chieftains. Recalcitrant to her last breath she finally succumbed but her legacy, it is sadi, was carried forward by her equally brave daughters.

Till date she is a part of folklore. From generation to generation Yakshagana, a popular folk theatre retells her story. Bhuta Kola is a local ritual dance. In a reverie, the character recounts the great deeds of Abbakka Mahadevi. She is depicted as dark and good looking, a simply dressed, caring queen who worked late into the night meting out justice. Legends also claim that Abbakka was the last known person to have used the fire-arrow in her fight against the Portuguese.

Doordarshan has produced 'Swaraj – Bharat Ke Swatantrata Sangram Ki Samagra Gatha'. Airing from August 14, 2022 on DD National. The third episode on Rani Abbakka (1536 – 1570) was aired on 28th August, 2022 at 9:00 p.m.

She lives on but merits more spotlight. Gradually this firebrand of yore is gaining long overdue admiration and validation she deserves.

All Material and images sourced from the internet.

For the last few years Dakshin Kannada has held an annual celebration, Veera Rani Abbakka Utsava, in her memory