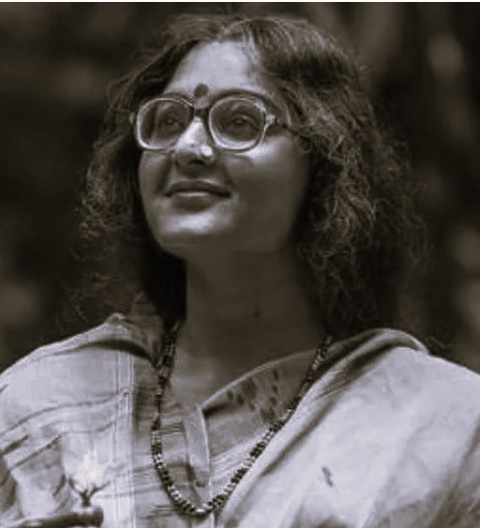 O what does the burning mouth
Of sun, burning in today's,
Sky, remind me….oh, yes, his
Mouth, and….his limbs like pale and
Carnivorous plants reaching
out for me, and the sad lie
of my unending lust.
Where is room, excuse or even
Need for love, for, isn't each
Embrace a complete thing a finished
Jigsaw, when mouth on mouth, I lie,
Ignoring my poor moody mind
While pleasure, with deliberate gaiety
Trumpets harshly into the silence of
the room… At noon
I watch the sleek crows flying
Like poison on wings-and at
Night, from behind the Burdwan
Road, the corpse-bearers cry 'Bol,
Hari Bol', a strange lacing
For moonless nights, while I walk
The verandah sleepless, a
Million questions awake in
Me, and all about him, and
This skin-communicated
Thing that I dare not yet in
His presence call our love.
Relationships, how do they take place? Bonding, how does it take wings? A woman and a man into the theatre of silence, how to narrate it the drama of love, a playboy and a play woman talking to like a drunkard? Circumstances compel it. Situations hasten it. The summer, skin's lazy hunger, love, lust, how to take to them? How to narrate it love-making? The doves in love, flying as couples and pairing together with! Man and woman in love can thwart even the visions of the past.

The woman in her questions the validity of marriage. What it the base of relationship?

A woman's heart, a woman's love, how to feel it, take to it for a narration? How the drama of love? How the characters? If the beloved is a confessional persona, how will it be the things?

In Love is an autobiographical piece, a biographical read as well as a feministic stance of a confessional and controversial poetess like that of Kamala Das. Here she discusses it what is it love, how the feministic heart pulsating, beating it, how the convulsions met in love?

They do not want to be closer to, but get it drawn spontaneously, what is it pulling them, drawing them, they know it not? She does not like him. She does not love him so much. But instead of the summer seems to be lethargic, treacherous. The summer is scorching and full of heat and humidity. Man and woman in passionate clasps, hugs and embraces, with the limbs over the limbs, this is but the story of our relationship.

She can see the crows flying at noon, silence conspiring, loneliness twitching, all that adding to situation. But with the shift in time, she hears the voices placing her at some awkward situation looking up in askance.

Even though the corpses are passing, the biers being taken to the ghats, the lovers are lost in love and loving unmindful of death.

The poem reminds us of Jayanta Mahapatra and his use of imagery.

Let the world be in its gait, but the lovers in the gait of their own and as thus goes the world, the routine work of it. Skin's lazy hungers skinned lovers know it the best. What is it in love and lust? Who can check it death? People will die, people will love at the same time as is the creation. Here the things stop it not for someone. So are the lovers in love oblivious of the things taking place, happening it around so unmindful of all that becoming.

The corpse-bearers with their words rake it the skies renting in their ways which, but she dares not tell her love. What is his maya for the body? Why is it after the body which is but short-lived which, but we know it not and keep on ignoring?

In Love, she has felt it, she has brooded it over life and death, how is it love, how is it man's life, what are we after! Why does he not discard maya for the body which is of clay, dust? Why does he not understand? When will this illusion break it? Whom will he love when the body will remain it not? Should he not take a break from? Apart from love-life, is there no life? Who to make it understand the foolish heart? Why is it so foolish? Why does it not take to other' words? The duality of mood, the contrast in love, she presents it through her poetic narratives written in a feminine mode of writing and deliberation. Her confessional slant is no doubt praiseworthy.