It is a staggering task to undertake the journey of the pages of about two hundred poets. One must appreciate and eulogize the zeal and fervor of P C K Prem who has accomplished a great task by publishing his book 'History of Contemporary Indian English Poetry – An Appraisal'. Prem is not the first person to have entered the deep well of poetry written by Indian English poets; many others have done this but not with that adroitness with which Prem, has done. The author, I can estimate, must have consumed several precious years of his life to find himself fully prepared to count thousands of pages of poetry penned by Indian English poets.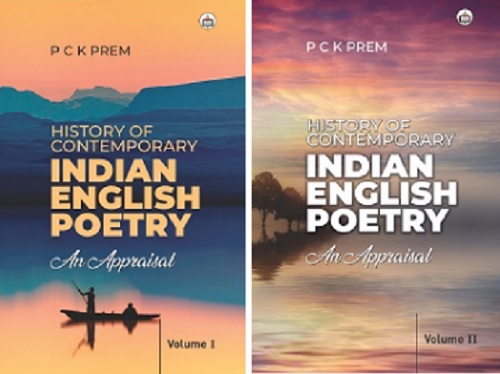 P C K Prem has honored about two hundred poets in this anthology –major and minor, established and un-established. This indicates the scope of his vision. The scope illustrates the democratic set-up of his mind, his enviable catholicity and his honourable willingness to prize every poet, who has contributed to the growth of poetry. On the one hand, he has distributed his attention to distinguished poets like Shiv K Kumar, Nissim Ezekiel, Jayant Mahapatra, A K Ramanujan, Kamala Das and R. Parthasarathy. On the other hand, he has taken into consideration less important poets like Mahananda Sharma, O. P. Bhatnagar, Arun Kolatkar and I. K. Sharma, R. C. Shukla, Baldev Mirza, N. P. Singh, H. S. Bhatia and Iftikhar Hussain Rizvi. He had not declined to count heads of poets like D. C. Chambial, R. K. Singh, S. L. Peeran and Krishna Gopal. The list does not end here. It is lengthened to include many other poets like Bibhu Padhi, Bipin Patsane, P. Raja, Dilip Khetarpal, S. A. Hamid, K. V. Dominic, C. L. Khatri, Kanwar Dinesh Singh Jaydeep Sarangi, Asha Viswas, Rita Malhotra, Vaneeta Agrawal and Poonam Dwivedi.

The anthology of Indian English Poetry published so far is so exhaustive and inclusive as the one prepared by the astounding workmanship of P. C. K. Prem. V. N. Bhushan's 'The Peacock Lute' (1945) is the consequence of the author's limited range. 'The Strange Adventure' (1947) by Fredoon Kabraji is an attempt to distribute goodwill to the selected poets of his choice. 'Modern Indian Poetry in English' (1969) by P. Lal is also a choice of selected poets by one who has rendered the most valuable service to Indian English Poetry. V. K. Gokak's 'The Golden Treasury' (1970) is also not wide enough to compete with the admirable adventure of P C K Prem. R. Parthasarathy and Pritish Nandy also brought their preparations in 1976 and 1977 respectively without embracing many unpopular poets, who were sincerely devoted to the task of enriching Indian English Poetry with their worth.

'Two Decades of Indian Poetry (1980) by Keki N Daruwala and 'Rising Columns' by O. P. Bhatnagar (1982) are specimens of their favour, not a fair account of poets, who, with their diligent imagination gave their best service to promote Indian English Poetry.

In Arvind Krishna Mehrotra's 'Twelve Modern Poets' (1992), the pedantic professor unfortunately disregards many meaningful poets, who have been duly honoured by Prem. It was a period when Indian English Poetry was at its rise but the professor was not inclined to leave the boundaries of university. As such, many judicious claims were denied by him. P C K Prem is free from such inhibitions. His insight is free from such obduracy.

Makrand Paranjape's anthology 'Indian poetry in English (1993) also excludes many poets who, in the days to come, were acclaimed for their contribution. Nirmal Thakur, Mahasweta Chaturvedi, Surkiti Kumar Paul and Asha Viswas were noteworthy figures but were disregarded by the bad taste of Paranjape. P C K Prem seems to be absolutely free from such preoccupations. This is why; the account published by him never annoys our sense of fair play.

An objective assessment of P C K Prem's 'History of Contemporary Indian English Poetry (2019) sufficiently demonstrates the author's enthusiasm and readiness to present an exhaustive landscape of Indian English poetry

Honesty demands that a scholar of Indian English Poetry must get his due not on the basis of the ladders that he has used but on the basis of care and regard he had given to unpopular and unrecognized poets.