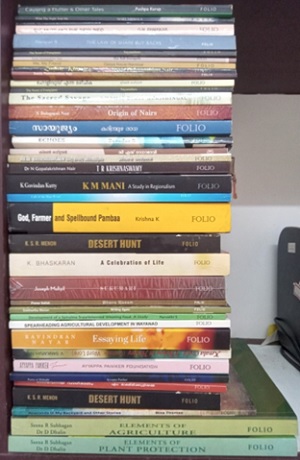 People normally have their career options well thought out, well planned, well prepared. If something unplanned or ill prepared takes place they say it happened by chance or by accident.

And it was by chance that I, so unprepared, so ill equipped that I was at that time, put on the mantle of a Publisher of Books in the early years of my retirement after three and a half decades in journalism.

In fact, there was no retirement activity whatsoever that was planned by me. What I had looked forward to was blissful retirement, sans any responsibility, sans any obligation to anyone. Wanted just to sit back, relax and enjoy life.

Then it happened by chance, without much motivation, a decision to launch a publishing entity, a decision that came all on a sudden and that fructified too all on a sudden. Just to bring out a book by my son.

In fact during the fag end of my years as a journalist at Chennai, I had visited many publishing firms there with the draft of my son Kiran Ravindran's book on Malayalam cinema music, titled The Playback in Malayalam Cinema. All the editors or chief executives of the firms I visited had good words about the book, but said they were wary of its marketability. It was about Malayalam film music and it was written in English. Both these factors would weigh down on its marketing potential, they felt.

It was seeing me despondent in not finding a publisher for the book even four years after my retirement that a friend gave me a great suggestion by way of a question: Why don't you publish it yourself? That was an intriguing, or tantalizing, idea, but I knew nothing about publishing and did not know how to go about it.

That day, with the intention to learn from the scratch, I scanned the initial pages of various books to see how international and national publishers from Oxford to Random House to Penguin to our own DC went about presenting their fare, what all information they put in the publishers info page, which normally was on the reverse of the title page of a book.

The next day I got in touch with a management consultant for advice on going ahead with the basics of the operation, including how or from where to obtain International Standard Book Number (ISBN), so crucial for a standard publication.

His advice, for a substantial fee of the times, was a good primer for me. First have an entity for the publishing work, fixing a name and having an address. Then open a Bank Account in that name, third, put in an application to the ISBN wing of the Raja Rammohun Roy National Library Foundation in the Ministry of Education in New Delhi for allotment of ISBN.

The easiest in this operation was the selection of a name. When thinking about names the first thing that came to my mind was Shakespeare's first Collected Works known as The First Folio. Folio is a large format book size, near the size of a foolscap page which has nothing to do with the size of book I was planning to bring out, but the name stuck. I decided to call my venture FOLIO, as an expression of my obeisance to The Bard. Later, a line drawing of an open book on top of the word FOLIO was selected as my logo

The response from the Department dealing with ISBN was prompt and encouraging. They released ten numbers in the ISBN series, informing me that once the list is exhausted they will release more. (In course of time, after one more allotment of a ten number package, the Department became rather generous, releasing in its third slot as many as one hundred ISBN numbers).

FOLIO's maiden venture created history of sorts. The formal release of the book The Playback in Malayalam Cinema, with a Foreword by K J Yesudas, was at a gala function held at the Tagore Theatre in June 2008. While the first copy was received by the first heroine of Malayalam Talkies, M K Kamalam of the 1938 film Balan, most of the yesteryear or present day singers documented in the work came forward to sing at a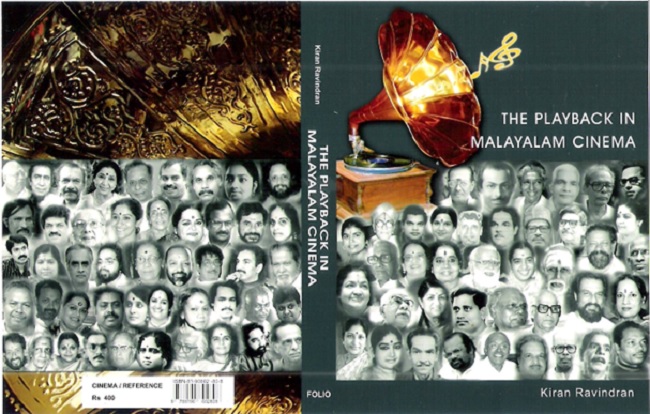 The cover page of FOLIO's first book

grand Ganamela. With the auditorium filled to capacity, It was a book release function with a difference.

The response from music lovers to the book was, for us, out of the world. More important was the action of the State Language Institute in selecting the book, on its own, for translation into Malayalam. Their publication came out in 2011 as Malayala Cinema Pinnaani Gana Charitram.

After bringing out this book, I had no intention to continue with the publishing work. But my decision changed when one after another, authors came to me with the request that FOLIO bring out their books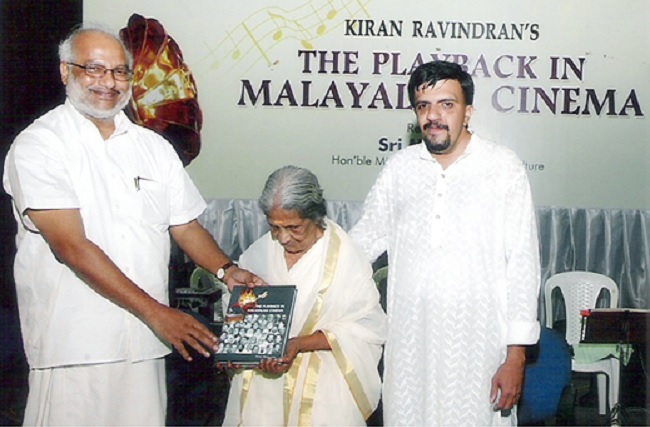 The then Minister for Cultural Affairs, M A Baby, presenting the first copy of the book to M K Kamalam. Looking on is author Kiran Ravindran.

First it was the turn of my friend Dr Sankaran Nayar with an etymological enquiry into a part of maritime history of Kerala and then of Mr M Mohankumar, former Chief Secretary to Government of Kerala, with a collection of English poetry.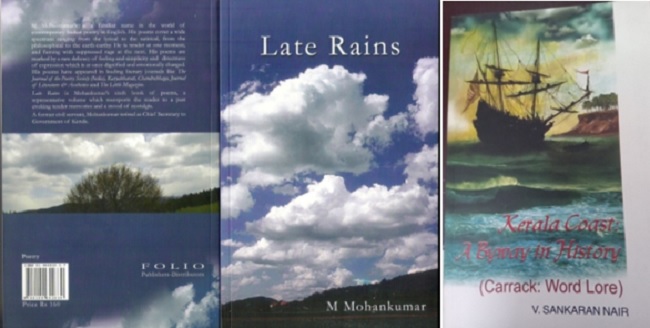 'Late Rains' by M Mohankumar and 'Kerala Coast: A Byword in History' by Dr V Sankaran Nayar

From then on, there was no looking back. There was a steady trickle of authors to my home, authors from near and far, including from various places in Kerala, Andhra Pradesh, Maharashtra and even one from Las Vegas in the U S. And their books dealt with a variety of subjects: poetry, short stories, long fiction, history, agriculture, law, biography etc.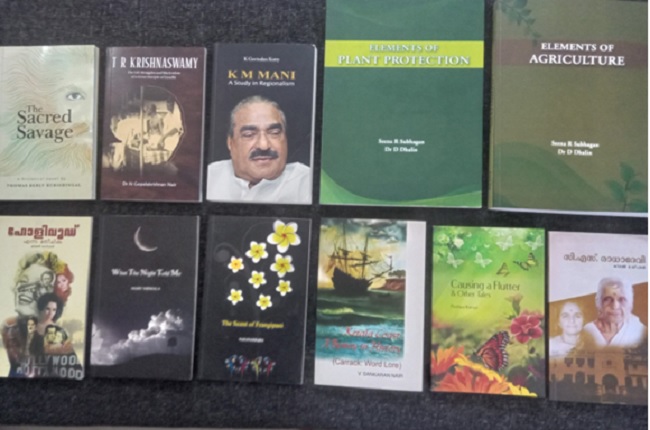 I consider it as the first success of FOLIO when two books on agriculture brought out by it became what can be described as bestsellers. The authors, Dr Dhalin, a professor in the Agricultural University, and his wife Seena, who at that time worked in a Vocational Higher Secondary School (she is now teaching in the university), told me that one of the great drawbacks in the VHSE stream was the total absence of a standard book on agriculture. The duo therefore prepared a book titled Elements of Agriculture, in consonance with the syllabus of the VHSE stream. They also had a companion volume Elements of Plant Protection.

They had devised a good plan for the distribution of the book. Advance info on the book was sent to all the VHSE schools in the state and as soon as the books came out sample copies were sent to them. In no time the authors were flooded with orders.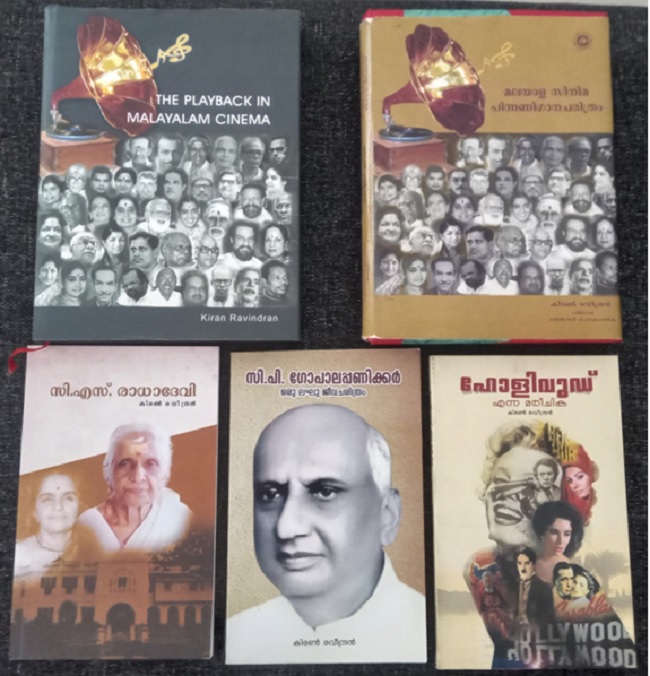 Family business : Books by Kiran ......

Even after all the printed copies were sold out, calls used to be received by FOLIO in subsequent years from different parts of Kerala for the book, which, I realised, had earned the reputation, by word of mouth, as the best book on agriculture at the entry level and a good guide for those appearing for competitive examinations relating to agriculture.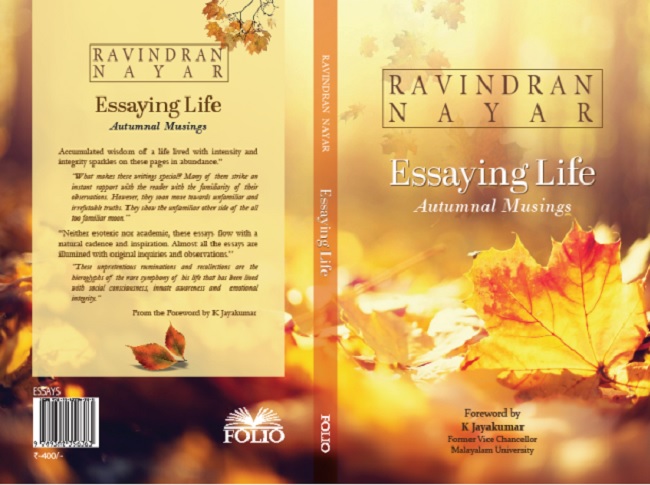 and my own collection of Essays, 'Essaying Life'

Another important publication of FOLIO was an ill-fated biography of K M Mani. Mani, at that time Kerala's Finance Minister, was at the height of his political career and was even hoping for greater dizzying heights when a definitive biography was planned. And the person chosen for the work was senior journalist K Govindan Kutty, who had an impeccable style of writing and who had brought out several books, including noted biographies of T N Seshan, K Karunakaran and a book on the tragic end of Britannia chief Rajan Pillai in the Tihar Jail. The biography of K M Mani that he wrote, according to me, is one of the most readable books on a political personality in Kerala.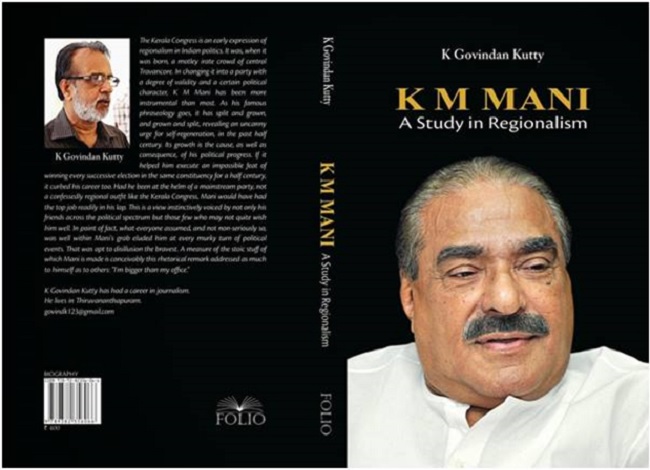 Those behind the book project had planned to release it with much fanfare at a politically important function intended to project K M Mani for a greater role in Kerala politics, that is Chief Ministership in the happy years to come. But the whole plan collapsed like a house of cards when a corruption scandal involving bar licence burst out of nowhere, tarnishing the image and affecting the political prospects of K M Mani.

The book bundles, kept ready for despatch, remained in the godown of the press for nearly two years when the bar licence scandal raged full steam in the state..

Ultimately the book bundles were resurrected from the press and a grand release function was organized by his party at Cochin, the book formally released by the then Union Finance Minister Arun Jaitley. Incidentally, Jaitley had only good words to speak about Mani.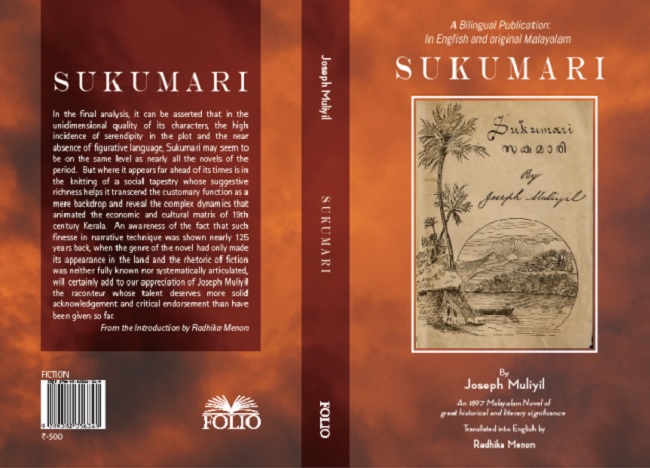 The cover of FOLIO's bi-lingual production, carrying the drawing on the original cover page of 1897

FOLIO brought out translation of an old Malayalam novel, Sukumari, in fact the sixth novel in Malayalam, out of what may be described as mistaken identity of a person's long deceased grandfather. A former banker settled in Las Vegas in the U S, a Malayalee, was intrigued to find his grandfather's name, Joseph Muliyil, as author of the Malayalam novel titled Sukumari, published way back in 1897. Shree Muliyil was so attracted to the book available on the Tubingen University's internet archive that he wanted a translation of that historically significant work into English even as efforts were made to ascertain whether the author Joseph Muliyil and his grandfather Joseph Muliyil were one and the same. Though tentative enquiries could not establish any link, the whole exercise appearing to lead to mistaken identity, Shree wanted to go ahead with the translation project as he had originally planned

Because of Shree Muliyil's keen interest and involvement, FOLIO had its first bi-lingual production, with an excellent English translation of Sukumari by Dr P Radhika, accompanied by the original Malayalam novel retrieved from the Tubingen archive. Radhika also made an outstanding study of the first fifteen novels in Malayalam to serve as a fitting Introduction to the book.

The author Joseph Muliyil had worked in a Basel Mission school in Kerala in the late 19th century before joining the Madras Christian College as a Lecturer in English . When the management of the Malabar Christian College was taken over by the Madras Christian College in 1919, he was deputed as its first Principal.

His novel Sukumari, set against the background of Basel Mission's missionary activities in Malabar, gives an excellent exposition of the socio-economic life of the times. Coming ten years after Appu Nedungadi's Kundalatha and eight years after Chandu Menon's Indulekha, all the trappings of early Malayalam novel seem to have come to fruition in Joseph Muliyil's Sukumari..

Among the books brought out by FOLIO, three deserve special mention as they gave me a sense of fulfilment, as all of them related to my revered teacher Ayyappa Paniker. The first of the three was Poetry at Midnight, my own translation of Paniker sir's last anthology Pathumanippookkal. It was because of his insistence that I took up the translation work, but now I remain ever grateful to him for choosing me for the work.

The Ayyappa Paniker Foundation found a great way to pay homage to Paniker sir by bringing out a commendable compilation of recollections by many of his former students. With contributions from over two score regular and research students of Paniker sir, Ayyappa Paniker Forever, edited by Prof Geetha Nair and Dr Roshan Thomas, is a prized publication of FOLIO. The third in this category, Niraveriya Vagdanam, is a book of tender reminiscences by the poet's sister, the late Lakshmikkutty Amma.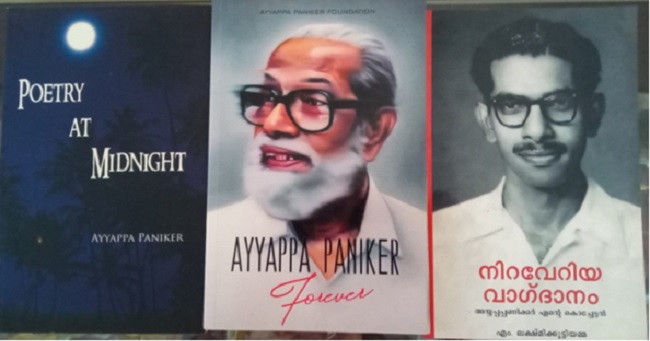 FOLIO's latest work, Anti-Monarchical Conflict in Kerala 1931-1947, is a book of history of Travancore during the turbulent period of the Diwanship of C P Ramaswamy Aiyar. The meticulously researched work is the magnum opus of Dr D Daniel, former Professor and Head of the Department of Historical Studies, Madurai—Kamaraj University. The book is slated to come out soon.

The 87-book portfolio of FOLIO during the past 15 years may well be described as 'One Man Show,' or rather 'One Old Man's Show.' Barring me, there has been no employee in FOLIO, not even a messenger. And FOLIO had no name-board even, it was all of me and the computer in my room. All work, editing, proof reading, picture insertion etc were done here and the page-making, cover design and printing done at my long-time associate, Akshara Offset Press at Vanchiyur. Most of the editing, proof-reading work is done online with the very cooperative Akshara staff at the other end.

Every beginning has to have an end and in FOLIO's case also possibly the beginning of that end is in sight. For quite some time now I have been trying to taper off my 'bookish' activities to be in tune with my geriatric capabilities and inadequacies. So, with Prof Daniel's excellent work that tells the story of the last phase of Travancore history, perhaps with a difference, I think I am getting the best opportunity for my swansong.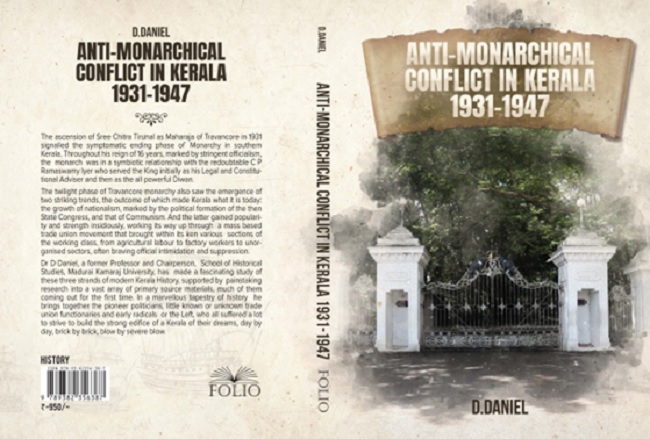 The only IF is that my son has completed three-fourth of the work on a history of Malayalam cinema, and IF he completes it before long I will have the satisfaction of having my first book and last book authored by him.

Now, again, I think the time has come when I can sit back, relax and enjoy life, or whatever is left of it.
(All images by author)