Life's but a walking shadow, a poor player
That struts and frets his hour upon the stage,
And then is heard no more. It is a tale
Told by an idiot, full of sound and fury,
Signifying nothing.
– Shakespeare, Macbeth, Act 5, Scene 5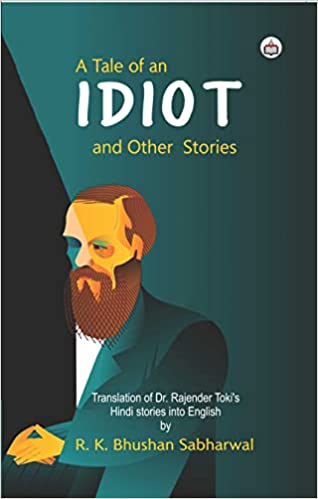 Dr. Raghukul Bhushan has successfully established his name as a remarkable poet and critic of contemporary times. His contributions to contemporary writing in English are substantially immense and include six poetry collections, three books of Criticism, one book of short fiction, Critical Essays on Modern Indian English Writing and other translations. He has also welded his literary caliber as a dashing translator who has, this time, come up with beautiful English translation of stories by Dr. R. S. Toki. Dr Toki, a celebrated scholar of Hindi Language and Literature, is an intellectual giant with deep knowledge of Urdu and music and has published about 40 books of criticism , poetry , philosophy, culture etc. He has also translated the ghazals of Faiz Ahmad Faiz and Sagar Shifai and has critically analysed Sadat Hasan Munto. His two books have been published by the Sahitya Academy, New Delhi. He has written a book about Aurobindo Ghosh recently.

As a popular art form story, writing has always been more entertaining, educative, and informative since centuries. Story, as a work of art, can inspire readers as it is imaginatively much stimulating and can take them on emotional roller coaster of myriads of feelings and experiences, portrayed through various characters conjuring up different realistic situations of life, by inducing them to wear the character's shoes. A Tale of an IDIOT and Other Stories is a kind of literary dedication to Dr Toki. As an English translator Raghukul Bhushan has done a commendable job with the befitting English translation of this anthology of stories, in deftly recreating an ironical and sarcastic of life and character portrayals. Laced with comic effect, aiming at making one aware of the reality of life, stories are penetrating and engaging. He has sustained and kept the aesthetic value of Dr.Toki's work in his (translator's) translation.

A Tale of an IDIOT and Other Stories contains eleven stories dealing with the characters from different walks of life caught into bizarre situations and the conflicts. The first story Our Heroic Idol satirically deals with the pretentious nature and demeanor of a man who, under the spell of so called western Philosophy, vainly tries to pose his image as 'intellectual', 'philosopher', flaunting the airy prop such as Sartre' Being and Nothingness'. The appearance of the hero and his lighting the cigarrete reminds us of typical style of Rajnikantha, the South actor.

The next story Rickshaw-walla is a poignant tale of woe and the travail a helpless poor man has to face. The narrative of the rickshaw puller is heart wrenching. The mental conflict of the second character, Mr Mehta also bares a lot about the contemporary man of literary, cut off from the well-being of society. There are also some elements of irony and satire.

The story Shraaddh presents a vivid picture of social practice, rites and rituals, cultural customs , and the novel way of replacing the old , useless , stereotyped ideas with new ones, symbolized by the book given as a dakshina, to the new Brahmin replacing the ritualistic one. The story is conspicuous for beautiful lines pregnant with profundity of thoughts and social awareness: "To earn more means more exploitation because earning depends on profit-making and profit is another term for exploitation." It has some Marxist leanings so to say. References to the book of Nietzsche or Sartre or Camus, discussion on Indianness, false customs and traditions, the importance of caste are remarkable.

In another story Romancing with the Shadows of the Past, the writer has described living pain and agonizing condition of a paralytic man, aged 60, due to deadly disease , forced to become an invalid confined to bed for the rest of life, mad greed of the parents, first wife Surekha's pathos and the rudeness of his second wife. The emotional juxtaposition is brilliant.

The story The Image Ideal describes the incident when Sunderlal was on a journey to Delhi without ticket. Sunderlal idolized his image as a nation-builder. It was only then that he used this image for a ticketless travel.but when faced with his student Mangatrai, the ticket examiner; he undergoes series of mental and emotional upheavals.

The next story The Spell of Creation deals with the beauty of the girl and that of the poem submitted by her to the protagonist and the latter's different reactions. Poetic discussions between the two on the art of poetic creation lead to development of love relation and emotional affinity in the guide who had to go with his unfulfilled love, one sided love.

Shrimaan Ji! Is another brilliant story exposing 'deh lila' (misuse of physical exploitation), by the HOD. It is sarcastic of research scholar's exploitation. The excerpts from the story hint at the duality of the so-called writers. Taking "Hindi Critics 'to task for their greater reliance on Western critics instead of referring to the Hindi novels, the writer wonders : This tendency has grown so well that sometimes that the criticism of a Hindi novel appears to that of a western critic. This infectious disease is spreading day by day. This is a sign of the mental slavery of Hindi critics. This is the urgent timely need to rid ourselves of this dwarfishness.". Following passages from the story throws sufficient light on the difference between 'kathani' and 'karani' of Hindi critics like Shrimanji-

'SHREEMAAN Ji began to throw light on the personal life of the Hindi novelists and the disgraceful fall of their character after making shallow references to famous Western litterateurs like Dostoevsky, D. H. Lawrence, Kafka, Camus, Sartre etc. how shameful it is that Upendernath Ashak, married thrice whereas Agaya, Dharamvir Bharati, Mohan Rakesh etc. married twice. Ashak wrote his novels on his wives and others on their beloveds. Ramesh Bakashi has not been able to get over the faithlessness of his beloveds. After his love-affair with Mamta, Ravinder Kalia is settled in family life. After describing in detail the love-escapades of Rajender Yadav and Mannu bhandari and many other litterateurs, he began to speak about the impact of their love affairs on their job and society.'
Another eye-opening remarks:

"Girls suit him more for his campaign of writing books. You know girls from poor families looking for livelihood cannot think of revolting. They forget all after getting job with the blessings of SHREEMAAN JI."

In Dead to all Shame- the Shameless, protagonist Shyamlal is shown as pleading his "lies like poverty, family, one-time meal for many days, becoming a sycophant, doing odd job at the place of his Office Superintendent, even offering some money to some". He had "learnt the art of moving on with the borrowings from fellow clerks and friends." With his sweet tongue and tactful lies, with his cheating skills he had understood –

The whole world does so. The whole world is busy looting one another; he is also a part of this world. Then why should he alone be dubbed as a cheat- not the whole world?"

Similarly other stories such as Amanushi, The Denied, the Deprived & the Destitute , and most importantly, the longest titular story The Tale of an Idiot are significantly rendered and aptly transcreated with the same set-up, locales and the experiences and hence, deserve to be read seriously.

The titular story The Tale of an Idiot, being the most important and the longest story of the anthology, has autobiographical elements and deserves to be termed as a novel , the short one, as it has also certain elements of being a novel. Supporting this view the writer has also reiterated- 'If I sit to write all about his childhood, it is possible that it may turn out to be a complete novel for which I have neither time nor courage'.

He introduces his protagonist as a dreamer and remarks that 'all are dreamers- some less, some more- then are we all idiots? As a rule, we are- every dreamer is an idiot here or there because knowing that dreams are not a reality, we all are lost in dreams. What else should I call it-if not idiocy? This character has been delineated only for your recreation. Yes, then, our idiot hero was a dreamer all through. He enjoyed all happiness in life only in dreams. He had devoted himself wholly to dreams- first as a matter of love, then as a habit and then as a compulsion.'

With a bit of information about the protagonist's childhood and family background the writer describes his half-blindness as he had to wear 'glasses bearing 12-numbered for the whole of his life'. He had a very limited vision. In spite of his weak eye-sight the protagonist transcends all the stumbling blocks and is nosed into the world of Hindi literature. His persona reminds one of Milton. It is rather tragic that the 'Idiot' , behind the inferiority and loneliness in him, and of course, the negligence, had to suffer in his family from his childhood till the last moments of his life. We get a vivid description of his literary evolution. While reading 'the stories of the greatness of Rama, Krishna, Buddha written in his books and thought he too would become Rama and Buddha. He started weaving this dream. He began imagining his own greatness.'

In short, the titular story The Tale of an Idiot sums up his brave act of attaining the literary riches for all his physical, social, visual and familial hiccups. The story in question really inspires and encourages us to emulate his take on vignettes of life. Come what may, we have to move on, following the inner voice and better us in different ways. If we are firmly determined we can also undertake and execute even a daunting task with equal aplomb but the only thing is that our zest and zeal doesn't lie down or die to the challenges.

Dr. Raghukul Bhushan, on the face of it, has made the most use of his literary caliber and experience in translating each and every nuance of the stories so that these stories can catch the fancy of the readers. He has successfully only transferred the beauty and soul of the original stories by Dr. Toki, in his beautiful translation- transcreation. Setting, characters, exposition, Actions, climax, conflicts (external and internal), resolution- all find an outstanding articulation and manifestation in this translational work. As for his translational skills, his translation of the stories must be assessed as accurate, consistent, readable, and of course, intelligible and are sure to be popular among the sensible readers of literature. Let's walk in the shadow of different realities fetched through the translational excellence by Dr. Raghukul Bhushan.