Well-meaning people do now and then overwhelm others with their benevolence. When I say this, what I have in my mind is the book Kenya to Kenya and its sender, a friend of mine, who wanted me to read it and also write a few words to the author. Reading is OK, but I cannot venture to write a letter to the author for obvious reasons.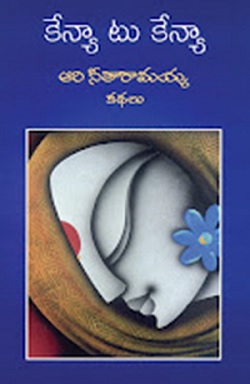 Dr. Ari Sitaramayya, the author of the anthology of Telugu stories, Kenya to Kenya, is essentially a scientist and an authority in the field of Cellular Signal Transduction, besides being a Professor of Biomedical Sciences at Oakland University, USA.
I read his first anthology, Gattu Tegina Cheruvu, which was very impressive. It indeed reminded me of what my Dean Prof. Chattopadhyay often used to say, of course, years back: "a science student should cultivate 'Choker Bis[vis]leshan', for he has to look around his experimental field analytically so as to infer rightly". Dr. Sitaramayya's stories give the impression that here is a writer who is firmly rooted in reality and narrates the events not out of imagination but more by looking around him with an analytical (scientist's?) eye.
Capping it, he composes pretty short sentences with apt words that synch well with his observations. They indeed reanimate the scenes. That being my understanding of his story-telling style, and the respect it commanded, any wonder if I am shaky in writing to him? Nevertheless, just to satisfy my friend, I resorted to this via media.
The first story of the anthology, "Suchitrachandra" traces how its protagonists, Suchitra and Chandra, currently residents of the US, who are in love with each other, navigate through their aspirations and expectations from each other through rational dialogue, intriguingly, without treading on each other's toes, and pleasantly define their ultimate goal. Their conversation though runs for 35 pages, does not jar the ear, for it is pretty intimate and appealing, particularly, sans the usual interjections of the author. What is more interesting about the story is, it tells how two individuals, in spite of well-defined expectations of their own from their lives, could still draw a lone path to walk along, all by talking about the underlying issues openly:
"I'm afraid … how you might receive the news … for all these days you agreed for our staying separately till I am tenured … even accepted my proposal about the child. I was wondering what you might say if I come up with yet another reason to prolong this separation …"
"Doesn't matter! Papa (baby) will arrive after your return from Bolivia. Might as well come with you!" And smiled Chandra serenely, hopefully.
A classic example of two independent souls empathizing with each other! Yes, one may wonder, if this kind of empathy is possible in real life! True, but then the question remains: Is there any alternative to steer through life's journey with a semblance of happiness? Well! Let me hasten to add: the author nowhere says it in so many words. But the reader sees it all through the story. That's precisely why we should learn to practice 'empathizing with each other', at least within the family circles, for all to sail through happily.
If you do not believe in what I said, look at another story from this very anthology, "Test". The poor Sujatha, the protagonist of the story, reflecting on her post-cancer-diagnosed plight soliloquizes thus:
"Instead of saying, 'now that the timing of end is known, why don't you do all that you wanted to do', how happy I would have been had only he [husband] said, 'tell me what you are interested in, we shall do all that together'". The craving of a terminal-stage cancer patient—why, for that matter, the craving of every other living being—well reflects in Sujatha's lamentation: "No matter how long I live, it might remain as a distant dream, perhaps!"
Next, I would love to jump to the last story, "Kenya to Kenya", for it is another beautiful story well-smeared by rationality. Here too, we encounter only two people, a wife and husband, and mostly their monologues and dialogues. The gist of it is: the husband, a native of Kenya but currently a retired professor in the US, was diagnosed with Parkinson's disease. The wife and husband had the courage to take stock of their financial status vis-à-vis the expenses pertaining to his assisted living care, that too, for long and the husband decides to move to Kenya leaving behind his wife and children in the US, for all to live alright. Having lived as 'apuroopa snehitulu', beautiful friends, for fifty years, when the D-day comes for them to separate, they hug each other as 'snehitulu', friends, and slowly the husband walks away towards the departure gate of the airport. In between, we witness a terrific amount of analysis of the whole situation by the wife, husband, and children with amazing clarity—accepting the reality, and designing an executable solution through 'adult to adult' conversations that are soaked in a terrific amount of sincerity while 'emotion' flows as an undercurrent all through, which is sure to make Sahrudayas good-spirited readers squirm in their seats.
Every story that is packed in between these two is equally rooted in one or the other conflict that the contemporary society of India or the diaspora in the US is witnessing and after going through all these pages, we realize that there are ways and means to wriggle out of these conflicts as indeed the protagonists did with sheer wit and determination, or failed to wriggle out owing to their foolishness. As we finish reading these stories, we are sure to end up wondering: "Yes, I know this. Nothing new. But how come, I missed it!" Such is their beauty!
Take for instance the story, "Lakshamma", of the old mother, who lives alone in the village. She was bogged down by fear: "What next if the only asset—one acre of agricultural land—that stands in my name is sold away by my son?" Being sensitized to this fact by a friend, her son, in one of the visits to his native village, sitting alone with his mother assures her thus: "the farm will not be sold so long as you are alive. Even if something untoward happens to me in between, your daughter-in-law and granddaughter shall take care of your needs fully well." He even speaks about things that he never felt like talking about: assures his mother that her funeral rites shall be performed grandly. It is the ring of truth that emanated from his assurances that lulled her into a sound sleep. Commenting, "That night Lakshamma slept peacefully", the narrator, perhaps, intends to tell us, "It is not enough to have good feelings. They must be made known to the people to whom they matter most!"
Next, which story shall I pick up, for every other story is equally good! There are 10 more stories, viz., "Udara svabhavam" (Generous disposition), "Pi chaduvu" (Higher studies), "Parivartana" (Transformation), Pachhasanchi (Yellow bag), "Test", "Pedda Chinna" (appropriate behavior toward elderly), "Life Science", "Videsi-Desi" (Foreigner, native), "Mugimpu (The End)", and "Prayanam"(Journey), that deal with the life of Indian diaspora in the US. But they do not sound alien to the native reader, for the conflicts dealt with in these stories—such as the one in the story, "Udara svabhavam", that depicts how two America-settled Indian parents differ in their approach to handling their son's wishes, one accepting the ward as he is either by default or by design against the other's desire to lead the ward through the path chosen by him.
In the same vein, the story, "Pi chaduvu", which articulates the struggle of a newly arrived Indian student in an American University— metamorphoses herself from rote learning to reflective learning and how a few encouraging words from a fellow student puts her back on rails—did equally matter to the native readers.
A special mention must be made of the story, "Parivartana" here, for it handles an offbeat theme. It presents the reflections of a convicted Indian woman—a woman, who, within two months of her arrival in the US murders her husband for she could not put up with his sadistic pursuits and lands in a Federal jail. Recalling her father-in-law's utterances during the course of parole hearing accusing her and her mother deceased about three years back as whores, she posits a battery of questions: "Who has to command what transformation is needed in that man who had the cheek to talk that abhorrently? Is it that transformation is meant for me alone? Is it that transformation is required only for the jailed people?" What an amazing clarity of thought! It is this kind of reflection of that jailed lady which makes the story leave a strong impact on the reader.
I believe it makes great sense for me to stop here, leaving the rest of the stories to the readers for enjoying them all by themselves. And that should pave the way for an independent appreciation. That said, I could not refrain from drawing your attention to a small story, nay a metaphorical satire—with quiet a vitality of the lyric voice—addressed to the lives of those who went out in search of greener pastures but in the process of amassing grain has forgotten the path back home and the plight of those waiting back home for their return (with fortunes?).
Interestingly, the author of these stories asserts that he does not like an author to intervene in the stories. Yes, that is his craft: He won't make a rude intrusion but remains as a subtle presence all through. And the beauty is: knowing his strength, he narrates the story as though he was a witness to its happening. Incidentally, reading his stories, I wonder if he is like Tripuraneni Gopichand in his selection of the issues that are deeply entrenched in 'realism' for his analysis and presenting them as just not mere happenings but fragranced with psychological, rational, and humanistic analysis, and asking readers to infer whatever way they wish/could. The intensity of purpose in both these writers' works is so evident that it simply makes the stories propulsive. That is the strength of Dr Sitaramayya's stories. And hence they remain etched in the readers' minds for quite some time.
Before closing, I must thank profusely my friend, Ramaiah garu of BEL, who is fond of literary pursuits, for he not only facilitated my reading of this interesting book of 15 stories spreading across 168 pages but also prodded me to scribble my understanding of the stories for whatever worth.