The general definition of poetry is that it is a form of literature that uses aesthetic and often rhythmic qualities of language. According to the famous American poet, Robert Frost, 'Poetry is when an emotion has found its thought and the thought has found words.'

In my opinion, 'Poetry is the blossoming of aesthetically woven literary expressions crafted with rhythm in moments of spontaneously heightened consciousness.' Poetry is an art form just like dance or music or sculpting or drama or cinema or painting. A writer uses the canvas of words to communicate his ideas. One page of beautiful poetry can contain greater wisdom or meaning than a thousand pages of prose. This is because of the unique propensity of poetry to lend itself to multiple interpretations unlike prose. The second propensity of poetry is that unlike in prose, thought and language cannot be separated.

A poem springs forth from deeply felt intense emotions. It may be intense joy or intense sorrow or even intense anger or even a combination of different intense emotions.

English Poetry:

The history of 'English Poetry' is long and glorious. Today, the English language has spread far and wide and every country has writers, who use English as their medium of communication. Therefore, generalisations regarding the usage of the English language are unwarranted. The term, 'Indian English Poetry' is obsolete and inappropriate. The correct terminology would be 'English Poetry in India'. The main pioneers of English poetry in India were Henry Vivian Derozio, Michael Madhusudan Dutt, Kashiprasad Ghosh among others. There were other significant poets like Romesh Chandra Dutt, Toru Dutt, Man Mohan Ghosh and Sarojini Naidu.

English Poetry in India:

There has been a gradual evolution of English Poetry in India. I would like to highlight some important trends in the same.

Our earliest Indian poets writing in English were all influenced by their western counterparts. Pioneer poets like Henry Derozio, Michael Madhusudan Dutt, Romesh Chander Dutt, Toru Dutt, Rabindranth Tagore and Sarojini Naidu were influenced by the style of writing of the English and French litterateurs. The dominant themes of these earliest poets writing in English in India were nationalism (no doubt, inspired by the Indian freedom struggle), spiritualism and romanticism.

The second stream of poets like Nissim Ezekial, Keki N. Daruwala, Jayanta Mahapatra, Ravi Nandan Sinha and Kamala Das have written poetry of a personal nature often revealing their mindsets and personal traits. They have written fewer poems espousing larger causes, aspirations and sentiments of the people.

Contemporary or modern English Poetry in India has shown an interesting trend. There are poets like Prof. Hazara Singh, Dr.Krishna Srinivas, Dr.P.Lal, I.K Sharma, Aju Mukhopadhyay, Manas Bakshi and Nithie Victor, who have risen above their personal aspirations and have lent a voice to the voiceless majority of people of our nation. I would like to call these poets as 'Social Poets'.

Another category of contemporary poets has written more about their personal experiences and yet, they end up espousing larger social and moral causes. Poets like Dr. N.P Singh, Prof. Dr. M.Tirumeni, Pronab Kumar Majumder, Dr. D. C Chambial, Dr. P.K Joy, Sumit Talukdar, Dr.T.V Reddy, Allyosha Balkrishna, Vikram Seth and P.C.Katoch belong to this category.

Others, like myself (S.Padmapriya), really cannot be straight- jacketed into any particular category of poets because we write about all topics under the sky. No theme is outside our vision or scope. No theme is taboo for us and it should not be.

I wrote my first poem in English when I was around seven years old. My first poem to be published was 'The Peepal Tree' in the intercontinental poetry journal, 'POET' in June 1997 when I was fifteen years old. I had no idea during those early times that one day, I would write an article on the great poetess – the beloved Nightingale of India, Srimati. Sarojini Naidu. It is indeed, a double pleasure to be a woman and a poetess at that to write about one of India's finest poets, Srimati Sarojini Naidu. It gives satisfaction to be the author of four collections of poetry with two more in the wings as I write this article. My first poetry collection to be published was 'Great Heights' when I was twenty- one years old. This was followed by 'The Glittering Galaxy' when I was twenty- three followed by 'Galaxy' in 2011. One is able to feel a sense of closeness with the aesthetic consciousness of Sarojini ji as a poetess. At some level, I too have been influenced by Sarojini Devi. In my poem, 'The Sun', I have written – 'Arise, 'O' great painter of the heavenly aura, With the fine strokes of your exquisitely coloured arms…' The vividness of the imagery in 'The Sun' is quite like the aesthetics in the nature poetry of Sarojini Devi. In my title poem, 'The Glittering Galaxy', I have wondered about the creation of the world. I have always been searching for answers – 'The earth was beginning to evolve, A new puzzle to be solved, Darkness had gone, A little carbon atom was born'. A vivid imagination with rhyme and rhythm is essential to be a poet.

The beauty of the poetry of Sarojini Naidu lies in its vivid imagery and aesthetics. Sarojini Naidu knew how to use the English language to be able to create a full impact on the readers. She always used simple language to communicate even complex thoughts and emotions.

One can straightaway observe the beauty, imagery and flow of superb language to express different thoughts and emotions in her master-piece, 'Palanquin-Bearers'.
'Lightly, O lightly, we bear her along,
She sways like a flower in the wind of our song;
She skims like a bird on the foam of a stream,
She floats like a laugh from the lips of a dream,
Gaily, O gaily we glide and we sing,
We bear her along like a pearl on a string.'
What a beautiful rhyming and rhythmic poem!

Sarojini Devi began writing poems at a young age. In a letter to Arthur Symons, she wrote – 'I am not a poet really. I have the vision and the desire but not the voice. If I could write just one poem full of beauty and the spirit of greatness, I could be exultantly silent forever; but I sing just as the birds do and my songs are as ephemeral.'

She was the author of the poetry collections – 'The Golden Threshhold', 'The Bird of Time', 'The Broken Wing' and 'The Feather of the Dawn'.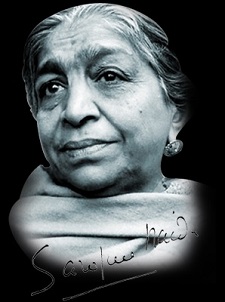 Sarojini Devi was born on the 13th of February, 1879 at Hyderabad in the Deccan region in an illustrious Bengali family. Her father, Aghorenath Chattopadhyay was a scientist who had obtained his D.Sc. from Edinburgh University. He went on to serve at the Nizam College of Hyderabad as a professor, then as its Principal and Patron. He was a very generous person and a person of great learning. Her mother was kind, beautiful and religious. Sarojini was one among many siblings. Her brother, Harindranath Chattopadhyay became a poet and playwright. Sarojini grew up in a liberal atmosphere and had access to drama and poetry. She received formal education and matriculated from Madras University. She composed a narrative poem, 'The Lady of the Lake' at the age of thirteen. Soon, she fell in love with a young doctor, Dr. Govinda Rajalu Naidu. She went to study for three years at England but could not obtain any formal degree owing to a nervous breakdown. She married Mr. Naidu upon her return from England in 1898 at the age of nineteen. They had four children, who later became distinguished personages. Her poetic career became more fruitful between 1898 and 1914. In 1914, she met Mahatma Gandhi ji in London.

'The Golden Threshold' was published by William Heinemann in London in 1905. It was Sarojini Naidu's first poetry collection. The Foreword to 'The Golden Threshold' was given by Arthur Symons and dedicated to Sir Edmund Gosse. The Victorian sentimentality of the English-speaking people led to an evocative response from them and the book became a big hit. 'The Golden Threshold' is divided into three sections namely 'Folk Songs', 'Songs for Music' and 'Poems'. There are many poems based on 'Indian' themes like 'Palanquin-Bearers' and 'Indian Weavers'. The first book also contains some beauteous poems on nature like 'Coromandel Fishers' and 'Autumn Song'. There are multicultural and multi-lingual references in Sarojini ji's poetry quite similar to my own multi-cultural experiences, which led to the blossoming of my own poetry. The poem, 'Humayun to Zobeida' is a rendering from the Urdu language. Another important poem from 'The Golden Threshold' is 'Leili'. 'Leili' is a Persian word for night. 'The Golden Threshold' is thus, full of multi-cultural, multi-lingual, 'Indian' and nature-related poems. There are other beautiful poems like 'Damayanti to Nala in the Hour of Exile' and 'The Queen's Rival'. The scintillating beauty of the fabulous imagery in Sarojini ji's poetry is unforgettable. A great example is the evocatively magical poem 'Nightfall in the City of Hyderabad'. The last poem of 'The Golden Threshold' is 'To a Buddha Seated on a Lotus'. One finds that Sarojini ji respected all religions equally. One can easily observe the influence of the multi-cultural city of Hyderabad on young Sarojini. 'The Queen's Rival' and 'To My Children' are other outstanding poems in this first collection.

Her second poetry collection is 'The Bird of Time'. The foreword to the book was given by Sir Edmund Gosse. According to him, 'Sarojini was in all things and to the fullest extent autochthonous. She springs from the very soil of Indi; her spirit although it employs the English language as no other tie with the west.' The poems in this collection are fresh, fragrant and full of fruitful surprises. The Title poem is full of lilting beauty. Lines from it like 'Song of the glory and gladness of life, of poignant sorrow and passionate strife, And the lilting joy of the spring' at once reveals the marvellous texture of the imaginative prowess of the poetess. There are many love poems in this collection. Some of the prominent love poems in the collection include 'An Indian Love Song', 'A Rajput Love song' and 'A Persian Love song'. 'Vasant Panchami' is a poem, which finds a place in this collection. The poem is poignant. I am reminded of the following lines from my own poem, 'Basant Panchami'.

There are many memorable poems in 'The Bird of Time'. The second collection of poems are eclectic with poems like 'Hymn to Indra, Lord of Rain', 'The Faery Isle of Janjira', 'Solitude' and 'Old Women'. A range of emotions and experiences form the core of the poems. A poem on the popular Hindu festival of 'Vasant Panchami' is part of this second collection. There are also four beautiful poems on the theme of different flowers, which reveals the nature loving nature of the poetess.

Her third collection of poems is 'The Broken wing'. It was published in 1917. The third collection of poems marks the beginning of patriotic poetry from Sarojini ji. The title poem, 'The Broken wing' is full of patriotic sentiments and ardent fervour. The poem is presented in the form of question and answer about the Broken Wing. There are many memorable poems like 'The Gift of India', 'The Temple', 'Lakshmi, the Lotus -Born' among others. 'The Gift of India' is an important poem as it reveals the contributions of the Indian soldiers fighting in the British army for the victory of the allied forces in the First World War. Imperial Delhi' is a poem written in 1912. It is a poem about the dynasties of Delhi. The historical richness of Delhi has been brought out in the poem by Sarojini ji. The last section of 'The Broken Wing' is completely dedicated to love poems. It is quite difficult for an ordinary person to fathom that a person can, at once be a patriotic poet, a nature poet and a love poet among others.

I am reminded of some of my own poems like 'My People, Be strong', 'Fear' and 'Navarathri' after reading some of the patriotic and other poems in Sarojini Naidu's third collection. 'My People, Be Strong' is a poem based on the spirit of patriotism. I too have dealt with Indian themes like Lotus, Peacock, Lion and Basant Panchami among others in my poetic themes.

During the war years, Sarojini was a member of the Lyceum, a Ladies Club, which made clothes for the soldiers. The All-India Congress Committee Session of Kanpur was presided by Sarojini Naidu. Important resolutions including the decision to boycott councils. She said, 'In the battle of liberty, fear is the one unforgivable treachery and despair, the one unforgivable sin.'

She participated in the salt satyagraha in 1930.Soon, she occupied an important place in Indian public life. She participated in several peace talks. She attended the 1931 Round Table Conference held at London with Gandhiji. She also worked for Hindu Muslim unity. She became the President of the Inter-Asian Relations Conference. She later became the Governor of Uttar Pradesh.

Sarojini Naidu's poetry has a certain inimitable timeless and scintillating quality to it. This is essentially due to the fact that she has written many poems on Indian themes. Her poems are filled with technical propriety, rhyme, rhyme, magnificent aesthetics and splendid imagery. Her poems are short and sweet. Her poetry is ornate and the melody is haunting.

'The Feather of the Dawn' edited by Padmaja Naidu, her daughter was published in Bombay posthumously. The collection contains thirty poems on variegated subjects by Sarojini Naidu ji.

Professor. Shri.S. Jagapathy gave the foreword to my third collection of poems, 'Galaxy. He writes, 'If Sarojini Devi was the nightingale of Indo-Anglian poetry, Padmapriya is a waterfall.' In his foreword to my first poetry collection, 'Great Heights', Padma Bhushan Dr. Krishna Srinivas wrote - 'After Sarojini Devi, Indian Parnassus has not witnessed a poetess of unexcelled excellence. Today, in the Indian Horizon, a new Dawn is heralded by Padmapriya - a poetess in teens. Her poetry is a kaleidoscope of new muse.'

Thus, it gives me great pleasure to have had this opportunity of writing an article about the brilliant poetess and leader, Sarojini Naidu ji and being compared to Sarojini Naidu ji by the likes of Padma Bhushan Dr. Krishna Srinivas and by Professor S. Jagapathy. Interestingly, I too have interest in Politics and have joined public life like Sarojini Naidu ji!!