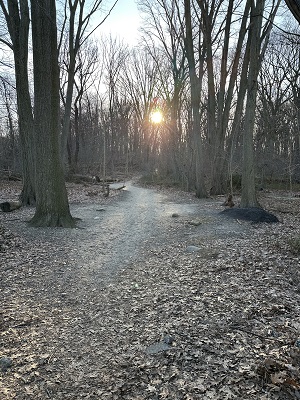 I
For your blithe step I sigh
Gone on the road before me;
For your warm hand I cry
On life's path rough and stormy.
'Tis weary in wind and rain,
Trudging the open plain,
Moorland and heather ;
'Tis hard against blasts to beat
Lonely without you, sweet ;
No more together!

Under one cloak with me,
Love's warm cloak under,
With you I recked, for glee,
Rain-shower nor thunder.
Reft of your warmth I press
My wrap of loneliness
Shivering round me:
Dead leaves come pattering down
On the bleak way; all alone
Winter has found me.

II
Lonely of you, my darling,
That heart chill, to hear no more
Your voice like music's oar
Waft on its tones apart
To fairy lands my heart.
'Tis as life's road had in it
Now not a warbling linnet,
Throstle, or starling.

You, of song-birds the sweetest,
Filled the thickets with singing,
And still the sweet notes ringing
As every moment back
Would bring the voice I lack.
Sweet notes! of all sounds now
The mournfullest that thou,
Echo, repeatest.

The world to silence hollow
Empty of you is grown,
Since the silver is flown
Of your fresh voice. Yet all
Of you is musical.
Is it only fancy's ear
Catches the sound ? I hear
And long to follow.

Walks walked with the darling, talks shared, joys and sorrows of life, live conversations so full of spirit, joy and mirth held with parleys, how to forget them? But how can it be, she moved ahead, and he left behind? Everything is here, only she is not. And for only one fellow, the world seems to be a desolate and lonely place to live in. Now he finds no joy in bird songs. The voice surpassing the bird-notes he hears it not. To see it in Mahapatra's view, a woman when she is, a woman, when she is not, is the thing.

The Lonely Road is actually a poem of love, loss and tragedy in which he thinks about all that has afflicted him, tragedy which has befallen. How did he lose her, who used to be so close to him? Manmohan Ghose who grew up to be an adopter of English education and culture remained it so unto the last. After being educated and schooled in England, he returned back to India, but could not adjust it here. He always longed to be back in England. He could not settle it here. His heart was but in England. English society and culture always intruded his space and he seemed to be a part of that.

Here in this poem, he speaks about the untimely loss and bereavement of his beloved wife. It is here in the type of a memoir in verse, a reflection made. The poet broods over the time fled, the relationship snapped by an unseen hand which was perhaps in his destiny as he is trudging the lone journey of life.

What can be dearer than one's own companion, life-companion? Nothing can be more musical than hers. How devastating and destitute is it to take the lonely path of life? When the heart itself breaks it, who is but to console the broken self and balm it? Everything is gone almost, but sweet fancy has not bereaved, and he can still draw it from, imagine her following. Sweet fancy sometimes takes him too. He just imagines about. Suppose she has come; how joyful it will be! Can we not just imagination's sake? A strange pessimism and bleak hope have taken over. A vacuum has developed, and it cannot be filled with or to be substituted.

Since she is not, but even then, he has not failed to remember her. He has not forgotten her. She is still in his memory. You have gone, have gone, but I still am going, going. The path is lonely, and I have to go without you, without you, darling! The path of life as it was always lonely and so is even now.

Where is the birdsong gone? Even the birdsongs entertain him not. The flowers too please him not. He now feels it sultry and broken, desolate and devastated.

Lonely of her, how to take to the road of life, the lonesome road of life? Now I am bereft of things that do not please. What is it if interest is gone? What has remained? Where is the linnet's voice gone, where that warbling which used to enthrall? Now weary of the lonesome ways are for to take to.

Image (c) Rajender Krishan