It was 1965, our third-year exams were over, college was closed for the summer holidays, and am back home from the hostel. Interestingly, that year I came a little closer to one Mr. Parthsarathy, for reasons galore: that year he stayed next to my room in the hostel, liberal in showering adjectives… importantly, used to oblige me by attempting to wake me up early in the mornings, particularly during exams.

And I still remember how often I used to accuse him of not waking me up at the requested hour, hearing which he used to humorously taunt me: "From tomorrow onwards, I shall maintain a logbook — "at my every attempt to wake you up, I shall, marking the time, take your initial …. before you fall asleep." Funny days!

And that fun continued into the holidays too, for he introduced me to his friends' circle that used to assemble every morning at Mr. Kesav's residence in the Railway quarters. As they animatedly discussed their current life as lecturers in different colleges, often juxtaposing it with their just bygone days in the Andhra University campus—often reminiscing about the days of an easy life at AU campus with no compulsions … sitting on the bench under the tin roof of the University canteen staring at the glittering waves of the distant Bay of Bengal, of course, with a dirty but charming glass half filled with that tea in one hand … and pupping out smoke from the cigarette held in the other hand … dreaming of a glorious future in that smoke—I used to join their gossiping freely enjoying every minute of it though initially, I was a little bit like a kind of fish out of the water, perhaps, being new to them, besides being still a student ...

Among them, there was an interesting guy, Mr. George, looking at whom for the first time I wondered if he too was a lecturer. Interestingly, he was a cinema buff. One morning as the groups' discussion queerly turned to films, one among them, narrating how George, walking to or from the college in Tekkali with a gramophone record of a song from the film, Sangam, in hand ... stopping at every street corner's tea stall … ordering for a cut tea and passing on the disc to the boy with instructions to play it … sipping tea ... listening to the song and in that "Nasha …" thrill forget about the college, class, timetable … and suddenly getting up with a jerk rushing to the college … cutting a sorry face in front of the principal …and, you know, as the conversation ran thus, he, obviously turning sulky used to withdraw into his cocoon, though not for long.

However, whenever the group turned to cinema-related topics, I used to be around him …always siding with him… for I also had a liking for Hindi songs, etc. He too obviously took a liking to me. And so went on many summer mornings of that year with this newfound friends' circle… and I was so elated about joining the group… till a catastrophe sucked me in one evening…

That evening I was walking along the Bose Road all alone… As I reached Satyanarayana talkies center, someone from behind holding my hand tightly, stopped me at once. When I looked around, it was Mr. George with a 45 RPM disc in the other hand. Simply dragging me towards the Tea Stall on the left side of the footpath, he ordered One-by-two Tea, without minding my resistance. Simultaneously, he caught hold of a boy collecting the empty glasses and passed on the gramophone record ordering him to play it.

I was standing in front of that tea stall squirming within me in great discomfort… for I never frequented such places… nor did I wish to be seen by any elder of the town whiling away my time in front of a tea stall, for I know how my father loathed his ward hanging out at a road-side tea stall. So, you could well visualize how tense I was, and as I was trying to ease out myself from him and walk away, he, holding my hand firmly, started narrating how he adores Mukesh and his singing, particularly under the baton of Shankar Jaikishan, that too, for Raj Kapoor films.

As he was prattling thus, I lost myself … wondering how to get away from there quickly. As I stood there with tension writ large on my face… suddenly, the speakers threw at us the opening bars of the piano played with the just precision by that great pianist Shankar of Shankar Jaikishan fame which were in turn echoed by the violins—the prelude of that pathos-laden song of Mukesh: dost dost na rahaa pyaar pyaar na rahaa / zindagi hamein teraa, aitbaar na rahaa, aitbaar na rahaa – [my] friend no longer remains a friend, [my] love no longer remains love / Life, I lost my faith in you–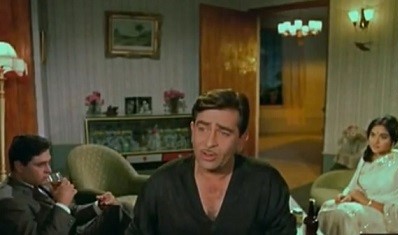 Oh! My god that was from 'Sangam' … and the lyrics of Shailendra played their trick on me… forgotten where I stood … indeed transported to a distant world…soon forgetting the tension of being watched by any known elder of the town at a tea stall, started marveling at the lyrics so expressively being sung by Mukesh… with such heart-wrenching emotion…

The interlude is even more beautiful….as the sounds of piano and violins dripped into each other, though the violin rises beautifully up the scale…. and with no nuisance of the cacophony of any percussion instrument… only screeching violins supported by subtle piano strokes in between that cumulatively conjured up images of sea waves crashing on the rocks…

Like a lightening, the whole tense scene flashed in my mind at once: Rajendra Kumar, who just had a sip from the whiskey glass as the prelude was played, was about to get the whisky glass again to his lips, but as Raj, turning to him sang, dost dost na raha …, he gets tensed up and the hand remains frozen … with whiskey glass away from the lips by a few centimeters… perhaps distressed by Raj's allegations, lips tremble and nostrils twitch… and then as Raj turning to Vyjayanthi Mala and staring at her sang zindagi hamein teraa, aitbaar na rahaa, … the already tensed up Vyjayanthi Mala, sitting like a gudiya (doll) stares at Raj with eyes wide open but face froze, perhaps quietly enduring Raj's accusations … all-in close-up shots… close-ups were so communicative that one shudder to watch the faces of Raj, Rajendra Kumar and even the otherwise beautiful face of Vyjayanthi Mala … my God the scene was more tensed-up than what I underwent a while ago…

As Mukesh picks up again after the interlude with: Amaanatein main pyaar ki, gaya tha jisko saunp kar / vah mere dost tum hii the, tum hii to the (The one to whom I entrusted my belongings of love, My friend you were him, you only) Jo jindagi ki raah me bane the mere hamsafar / vah mere dost tum hii the, tum hii to the (The one who had become my fellow traveler in the life's journey , My friend you were him, you only.) Saare bhed khul gaye, raazdaar na rahaa / zindagi hamein tera aitbar na rahaa, aitbar na rahaa (All my secrets are now exposed, the secret-bearer no longer exists; Life I have lost faith in you) –

Then comes the interlude again… piano bits hitting strongly as though playing as an accompanying percussion instrument to the bowing of violin…. imparting the intended heaviness to the scene… even otherwise, which musical instrument can accompany piano than a violin to produce that melancholic effect … and who knows how many violins Shankar and Jaikishan— who are known in the industry of those days to assemble a big orchestra to record their songs—might have used to get that marvelous richness of pathos… gushing out like rivulets on rocks … pounding the listeners' hearts heavily….

Next comes: gale lagii saham saham, bhare gale se boltii, vah tum na thii to kaun thaa? Tum hii to thii (the one who embraced me fearfully while speaking in a somber voice, If she wasn't you, who then was she? It was only you.) … then comes the piano bits … and the song ends with the protagonist's frustration thus: … zindagi, hamee tera aaitbar na rahaaa (…Life, I have lost faith in you) ….

As the piano finally landed, I, coming to my senses, wondered: What a melancholic melody! And how piercing infidelity sounds, particularly when Mukesh voices the lyrics of Shailendra! Added to that was the composition of SJ that was in Rag Bhairavi—a rag that is at times preferred to pour out pathos— and picturization in close-up shots which indeed heightened the intensity of emotion of the scene as a whole… all put together simply reduces the spectators/listeners to tears…

Wriggling out of that tension, placing the half-filled tea glass on the table, I slowly dragged my feet out of that stall on to road wondering: Is there any 'the' recipe for journeying through life with élan and sophistication?

Image still from the movie "Sangam"