Talat Mahmood, who with his soft singing often gently knocks at the core of the listener's heart, died on May 9, 1998, at the age of 74.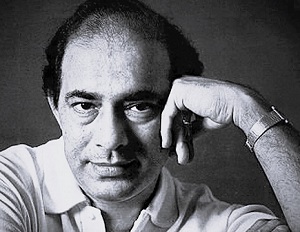 The moment I think of late Talat Mahmood the first thing that strikes my mind is: My watching 'Daag' movie at Mohanpur along with my classmate, Amar Som Chowdhry in a dilapidated hall that was near our college campus, just to watch Dilip Kumar enacting the song: Aye mere dil kahee aaur chal / gam ki duniyaan se dil bhar gayaa / dhoondh le ab koee ghar nayaa… (O my heart let's move elsewhere / woes of the world had filled my soul/search now a new home) sung by that unsung hero of Hindi film world, Talat Mahmood.

A drunk, deciding to turn over a new leaf in life, resolves to leave behind the distress and the unhappiness inflicted by his addiction to alcohol sallies singing the song, Aye mere dil kahee aaur chal… in gay abandon. The beauty of the song is: Talat sings it with a vigour which makes us believe that the protagonist does not care about what he is singing while the lyrics are depressingly melancholic.

Notice the depth of the lyrics, Dekhti reh gayi yeh zameen / chup raha bereham aasmaan (this earth [world] kept watching / the merciless sky remained mute), which Talat sings in such a way to bring out the potential of Shailendra's words to the fore and at the same time make the listener believe that the protagonist, unmindful of their meaning, simply marches ahead playfully in search of a happier world. Such was the magic of his voice and his style of singing in that low pitch to the accompaniment of Shankar-Jaikishan's pleasant orchestration.

Since then, becoming a passionate listener of Talat's songs, I availed myself of every opportunity to listen to him. During preparatory holidays of first-year examinations of the University, having had the opportunity to sit all alone in front of the Philips radio in the common room of Lake Hall hostel, I used to play Vividh Bharati, of course, in low volume, while flipping through my books.

On one such day, sitting in the common hall, as I was browsing through bioassay methods to assess the insecticide toxicity, suddenly heard Talat whispering Sahir's lyrics that gave vent to the tormented heart of 'Devdas' and its longing for the love lost: Mitwaa laagee re ye kaisi anabujh aag (O love! What this smoulder that's inextinguishable) / Mitwaa mitwaa mitwaa nahin aaye (O love, love, love! Haven't come) / Laagi re ye kaisi (Happened, how this …) in a tremulous voice. He drawls the word Mitwaaaa thrice in such a fashion that it makes the listener's heart tremble at his yawning for the love that was no longer of his. The accompanying weeping Sarangi accentuated this effect further.

The lyrics that portray the intangibility of the intense pain of Devadas, a kind of soulful soliloquy, which was steeped in sadness, rendered by Talat in his mellifluous voice so caressingly, that it transported me to a distant world. As I came out of that trance, I at once remembered those immortal words of Shelly, "The pleasure that is in sorrow is sweeter than the pleasure of pleasure itself".

You listen to any song that Talat gave his voice to the ache of the lovelorn heart; you are invariably destined to end up on the side of Shelly. Won't agree? Then listen to that philosophical song from 'Taxi Driver' in which, of all the heroes, Dev Anand sitting in front of the sea, unmindful of the external world, quite in a desolation, rues in a soft low-pitched velvety voice of Talat thus: Jaaye to jaaye kahaan? (If I must go, where could I go?) / Samjhegaa kaun yahaa dard bhare dil ki zubaan? (Who here will understand the words of a heart full of pain?).

As the camera lets the time pass slowly allowing the viewers to get engulfed by the philosophical queries of the great Sahir: Mayuusiion kaa majamaa hai jee mein (A bundle of disappointments resides in my soul) / Kya reh gayaa hai es zindagi mein? (What is left for me in this life?) and so on, no wonder, if one even weeps along with the accompanying soft flute in the interludes overwhelmed by the heart-touching lonesome-feeling created by Talat's velvety voice that was buoyed by the lilting tune of Burmanda.

It is no exaggeration to say that in almost all his songs Talat, as a singer, gave an aural form to the longings of the human heart. Listen to the haunting tune composed by Burmanda for airing the heart-warming lyrics of Majrooh Sultanpuri by Talat in that velvet melody from 'Sujata': Jalte hai jiske liiye teri ankhon ke diiye / Dhuundh laayaa huun wahii giit main tere liiye (I have found those songs for which the lamps of your eyes burn…) / Jalte hai jiske liiye (That for which your eyes burn…).

As the song advances, Talat's vibrant voice carries us up slowly, as though along a staircase, teasing at each step as if a figurative cord may snap. Burmanda imparts an amazing intensity to the song with the violin and piano combination, while the enchanting flute slips in and slips out. What a beauty! Then as Talat's voice dips while crooning Dil mein rakh lena isse haatoan se ye choote na kahin (Keep them in your heart, do not let them escape from your hands) / geet nazuk hai mera sheesha se bhi toote na kahin (My song is even more fragile than glass, let it not break), lyrics simply slice through the heart of the listener so smoothly as if through butter. No wonder, if a tear jerks up in ecstasy.

That is the mesmerizing effect of Talat's voice, a voice that gives a beautiful expression to the lovelorn heart and its longing. If you do not believe me, listen to these beautiful lyrics penned by Rajendra Krishan, set to music by Madan Mohan and sung by Talat from 'Jahan Ara': Phir wahi shaam, wahi gham, wahi tanhayi hai / dil ko samjhane teri yad chali aayi (It is the same evening, same sadness, the same loneliness / your memories came over to lighten my heart). Talat's songs have a peculiar quality: they are comforting and at the same time discomforting too. But they never age and are always relatable.

Not convinced? Then you must listen to another gem of a song written by Rajendra Krishan and set to music by Madan Mohan in raag Bageshri, a raag well suited to expound Viraha and Karuna rasa for the film, 'Dekh Kabira Roya': Humse aaya na gaya (I could not make to you) / Tumse bulaaya na gaya (Nor did you call me). This is a song with little or no interludes that starts off in a light-hearted, happy vein but as advances with several delicately carved musical phrases, disintegrates into a song of love lost. Listen, for instance, the last sher attentively, "Daag jo tune diya / dil se mitaaya na gayayou" (the scar that you caused cannot be erased from my heart) which subtly suggests that life will go on but with a nagging memory of the beloved. Touching the troughs of despair, this song carries away all those in love, that too, willingly, along with the mellifluous accents of Talat, for it is truly a voice of aching love.

Song after song, Talat expressed the yearning of unrequited love of the heroes pretty appealingly in the films of the 50s. For instance, despondency and anticipation morphs into a soulful melody in Talat's stable, deep and tragic voice under Khayyam's baton in this song from 'Footpath': Sham-e-gham ki qasam Aaz gamgee hai hum (I swear by this sorrowful evening I am very much depressed today) / aabhi jaa aabhi jaa aaj mere sanam (Come to me, come to me today, Oh my love) dil pareshan hai raat veeran hai (My heart is restless, night is desolate) / Dekhja kis tarah aaj tanha hain ham (Come and see how lonely I feel). He sang the song with such a quivering effect that it gave an apt expression to the hero's sulk in love, which simply melts the heart of any listener.

One of the most romantic ghazals that Talat sang was: Ye hawa ye raat ye chandini teri ek ada pe nissar hai … Lyrics were written by Rajendra Krishan and music was set by Sajjad Hussain for the film 'Sangdil'. What a beginning! The song starts with an excellent prelude of Sitar followed by that romantic voice of Talat rendering Ye hawa ye raat ye chandini teri ek ada pe nissar hai (this breeze, this serene night this moon simply fades out before your persona) / Mujhe kyun naho teri aarzu teri justaju me bahaar hai (Why not I desire you for there is spring in this quest of mine). What can one say about the beauty of lyrics! They sound so natural for they were effortlessly penned by Rajendra Krishan. The pleasant interludes carry forward the romantic voice of Talat as a cool breeze of fragrance.

As I talk about his giving voice to romance, I am reminded of a song, Hain sabse madhur vo geet jinhein hum dard ke sur meei gaate that Talat sang in his dew-throated voice which Dev Anand uses to comfort his misery-struck heroine resting in his lap, listening which gives you goose-bumps. Indeed, there are many such songs—Tasveer banaata hun ('Baradari'), Seene me sulagtein hain armaa ('Tarana'), Zindagi dene wale sun ('Dil-e-Nadaan'), etc., that hang around us as our accompanists all through. That aside he also sang many non-classical, light ghazals with his petal-soft voice setting a benchmark of his own. Besides his singing, he also played lead roles in a couple of Hindi cinemas.

Finally, I would like to end this dialogue with another favourite song of mine that was written by Majrooh Sultanpuri. It seems Anil Biswas, the ace music director of the golden era, impressed by that trademark 'quiver' of Talat's voice, composed this song for the film 'Arzoo' in raag Adana: Ai dil mujhe aisi jagah le chal Jahan koi na ho (Oh my heart take me to such a place where no one is around)/ Apanaa paraayaa meharabaan naa-meharbaan koi na ho (Neither mine nor are there any alien, affable, non-affable) / Ai dil mujhe aisi jagah le chal. He sang the lyrics that are bathed in pathos in his natural voice and twang. The vibrato of his voice, creating a kind of flittering type of melodic song, epitomizes the anguish of the protagonist.

His songs in that sweet voice which sounds angelic often makes one wonder if language and music have an intricate relationship. For instance, listen to another gem of a song of him sung under the baton of that ghazal maestro, Madan Mohan written by Raja Mehdi Ali Khan from film, 'Madhosh': Meri yaad mein tum na ansu bahaana. The prelude of restrained Sitar strokes followed by poignant lyrics in Talat's unique quivering voice together cast a spell on ghazal aficionados.

As Talat goes on rendering the lyrics in his known impeccable Urdu diction accompanied by apt emotional expressions, perhaps in competition with the quivering notes of Sitar—Meri yaad mein tum na ansu bahaana / Na jii ko jalaana Mujhe bhul jaanaa (Shed no tears in nostalgia, smoulder not in regret, let go of my memory)—they struck a chord with the listener. Particularly, watch how awesomely he renders the words, Na jii ko jalaana, no wonder it brings tears to eyes, besides making one believe that Raja Mehdi Ali Khan wrote the lyrics specifically for Talat to sing!

All this often makes me wonder how lyricists imagine such poignant words beforehand and music directors elect a voice to sing those lyrics and weave a fine blend of orchestration around them to get us carried away by them for years to come. It is perhaps the alchemy of all these three that ultimately elevates its effect on the listener… whose spell is so powerful that at times it won't permit us to shy away from shedding a tear! In that haze, Shelly's iconic words, "Our sweetest songs are those that tell of saddest thought", ring true.