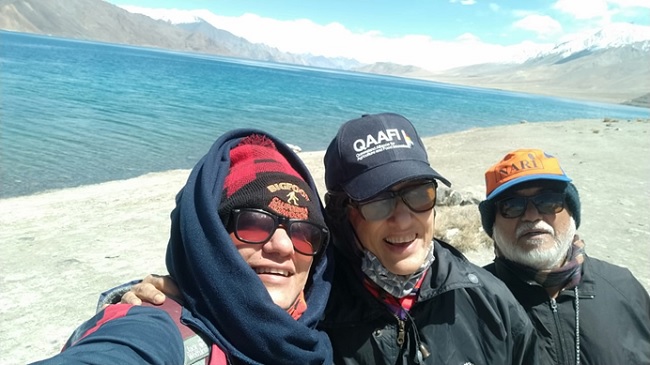 We spent lovely 7 days in Ladakh visiting various places. We visited Leh, Nubra Valley, Turtuk, Thang (LOC), Pangong Lake and various places in between. The trip was back breaking with quite lot of travel on gravel and pot holed roads. Brand new Innova taxi made the road trip bearable. I feel that the trip is meant for young and fit people rather than old people like us who are more than 70 years.

The road trip though was adequately compensated by the fantastic scenery - which is like a moonscape. I do not think there is any other place on this earth which has snow clad mountains, sand dunes and a beautiful clear water river flowing in one scene. Yet in all the places that we travelled this was the scenery. Thus it is once in lifetime opportunity to visit and stay in Ladakh.

The weather in mid-May was perfect. In fact weather gods were really kind to us since not a single day it rained or snowed while we crisscrossed Ladakh.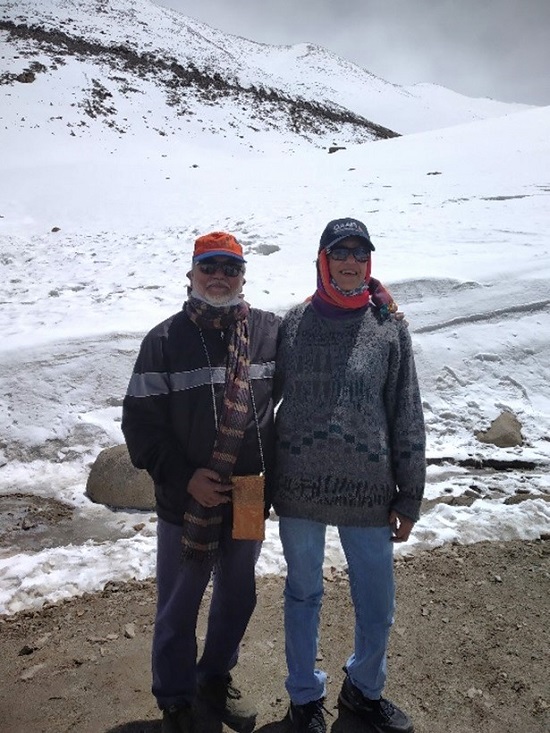 We crossed two of the highest passes in the region. Khardung La pass which is the second highest motorable road in the world at 17,582 ft was completely covered in snow, but the road was cleared by Border Road organization (BRO). Three days later, and after our return to Leh, the pass was closed because of heavy snow.

The other high pass that we went through was Chang La pass. This was more dangerous than the Khardung La pass since the roads were narrower and also, they were completely potholed for almost 5-10 kms. The snow had started melting and that made the roads dangerous. Next day with heavy snow it was also closed. The roads in these passes are very narrow so if they are closed there is no way to return back.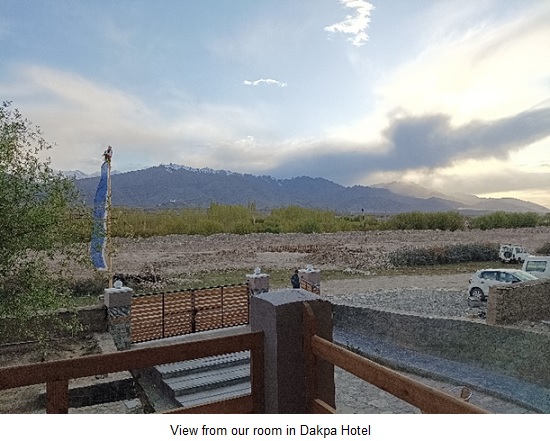 We were twelve of us (with 3 children between the ages of 6-8 years) who travelled on this trip. The trip was organized by my daughter Madhura and our niece Nadia. Nadia and her partner run a hotel, Dakpa House in Leh where we stayed. It is a beautiful property 15 kms away from Leh and is almost like a Swiss chalet with lovely view of snow-covered mountains.

We did not have any breathing problems during the trip. Part of the reason is the hyperventilation that I practice on my daily evening walks and partly because of excellent homeopathic medicine Coca 30 that we took every morning for 3-4 days. Drinking lots of water everyday also helped.

While climbing steps in monasteries and other buildings we took deep breaths but there were no headaches or lightness in the head. Still most of us suffered stomach ailments with Nandini suffering from acute diarrhea during the last leg of the journey.

Ladakh is cold and during our stay the night temperatures reached -1 to – 20C and during day it was 13-180C. The sun was very bright and with clear skies the UV radiation is very high.

From Leh we went to Nubra Valley which is at the height of about 10,000 ft and is surrounded by Nubra and Shyok rivers. In old times this was a part of the silk route from Europe to China.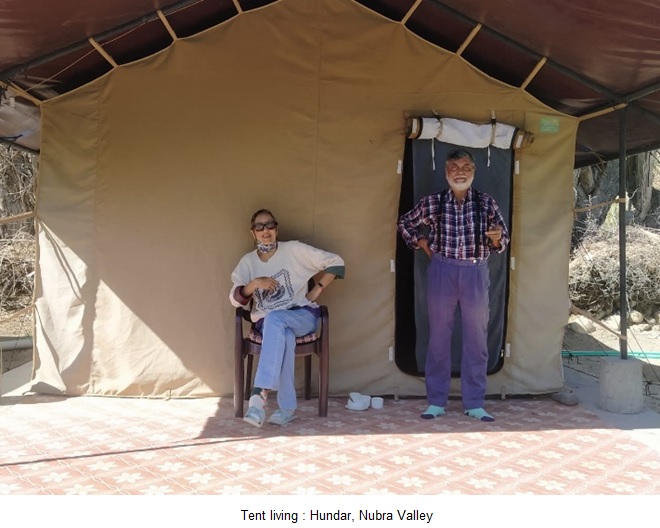 We stayed for two nights in Nubra Valley near Hundar Sand dunes in Swiss type camping ground (tents). With freezing night temperatures and howling winds this was quite an adventure. Besides at 11 p.m. the electric supply of whole valley was shut off till 6 a.m. This made going to bathroom very difficult and we had to use cell phone torch light. Also there was no hot water. The miserly solar water heater was inadequate for all the tents. Yet with very bright sun which came out at 6 a.m. and heated the tent and early morning hot tea and biscuits, made the mornings pleasant.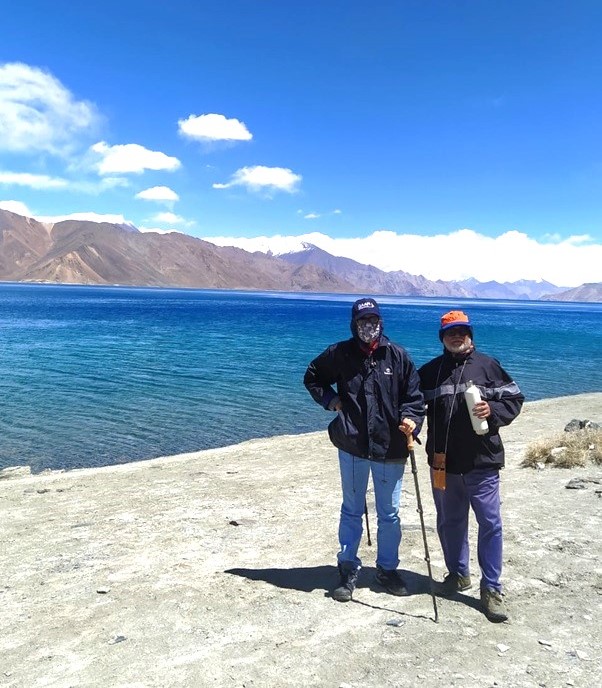 From Hundar Valley we visited Turtuk village and LOC (Pakistan border) on day 1 and then the next day we visited the beautiful Pangong Lake. The 40 km road stretch for Tangste village to Pangong Lake is a gravel road. So it was a rough ride. The return journey was also on the same road. So about 80 km travel was on very rough but dry gravel road. The rough road ride to Pangong Lake was compensated by the beautiful sight of the lake. With absolutely blue clear water; clear skies; bright sunshine and cool breeze it was a scene out of this world. The visit to the lake (world's highest saltwater lake at ~ 14,000 ft) was worth all the trouble of driving on the treacherous roads. Many people stay at the hotels near the lake, but the high attitude coldness and less oxygen is not very conducive for such a stay. It was quite windy and cold during our visit.

In all our travels we only saw two types of wildlife. One was Himalayan marmot on our way to Pangong Lake and other was Tibetan Yak at various places. The elusive snow leopard remained elusive.

I was amazed with the topography of Ladakh desert. The solar energy potential is tremendous and with an average insolation of 4-5 kWhr/m2 – day and almost 300 days of sunshine it is a solar haven.

There is a very heavy presence of army since this is a sensitive area (surrounded by Pakistan and China) but the army is very well assimilated with the local population. We never saw an army personal with cocked automatic gun as one sees them in Kashmir. Part of the reason is that large number of Ladakhi youngsters join the army and also army provides good roads and supplies.

The driving sense of Ladakhi's that we encountered is very superior to those of Maharashtrians. On the treacherous mountain roads we did not hear any honking and the drivers very often got on the passing strips to let the vehicles pass. Only once did we encounter a vehicle which did not allow our taxi to pass. It was from Maharashtra !

The Leh airport reminded me of Indian airports of 70s and 80s. It is a small airport with hardly any facilities. The bathrooms were dirty with broken door in the arrival area and the luggage belt was very small leading to crowding and chaos. I think for the sake of increased tourism GOI should build a good new airport.

The whole Ladakh region is a difficult terrain and inhospitable place to live. India is spending huge resources and funds to have the army stationed there to protect against Pakistan and Chinese intrusions. I feel one of the best way to help in this process is to make it a very hospitable place to live for general population. Once the living and incoming generation opportunities become better for local population the work and pressure on the army will be reduced.

For that it is necessary to use the local resources of solar, wind and water for creating sustainable living. Here are few suggestions:
All the houses should be heated by solar water heating systems. They will provide hot water for general usage plus will heat the houses. Today excellent insulating materials are available which can make the existing or new houses energy-wise very efficient. This together with solar heating can make the dwellings very comfortable.

Solar PV can be used for LED based lighting and cooking via induction cookers. For Chinese type cooking (which is prevalent in Ladakh) induction cooking is excellent. Naturally storage of solar PV electricity in different batteries is a challenge.

All the Solar PV systems should be decentralized and not made into megawatt size. Setting up the grid electricity in such a tough terrain has its own problems and challenges. Solar energy is decentralized, and it should be used as such.

Similarly there is a tremendous wind potential in Ladakh. But it is very site specific. Hence small 1-10 kW wind turbines should be used for homes. Many times when the sun is not shining, wind blows and that can be used at night.

Ladakh is endowed with excellent water supply through pristine rivers which flow across the land. This water can be used in the greenhouses to grow vegetables and other produce. Some work by DRDO has been done but it needs to be scaled up and made more efficient. We did not see a single lift irrigation scheme on these rivers.

High tech industries powered by Solar PV and wind can be useful for generating income for local youth. They will also help keep the Ladakhi air clean and will help in creating jobs and products.

There is a need to use very sophisticated technologies for making sustainable living in these attitudes. Regular run-of-the-mill approach will not do. Thus the use of appropriate size drones for transporting people and goods will be a great boon in such terrains.

Already the existing small villages and hamlets need to be made livable through these technologies. The youth from these areas will then help in building a better Ladakh and India.

Images by the author