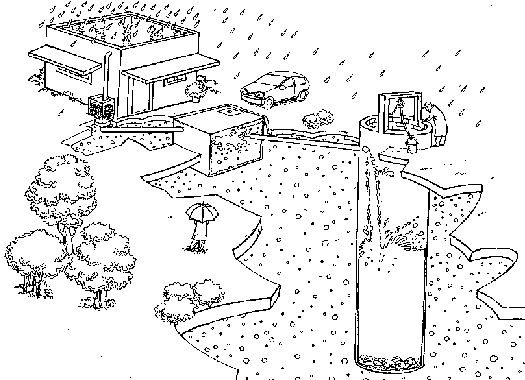 "Where I live, the groundwater was as sweet as coconut water 30 years ago. Today, it cannot be used even to wash clothes," says Vatsala Ramachandran, a resident of Besant Nagar, part of the southern aquifer that stretches 13 km up to Neelangarai on the outskirts of Chennai.

Once upon a time, Chennai was a city of less want and more water. But successive years of poor rainfall have seen the residents of this sweltering southern Indian metropolis wait longer, fight harder, pay more and still not get enough potable water.

Responding to the growing crisis, the Tamil Nadu government made Chennai the first city in India where Rain Water Harvesting (RWH) became mandatory. RWH models were displayed outside several government offices, including the Secretariat, and information campaigns were launched in schools and slums to help people learn how to collect water on a rainy day.

Recently, the state government issued two orders that further boost the RWH scheme. First, it has made installation of RWH structures mandatory in all existing multi-storeyed and public buildings in the city (earlier it was only for new and upcoming construction). The installations are to be made within a year. Second, the administration has barred the extraction of groundwater for leisure (non-sports) swimming pools and non-potable use in industrial units.

Besides these sweeping reforms, the state government has also enlarged the scope for granting or refusing groundwater licenses. These changes extend beyond Chennai to 360 villages in 59 districts stretching across Kancheepuram and Thiruvallur.

The state government has also announced specifications for the disposal of liquid waste. Separate outlets have to be provided for waste from toilets, while waste water from bathrooms and kitchens will be collected for organic or mechanical recycling and reused in toilet cisterns or for gardening.

Many government buildings, including the landmark Government Museum, Stanley Medical College, the office of the Director General of Police as well as the upcoming Police Residential Quarters are equipped with RWH systems.

Chennai now also boasts of the country's first Rain Centre, a free-entry, interactive resource centre exhibiting working models and housing every conceivable kind of information on RWH.

But more than government measures, it is the initiative taken by common residents that has borne fruit. Mangalam Balasubramanian, a retired executive, has transformed defunct temple tanks in her locality of Pammal into rainwater pools. The original purpose of the large temple tanks was to harvest rainwater and augment the underground water table. But over time, they were reduced to garbage dumps. Balasubramanian says that initially people were skeptical about water harvesting. But, "Once the initial skeptics are convinced, better participation happens automatically."

The Rotary Clubs have also got involved in renovating temple tanks of the Gangadeeswarar shrine and Pammal's 600-year-old Shiva temple. The large tanks at the Triplicane and Thiruvanmiyur temples are also being cleaned up to harvest rainfall. "It has a tremendous impact on the quality and quantity of water available in all wells within a five-km radius. There is no stopping this movement from spreading like wildfire," says Balasubramanian.

However, a lot still needs to be done. The changes in the Chennai Metropolitan Groundwater (Regulation) Act of 1987 were secured in October 2002. This aimed to prevent indiscriminate use of groundwater. But in some villages, like Mattur in Thiruvallur district, indiscriminate extraction of groundwater continues despite intervention from the courts. The dedicated chief of the Municipal Administration and Water Supply (MAWS) Department, Shanta Sheela Nair, was summarily removed from the post despite exemplary work in the field.

The slow pace of RWH initiatives is often attributed to vested interests of over 400 private water companies in the city, half of which are illegal. They try to fill the gap between demand and supply which is a huge 200 million litres per day. The companies buy water from farmers 30 km outside the city, for Rs 50 ($US1=Rs 47.5) per 12,000 litres. In the peak summer season, the same quantity of water is retailed for upto Rs 1,000. Water packaging plants are known to rake in Rs 500 million every month.

Despite the hurdles, the initiatives taken by the local people have shown that water harvesting can rescue residents from a dry and thirsty future.