Indrani Sinha (born 1950) has been working against violence and abuse of women for over two decades. She began her career as an English teacher in a well-known school in Kolkata. However, Sinha soon realized that her interest lay in the development sector. After some years of working on women's issues, Sinha started Sanlaap (which means dialogue) in 1987 with the support of like-minded friends and professionals.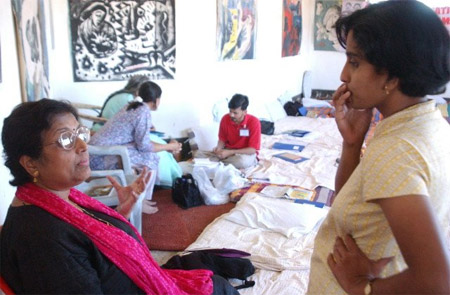 Her first study on sexually abused girl children, supported by the Netherlands Embassy in New Delhi, in 1989-90 took her to the brothel areas of Kolkata and the suburbs. At that time, Sanlaap was mainly involved in research on women's issues and training for women's groups.
In the red light areas of Kolkata, however, Sinha met hundreds of women and girls, who spoke about their powerlessness when living in prostitution. Their stories about being tricked into the profession by known and unknown persons, their dismal health conditions and the torture they endure shook her up. She learnt how thousands of these women continue to work in brothels and accept torture because of the absence of any other support, and for fear of the powerful prostitution mafia. Indrani knew without a doubt that she would work to improve the lot of the women she met then.
Women's groups have traditionally been ideologically split on the issue of legalization of prostitution. Says Sinha, "Before we speak on the issue of legalization of prostitution, we need to recognize prostitution for what it is: a situation that begins with rape and a choiceless choice and continues with denial and exploitation. Simultaneously, as women and as activists, it is our responsibility to create the options and the spaces, which would prevent the birth of this violence...And to draw the attention of all agencies, State and non-State towards the same," she says.
Drawing a parallel with another form of violence, she says, "Would we advocate that child labor be legalized just because it exists? A form of violence cannot be accepted merely because it is there and has been for centuries; the basis of its existence needs to be challenged." Sanlaap is, therefore, an 'Anti-Trafficking Human Rights Centre'. Her focus is not only on fighting for the rights of the young girls rescued from brothels but also mainstreaming them in education and in life itself and to intervene collaboratively with the bureaucracy, police, legal system and local panchayats (grassroots governance unit) to cut to the root causes of trafficking through advocacy, lobbying and interventions.
Sanlaap runs four shelter homes, housing 200 girl children who have been rescued from prostitution, bonded labor and sexual abuse. The shelters also house HIV+ girls, many of whom have not been accommodated in State-run homes. The shelters are housed in quiet middleclass localities, with no board of the organization to mark the buildings. This helps prevent the girls from becoming targets of stigma and discrimination, based on either their HIV status or their association with prostitution.
Indrani's own experience of economic struggles, her past failed marriage, her current successful one, and her experience in working for women's human rights have helped her emerge as a courageous, compassionate and strong leader. Her key strategy is collaboration, which through the continuous process of interaction and education makes the systems that are supposed to work for the community accountable.
Indrani says that strategizing with senior government officials in the social welfare department, senior police officials and members of the judiciary on the rescue and restoration or reintegration of children from brothel prostitution was a wonderful and learning experience. It was a kind of pitching together for the safety and life of the girl child. A comment by a government officer is telling: "We are interdependent. Sanlaap is solving many problems that government departments are unable to solve. If Sanlaap does not take charge of the safe custody of girls, where can we keep them?
Madams (women who are in charge of prostitution houses) will fake identities and take them back into prostitution." She says, "When I started in 1989, I did not have any role models from whom I could learn. Therefore, our mode of functioning was to learn from the women in red-light areas and listen to their needs and work on them. That is how we have moved on our path. Our philosophy behind this work has changed along the way. Now we do not call the women 'sex workers', but 'women in prostitution'. Now we know that they did not have any agency or choice to be there, and the traffickers have exploited their vulnerability and put them there."
Networking with NGOs in Bangladesh for the safe repatriation of rescued girls, so that they are not pushed back through the border into the prostitution ring again, is another key focus of Sinha's work. Sanlaap has also worked out a procedure through the Nepal High Commission, for handing over and safe repatriation of rescued victims. These are only a few of the many innovative and sound methodologies that Sanlaap has worked out over the years.
The Sanlaap team and Indrani herself, however, continue to face considerable personal danger from the prostitution mafia. The nexus of politicians, police and traffickers is a formidable one. Indrani's daughters, in fact, have been sent off to a far-off government school to protect them from becoming a target of the animosity these powerful people bear her. The divide within the NGO sector on the issue of legalization of prostitution has also taken a toll on the organization. There is pressure on Sanlaap to reverse its position on the issue, through subtle denying of funds meant for HIV/AIDS initiatives.
However, there have been highs as well. Sanlaap has received two national awards: an award for the best welfare organization in India in 1997, and a National Commission for Women award for best women's organization in 2000. In 2003-04, Indrani was specifically invited by the UN to work in their mission in war-torn Kosovo. She helped start a rescue and safe shelter homes programme, based on Sanlaap's own programs.
The greatest high, though, for Indrani and her team is seeing the women who lived in their shelter live out productive and comfortable lives in mainstream society. Sanvad (meaning, the voice of Sanlaap) - formed by a group of women who were formerly in Sanlaap's shelter homes - is an example of this. These women use dance as a therapy for the victims of trafficking in the Sanlaap shelter homes. From receiving help to giving help, they've come a long way.