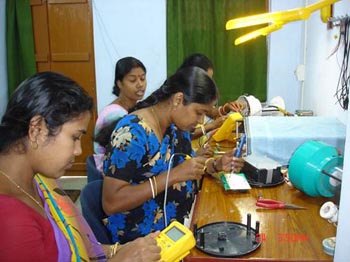 Besides inaccessibility due to lack of roads and railways, the rough terrain also makes it difficult to extend high-tension electricity transmission lines to these areas. This has meant that villagers have had to depend on expensive generators to provide limited light for their homes and other needs. Besides being expensive, generators also cause environmental damage (through carbon dioxide emissions and noise pollution) - a big concern in view of the Sundarbans' fragile ecology.
This has caused the Indian government to seek alternative sources of energy for the region. In 2004, The Energy and Resources Institute (TERI) conceived a pilot project for the Sundarbans. This programme - funded by the National Renewable Energy Laboratories (NREL), which is a part of the US government's Department of Energy - aims to help the rural people attain energy self-sufficiency.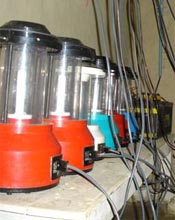 Initially, TERI educated a handful of local youths to operate and maintain this enterprise and develop entrepreneurial skills. However, after their training, the young men left to seek better opportunities in cities - leaving the initial phase of the project in uncertainty. Then in early 2005, TERI resumed the project with a more innovative approach. The project, now called 'Women as Solar Power Entrepreneurs', decided to involve local women left behind to take care of their households. This phase of the project was implemented with assistance from the solar energy unit of the Ramakrishna Mission Lokasiksha Parishad, Narendrapur with technical support from Jadavpur University, Kolkata.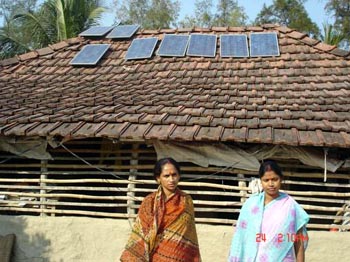 Women from Kakdwip (a Block in South 24 Parganas) welcomed the project enthusiastically. It helped that many of them were already associated with Sundarban Kalpataru at Kakdwip, Ramakrishna Mission's cluster level organisation working with rural youth. Eleven women were selected for an initial 10-day training at Jadavpur University and Tata BP Solar India Limited, Kolkata.
Of them, six - Sumana Santra, Nilima Maity, Chandana Majhi, Bani Pradhan, Bina Samanta and Kakali Jana; all from different villages in Kakdwip - were selected for further training. They traveled to Aditya, a solar energy shop in Kolkata sponsored by the Ministry of Non-Conventional Energy Resources, and Uttam Urja, TERI's entrepreneurship development project in Bikaner. The other five will be taken up for further training depending on how well the pilot project shapes up.
The women were to be taught to assemble various products like LED night lamps, DC mobile chargers, home-lighting systems and solar lanterns. They learnt how to install, operate and maintain the technology. The women also learnt business skills to enable them to market the products.
In February 2005, a workshop for assembling solar photovoltaic products was inaugurated at Sundarban Kalpataru, and two solar lantern and domestic battery charging stations were inaugurated in the neighboring villages of Bhuban Nagar and Gobinda Rampur. All six women run the workshop, where they carry out repair, maintenance and assembly work. They plan to begin manufacture various solar products at the unit later on.
The unit at Bhuban Nagar is installed in Chandana Majhi's house and she is supported by the others. Eighteen solar lanterns and two domestic batteries can be charged at the same time. The solar lanterns, in particular, are very popular because of their use during festive occasions. They last about eight hours at a stretch, and are rented out to local shops for Rs 5, and to households for Rs 12. Domestic batteries are used mainly to watch television, and are rented at Rs 15 per battery. As of now, the unit generates about Rs 2,700 per month through rental.
The Gobinda Rampur unit, set in Bani Pradhan's house, has nine lanterns and two batteries, functions along much the same lines. It generates about Rs 2,500 per month. Interestingly, here, the lanterns have helped improve cultivation of betel leaves, a major source of income in the area. The use of kerosene lamps during leaf-plucking at night had been causing the leaves to smell of kerosene. So, the local farmers are more than happy to spend Rs 10 a day for solar lanterns, which have no adverse effect on their crops.
Of course, the number of solar lanterns falls woefully short of the demand. However, with the limited funds available, the project hopes to make a start. At present, the lanterns are hired out on a first come, first served basis. Says Pradhan, "We need many more lanterns because there's a huge demand for them." Adds Kakali Jana, "If we could begin this work in some more villages, it would be good. But we don't have money for it yet."
That said, a third village in Kakdwip, Roy Bari, has recently been added as part of the project. D K Dhar, Project Coordinator, Ramakrishna Mission, points to the keen interest that the village panchayats (local governance bodies) have been showing in the project, offering assistance and help wherever needed. He explains that the villagers are very supportive of the women entrepreneurs.
The key to the success of the project is the efficiency with which the women run the enterprises. They have now begun assembling more night lamps and mobile chargers. The project has also led to the creation of a self-help group, 'Surya Siksha', to enable women to gain economic independence.
Says Anjan Sukul, a technician associated with the project, "The women are appreciative of this opportunity to do something for their community as well as better their own lives. Over time, they have not only become more confident and independent but are also more conscious about community welfare. Already, they are planning to expand their area of work to serve more villages and to encourage other women to become self-reliant."
The project, it appears, has struck the perfect blend of women's empowerment, rural development, environmental protection and local participation to create a viable and sustainable solution.